Supporting our local community - Providing a defibrillator.
Tue 8th September 2020 at 7.00 pm - Mon 10th May 2021 - 8.00 pm
Lockdown doesn't mean a shutdown in Erith!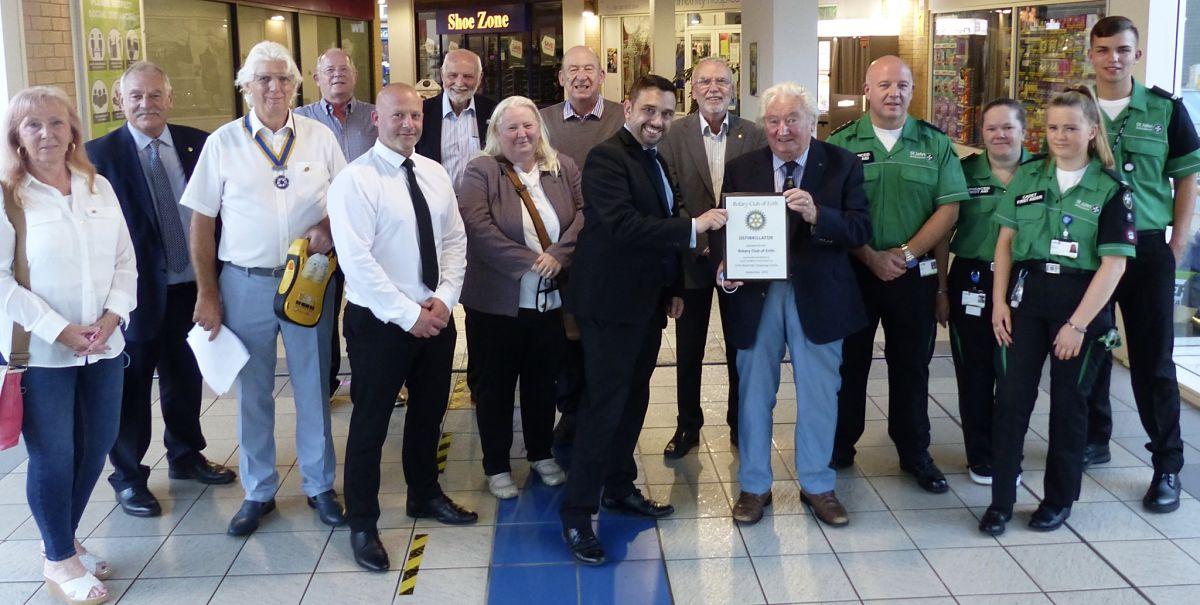 The last six months have been testing times for everyone. We have all had to make changes to our lives and for the Rotary Club of Erith that meant that we had to suspend our weekly meetings and like so many others, move to the 'virtual world' to maintain contact. One thing that didn't change, was our resolve to support the local community. Using funds raised and contributions from individual members, we were delighted to sponsor two major projects.
The first was to present the Erith Riverside Shopping Centre with a Defibrillator. If it just saves one life, it will be well worth the investment.
Our second project was to raise funds to support our local St. John's Ambulance Brigade and present them with ten new radios to replace their ageing equipment.
Both of these were presented in a very brief ceremony at the Erith Riverside Shopping Centre by our President Keith Wisdom, to Ryan Casey who manages the Shopping Centre and Dean Gardiner who leads the Erith St. John's Ambulance Brigade.
This is what the Centre had to say on their website:
The Rotary Club Of Erith Donates defibrillator to Erith Riverside Shopping Centre
Wed 9 Sep 2020
On Tuesday 8th September, The Rotary club of Erith very generously donated a new defibrillator to Erith Town Centre and it will be held at the Riverside shopping Centre. This new equipment so kindly provided, could be life saving for someone in need.
They also donated new Radios for senior paramedics of the St Johns ambulance service. Our thanks and our unreserved appreciation go out to all members of the Erith Rotary club and members of the St Johns ambulance brigade Erith branch who will be providing training for this new equipment.
Club president Keith Wisdom made a short speech at the ceremony where he said the following:
" It gives me great pleasure for the Rotary club of Erith to donate this defibrillator to the community of Erith and for it to be located here in the Erith Riverside Shopping Centre.
Erith Rotary was founded in the borough of Bexley to cover the Erith area in 1929 and over the years we have carried out many enterprises for the community of Erith, the best known being the Goodwill Week where we make collections from the homes in the borough with our Father Christmas and our sleigh. All of the collections are donated to local charities, such as the special needs schools for children in our borough.
During the coronavirus we as a club have been meeting on social media each week and it was from one of these meetings that we decided that we need to continue to provide services in the Erith area. We agreed to support the foodbank and we felt that we would provide a defibrillator to Erith Town centre, where it could prove to be life saving for someone that has a heart attack whilst out shopping and before the emergency services can arrive and would be an asset for Erith Town Centre.
The defibrillator unit talks the user through the steps required to apply to a patient and we are also arranging through Dean at the St Johns ambulance brigade, for the training for the Erith Centre members of staff.
Erith Rotary also have been very pleased to provide the Erith branch of the St John's Ambulance personal radios for the senior paramedics. St John's exists through public donations and receive little funding from local and national government, unlike the NHS, and they provide such good training for young people in life saving skills. Their leader Dean who was a local lad that went to Erith School has dedicated the last few years to the task of running the Erith Branch which has over 100+ members in two age groups."
We again thank and praise the Rotary club for all their hard work and donations to help those in need. With a special mention to Simon Price-Whittle and Dave Cook who liaised with Centre Manager Ryan Casey to help make this