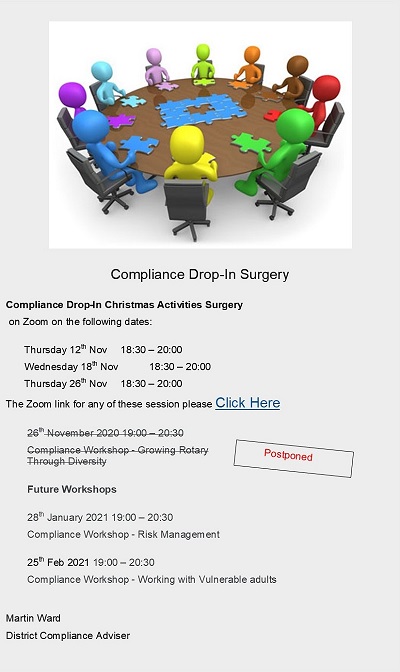 District Compliance Support Team
Future Workshops
The District Support Team has had several enquiries and requests about Risk Assessments for Christmas Activities this year. We will therefore hold a "Compliance Drop-In Christmas Activities Surgery" on Zoom on the following dates:
Thursday 12th Nov 18:30 – 20:00
· Wednesday 18th Nov 18:30 – 20:00
· Thursday 26th Nov 18:30 – 20:00
The Zoom link for any of these session please Click Here
The surgery will be an opportunity to share experiences and ask for advice on compliance issues on your Christmas activities. It would be helpful, but not essential, if you could let me know if you would like to attend any of the sessions. If you do not use Zoom but would like to phone in, please let me know and I will send you the appropriate Zoom number.
Please contact: martin@wardco.co.uk or 02380 614321
Previous Workshop
Last month the District Compliance Support Team organised a successful Zoom Workshop, "Working with Young People". We had 43 Rotarians attending the workshop from 30 clubs in the District. The 1½ hour session was based on a hypothetical case study which was discussed in 7 breakout rooms with 4-7 people in each room. From the feedback evaluation, the overwhelming feeling was that the breakout room format was useful, that the topics were relevant to the clubs that attended, and people would attend further workshops. We had some useful comments back on how we could improve future workshops including: better publicity of the workshop; an introduction setting the scenario context; attention to Zoom etiquette (muting to avoid background noise); and a more even distribution of number of people in the breakout rooms. Areas where clubs would appreciate similar workshops were: vulnerable adults; update on Risk Assessments with Covid-19; different scenarios with young people; GDPR; and applying for District Grants. Thank-you to everyone who showed an interest in this workshop and for the useful feedback – all very much appreciated. The video recording of the session can be found here and the workshop material in the Dropbox handout files.
Martin Ward
District Support Compliance