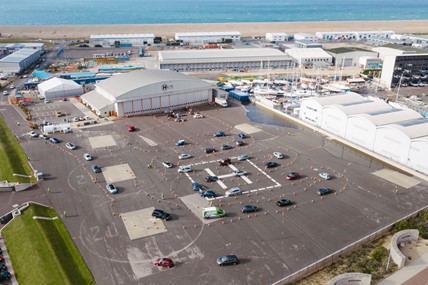 President Elizabeth's Diary October 2020: Spot the Rotarians.
October's highlight was assisting Portland's "drive flu" service, traffic was Marshalled by Portland Rotary keeping the flow moving, delivering 1,800 vaccines in one day. This was one of the largest flu inoculation events held in the UK, so thanks to everyone who helped out. It was a great success, made memorable simply because we actually met-up in person. I understand alcohol may have involved after the event, to help warm up!
This month we have given £100 to Julia's House, a donation in lieu of our Saturday Table Top Sale, missed due to Covid-19. We have also arranged for another donation of £500 to go to the Portland Food Bank, made possible by arranging a Rotary District match funding grant of £250. A thank you must go to our Rotary District team for releasing another tranche of Rotary funding, and of course our Club treasurer Bruce, for arranging all this for us.
Rotarian Steve Cartwright, the RiBI national organiser of KidsOut zoomed in and spoke to us about this year's Rotary Christmas Toy-Box initiative. The KidsOut fun and happiness charity has for many years helped children experiencing difficulties in their lives. In the South West, Rotary clubs work together and hire Crealy Theme Park and Resort near Exeter for a day in June, helping hundreds of children enjoy themselves. Depressingly, we have had to cancel this year's Children's Christmas Party on Portland, the annual Santa Sleigh visits to the main Portland housing areas, and our annual fund-raising activities at Portland Tesco's, all due to Covid-19 restrictions. We shall therefore be using funds from the Stephen Curtis Memorial Fund to send a £500 donation to the Rotary Christmas Toy-Box initiative, which targets children in local hostels and refuges.
Last, but not least we welcome Val McGowen as a new member to our club. We look forward very much to getting to know you better Val and wish you a happy and fulfilling time with us, the Rotary Club of the Island and Royal Manor of Portland.
Keep Safe and Happy.
President Elizabeth
The Rotary Club of the Island and Royal Manor of Portland