2021 Ross Beer & Cider Festival CANCELLED
Sat 1st May 2021 at 12.00 am - Sun 2nd May 2021 - 11.00 pm
Regretably the planned festival on the riverside at the Ross-on-Wye Rowing Club over the Early May Bank Holiday weekend has been postponed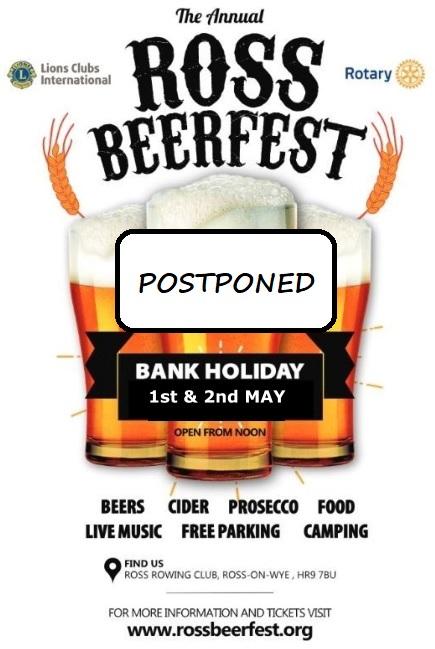 Following the latest RossBeerFest committee planning meeting, it was decided that due to the continuing evolution of the current Covid-19 pandemic it was pertinent to postpone the scheduled May RossBeerFest this year.
The main considerations in coming to this unanimous decision were that:
An event such as

RossBeerFest

is subject to government guidelines and currently prohibited. Even with the very positive news & schedule of expected vaccine deployment, the committee felt that these and any easing of future restrictions would not allow the festival to be financially viable, and would not receive local council support.

It was unreasonable to expect support from those businesses who have very kindly offered logistical and financial support; moreover, the committee urge that we all continue to support any of our local businesses through this very difficult time for many.

In considering the demographic of the majority of those who physically assist to run

RossBeerFest

& for those who would traditionally attend such an event, each respectively represented an unacceptable high risk of contracting Covid-19 or possibly of unnecessary spread.

Attempting to run any such event at such a challenging time for many would contradict the spirit the

RossBeerFest

is intended and draw unwelcome negative publicity.
This decision unfortunately represents the second consecutive year of postponement for the RossBeerFest which traditionally for both Ross Rotary & Lions clubs form a significant part of monies received and of which the majority in return goes back into supporting those of most need within our local & surrounding communities, so it was agreed that we should continue to at least run some initiatives which in some small way may substitute the RossBeerFest cancellation.
To that affect it is proposed to run a "Sponsored Virtual Balloon Race" on February 14th, and if possible, look to host a "mini" RossBeerFest afternoon/evening in late summer, more details on both to follow soon.
In conclusion, the RossBeerFest committee would genuinely like to thank all those who continue to support RossBeerFest, it is a very regretted decision to once again postpone this fantastic local event which traditionally generates money used towards very good causes.
We wish everyone continued health, and look forward to when we are able run the next RossBeerFest.
Best wishes, Mike Nelson
RossBeerfest 2021 Committee Chairman