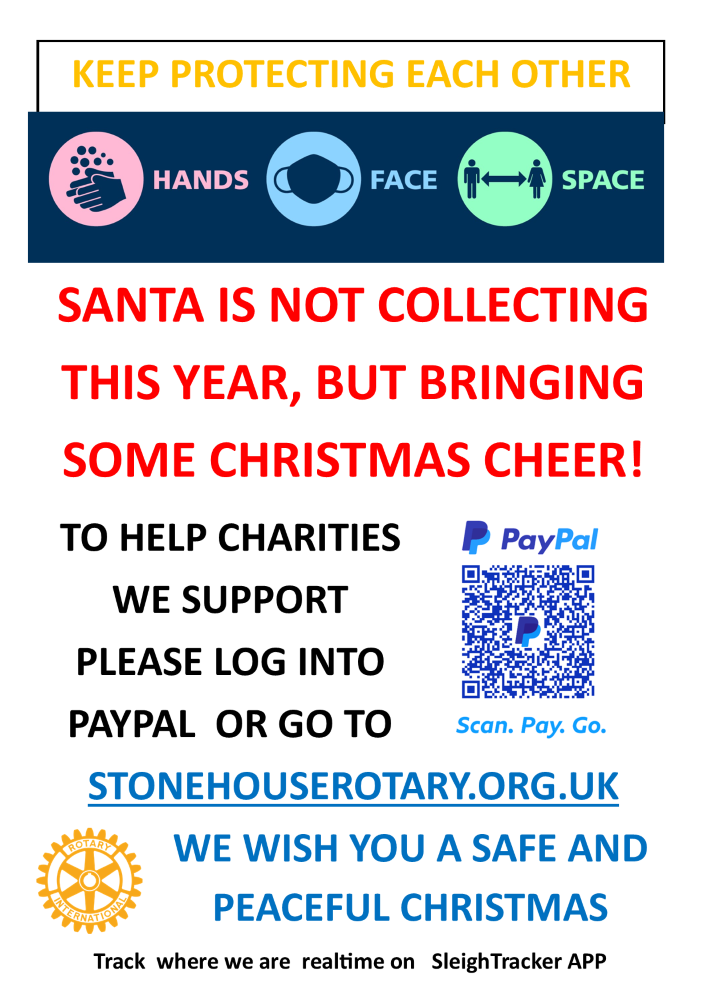 It goes without saying that 2020 was a year of "firsts" with the pandemic affecting every aspect of our lives. As we approached Christmas 2020 we had to announce another "first" - sadly the much loved Santa and the Rotary Carol Float would not be making it's usual fund-raising tours of Stonehouse and surrounding areas and at Supermarkets because of COVID-19.
But we want to thank Santa for finding some time to undertake some tours where he could at least bring some Christmas cheer to your families. He really was so pleased to see so many youngsters out and about that he could say Hello to. He does reaaly hope that they all had a safe christmas period with their families, and that the toys and gifts that they so much wanted were well received.
For those of you who are new to the area, a bit of background about the Carol Float. This has been a feature of the Stonehouse and surrounding area's festive season for 20 years;. We wouild normally start our collections in early December with an evening door to door collection of funds for local good causes. Accompanied by Santa himself and some festive music, local children don their dressing gowns and run out to see us. We also visit local supermarkets during the day to brighten the chore of Christmas shopping.
Since the Carol Float started we have raised a total of £197,599.40 which has been distributed to some wonderful local causes that support our communities. This would have been othe21st year!
With this in mind, and knowing the great compassion that our community has for those less fortunate, Santa thanks those parents and supporters who were able to make a donation in December 2020 to help support the range of causes that his work covers.
Thank you to all those who made a donation to the Stonehouse Rotary Trust Fund - by login to your PAYPAL account and using the QR code above, or by BACS transfer direct to the Trust Fund - sort 30-98-29, A/C 01618570.
It's true to say that our Club members enjoy their time with Santa as much as our local communities and we really are saddened that we could not operate fully in 2020. Santa is having a well earned rest now the need for his work continues, and he hopes that he will be able to be back seeing you all again in 2021.
But just to assure you that Rotary remains open for business! We meet fortnightly via Zoom and have a great range of interesting and engaging speakers on a wide range of topics. Why not join us one evening? Further details from the Contact Us link from www.stonehouserotary.org.uk