Rotary Club of Newquay helps local charity DISC
Tue 29th December 2020 at 9.01 pm - Wed 30th June 2021 - 11.01 pm
The Rotary Club of Newquay steps up to help local charity Drop in and Share Centre DISC Newquay.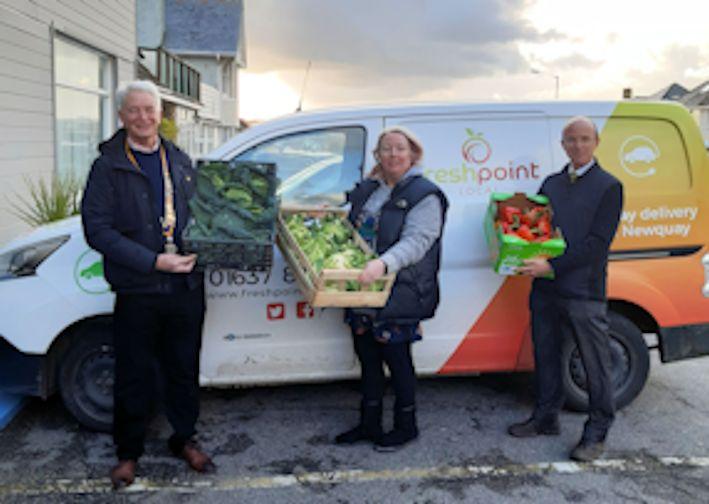 The Rotary Club of Newquay steps up to help local charity Drop in and Share Centre DISC Newquay.
DISC Newquay have been carrying out sterling work to support the local community, particularly during these difficult and unprecedented times. The Rotary Club of Newquay decided to approach DISC and see how they could help with this valuable work for our community.
DISC have seen the number of people they support raise from an average of 50 to 170 people, and this is forecast to rise as the pandemic continues to impact. Speaking with Monique Collins it quickly became clear that a weekly supply of fresh vegetables, along with tinned fruit and rice pudding would be of great benefit. Each Monday they provide the needy of Newquay with four meals and on Friday a further 3 meals. Along with the meals there are also some treats for example a slice of cake; this results in around 1,700 portions of food being currently provided.
The Rotary Club of Newquay reached out to a local supplier to arrange weekly deliveries of fresh vegetables, and were delighted when Freshpoint agreed to work with us. The Rotary Club of Newquay also opened a charity account with Bookers so we can purchase catering tins of fruit and rice pudding - a firm favourite especially with a spoon of jam!
President Phil Tickle said the Rotary members unanimously agreed to support DISC and have allocated funds to supply fresh vegetables and tinned items for the next ten weeks, when the situation will be reviewed.
It was with great pleasure that we were able to present the first delivery to Monique and her team on Friday, 4th December and thank Freshpoint for stepping up to help.
Along with other charities and organisations, the Rotary Club of Newquay have found it extremely difficult to raise money this year. Street and supermarket collections have been a definite 'no', plus we have had to postpone our major fundraising events - the annual golf day and our annual ball. A sponsored coastal walk, and a few quiz nights by Zoom have allowed some small scale fund raising together with trying alternative fundraising tools.
Many of our supporters having been donating by text. To donate £2, they simply text the word BLUE to 70490.
We hope that it won't be long before we can, like everyone else, get back to our regular face to face meetings and fund raising activities.
The Rotary Christmas Tree is now in place outside Poundland and the Rotary Club will this year be handing out individual goodie bags (all prepared well in advance) to all children on Christmas Eve, in the town centre.