In memory of John Hopkinson
One of the Rotary Club of Haworth & Worth Valley's founder members and a former President, John Hopkinson, died peacefully after a long illness aged 87 at The Gables Nursing Home in Silsden last Saturday morning.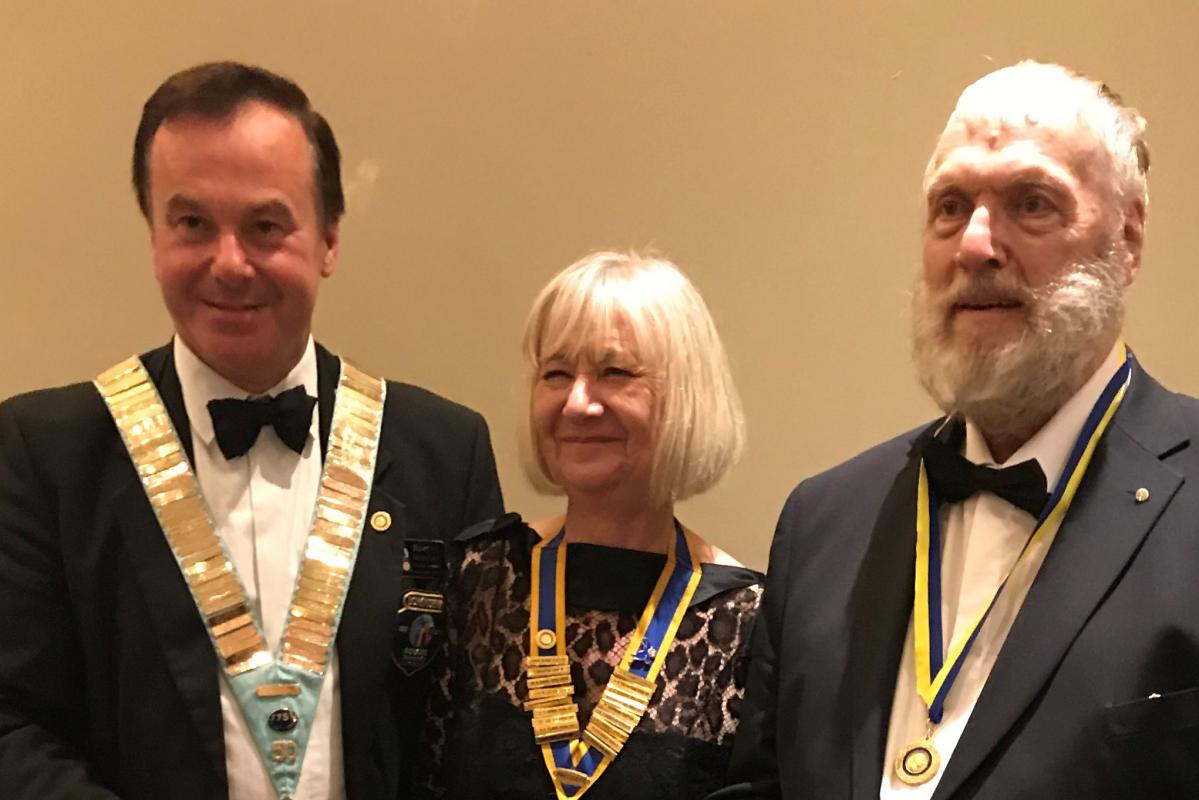 At the club's on-line meeting on Tuesday evening tributes were paid to John who had remained a key member of the club until his health issues prevented him from attending meetings during 2019.
John, who was awarded the Paul Harris Fellowship for his services to the organisation in 2018, played his part in one of the club's major fund-raising projects in Autumn 2020 when, in spite of his mobility issues, he together with another former President John Huxley raised £2,000 with a sponsored beard shave on behalf of the Oxenhope-based Sue Ryder Hospice Manorlands.
Club President Ian Park said: "John will be much missed by all the members of this club. He and his late wife Christine helped establish the club in 1999 and he continued to play his part in the club's activities right through until last.
"John could always be relied upon to deliver entertaining talks when called upon and he had a substantial library of subjects on which to call ranging from making the case that Robin Hood was really a Yorkshireman through to Victorian toys."
Born in Denby Dale in 1933 during his lifetime John became Director of Museums in Wakefield, a Methodist Lay preacher and established a toy museum in Haworth.
His deeply-held religious beliefs supported his love of singing hymns and his rich bass singing voice was used to great effect in most of the Churches and Chapels around the Haworth and the Worth Valley.
Besides all his other interest John was an accomplished restorer of toy trains and quality of his workmanship attracted customers' worldwide. He loved delivering customer's toy trains himself and drove as far as the German capital Berlin and Zurich in Switzerland to ensure a customers' trains made it back from Haworth safely! He also had regular work from as far afield as Australia, New Zealand and the USA.
John also loved travel and self-driving the United States of America was something that appealed to him greatly.
John was a member of the Rotary Club of Keighley and played a role in the establishment of the Rotary Club of Haworth & Worth Valley. When the club was created in 1999 he moved from the on Keighley club to join the infant Haworth & Worth Valley club and, because it had been set up as a dual-gender club, he and Christine became founder members.
He served as Club President in 2008 and was recognised with Rotary's highest individual accolade, the Paul Harris Fellowship, in 2018.
Added current President Ian: "John certainly made his mark as a member of our club not only as a founder member and former president but as man of integrity and great warmth."
The family have requested that any donations in memory of John be routed through John's Rotary Club for the benefit of the Manorlands Hospice in Oxenhope. Donations can be made either via the Club's website.
Gift Aided payments would be appreciated where possible and payment using the Club's website provides an easy way of achieving this.
Alternatively any donations in memory of John may be made by cheque payable to 'Haworth & Worth Valley Rotary Club Charity Account' which should be sent to the Club Treasurer, Gordon Green, Hill Top Farm Colne Road Oldfield Keighley BD22 0JJ.
Donations
11 mins ago