Insight into an American Rotary club from Hal Moeller + Ray will be activating us!
Tue 6th April 2021 at 8.00 pm - 9.00 pm
Hal and Ray will be talking to us on Tuesday 6th April.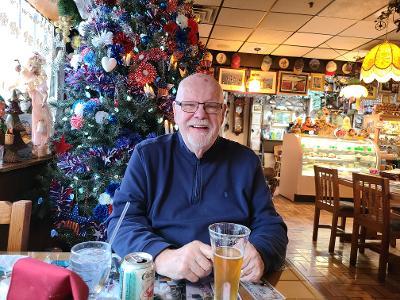 Hal is a Rotarian Associate of the club. He is a member of the Rotary Club of Madison in New Jersey, U.S.A. and an Assistant Governor. He has been a Rotarian for more years than he cares to remember. A much travelled man here is a little information about him: -

'I was born in Hinsdale, Illinois. About 30 miles west of Chicago. I got a BS in Materials Science from Caltech and an MBA from MIT. I joined Exxon (Esso) in Houston and I worked in Florham Park, Nj, Stockholm, Riyadh, Saudi Arabia and Darien, Conn. I visited London (as close as I got), Paris, Milan, Singapore and Hong Kong. I quit when they wanted to send me back to Houston, and we opened a bookstore in Chatham, NJ, the next town over. We went to book conventions in New York, Los Angeles and Chicago. I joined Rotary about 25 years ago. We've been to RI conventions in Chicago, Montreal and Atlanta. Great times meeting many people from around the world. I'm currently an Assistant Governor in my district with 4 clubs I'm trying to help.'
Raymond Lyon of our own club will be introducing us to a crafting DIY special - a fun activity for the Spring/Summer
Visiting Rotarians and guests will be particularly welcome. We ask you to use the Contact Form below to obtain entry details for the Zoom meeting.
Members and regular guests will be advised of the entry details nearer the time.