Job Club
Between October and December 2020, the 8 Rotary Clubs in the London Borough of Bromley worked together to offer free new online learning opportunities to local people in Bromley who were unemployed or who felt at risk of unemployment
25% of participants in the first group got a job or placement.
Do you live in the Borough of Bromley? Have you lost your job through Covid? Is your job at risk? We can help you with: ● Getting back on your feet ● CV writing ● Job Search ● Interview skills ● Starting your own business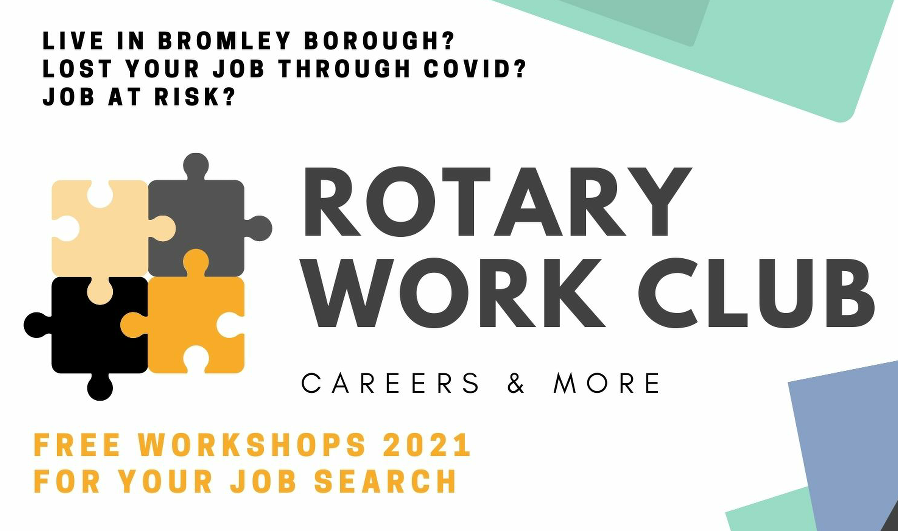 The Rotary Work Club in Bromley launches Phase 2 from January 2021, making new and renewed content available to help 2021's local unemployed people and those who are worried about losing their jobs.
Between October and December 2020, the 8 Rotary Clubs in the London Borough of Bromley worked together to offer free new online learning opportunities to local people in Bromley who were unemployed or who felt at risk of unemployment. In that pilot 'Phase 1' of Rotary Work Club, participants learned useful skills to help them to gain new employment or to start a business. The Covid-19 pandemic is having a well-publicised and devastating impact on employment and businesses and the Rotary Work Club in Bromley was created to help people at this very difficult time.
Rotary Work Club Phase 2 includes new workshops and begins on 11th January 2021. All sessions run from 10am-11am,
25% of participants in the first group got a job or placement before the end of the programme, and several have been brave enough in this difficult time for self employment, to start their own businesses.


We continue to offer support to those who want it, through fortnightly coffee mornings on Zoom.
.............................................................................................................................................................................
ROTARY IN THE BOROUGH OF BROMLEY WORK CLUB – HOW IT WORKS

Why the Work Club?

The present circumstances of the Coronavirus pandemic can make a job search especially challenging. So, it is even more important that you do yourself full justice when applying!

Why Rotary?

Rotary in the Borough of Bromley comprises the membership of eight established Rotary Clubs. For all, support for issues that concern our local community is a key priority.

Why might you be looking for a new job just now?

Perhaps you have been made redundant from your previous job?

Or thinking about something that will better suit your abilities or circumstances?

So, how might our Work Club be able to help you?

Our trained volunteer facilitators come from many different professional and business backgrounds and experience. But they share the same purpose – to help you succeed in finding a job that is right for you. We cannot promise the outcome, of course, but gladly offer, free of charge, independent, practical guidance and support on:

• Understanding what your strengths are

• Setting yourself a goal and making a plan

• Where to look for jobs

• Filling in an application form

• Creating your C.V.

• Getting ready for an interview

• How to build your confidence

• Staying motivated

Please understand that we are not a recruitment agency or job brokerage – we don't look for jobs for candidates or look for candidates for employers. We are also not a job referral scheme, so we don't connect employers to candidates, or vice versa.

How does it work?

We would normally expect initial enquiries to be by e-mail to rotaryworkclub@gmail.com

In reply, we will ask for some basic information and give you more details.

You will then be invited to our 'taster' session where you can meet the team running the Work Club and have a short preview of each full learning session.

The 2021 dates are:




Click

here

to send us an email to book your place and to obtain your Zoom session link.

================================================

You can access information about past events here:

================================================

Find out more about Rotary and Work Club by clicking on this link

https://www.rotarygbi.org/rotary-work-club-proves-a-big-success/




There will be further support opportunities for Work Club members, to be announced at a later date.

Do be assured that your private discussions with our facilitators will be treated as absolutely confidential.

We look forward to hearing from you.

Good luck,

Rotary Work Club Team

..........................................................................................................................

"All Rotary Work Club advice and information is given in good faith. Rotary or volunteers should not be held liable for actions taken as a result of such advice."
For media/press enquiries please email: rotarynorthbynorthwest@gmail.com