Duchennes Muscular Dystrophy is a life limiting, muscle wasting condition which occurs primarily in males, and means that they are usually unable to walk by the time they reach 12 years old.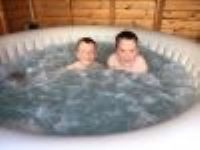 Some time ago, we were made aware of a lad in Rushden, Ollie, who had this condition, and we were told that a hydrotherapy unit would help him to keep mobile for longer. Through persuasion and coercion, we managed to get local trades to donate all the equipment required. Panache Poole supplied a hydrotherapy pool, A & J Sectional Buildings supplied the summerhouse to keep it in, and Bonnington's Garden Centre donated the artificial grass to surround it.
Unfortunately, recently Ollie has deteriorated in that he could no longer get in and out of the pool. We, therefore, contacted the Duchennes Society who put us in touch with another little boy in Corby, Harry. Panache Pools serviced and cleaned the pool, and delivered it to Harry's home. Our members, together with members of the Corby Rotary Club, dismantled the summerhouse and re-erected it in the garden for Harry.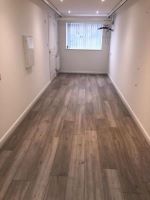 And more recently still, we have come across another little boy in Rushden, Ronnie, with this same crippling disease. He is newly diagnosed, and the family have had to go through the process of getting their home adapted, converting the garage into a bedroom for Ronnie, with hoists, etc. The family got a grant for most of the work, but they had bought some laminate flooring which they needed laying. Again, persuasion from our members meant that a local company, Mark Bird Flooring, laid that floor within a couple of days.
Our latest endeavour to help these unfortunate boys, was to make a donation towards an all-terrain wheelchair for Ollie. He has an assistance dog, and also a twin brother, Jack, and in his normal wheelchair he was not able to take his dog for walks in areas where dog's love to go. Even watching his brother play football was impossible as the ground was uneven and often wet. He can now take the dog for walks over fields, take an active interest in his brother's football, and will also be able to go on the beach when allowed to travel again.
This is an excellent example of clubs working together, and the power of the Rotary platform to get things done. It is not always money which is required to complete a project, but just the ability to be able to persuade others in the community to assist with their time and expertise.