Weird Fish Lady BLOG August 2021
Watching the TV news coverage of the floods in Europe during the middle of July was truly heart-breaking and being worried about our Rotary friends in contact clubs in Germany, Netherlands and Belgium was quite frightening. It all happened so fast - one moment people are living a 'normal' life … then you see devastation on an unbelievable scale. Rain, rain and more rain. River levels rising, motorways undermined, cars tossed around like toys, houses destroyed, over 150 people dead and hundreds missing. We watch as a previously innocent river turns into a torrent of unbelievable force which destroys everything in its path.
It could so easily have been in the UK. We'd had flooding in London a few days earlier but the weather formation causing the problem shifted to Europe. The images of Germany reminded me of seeing TV coverage in countries far away, such as the Philippines, after a hurricane has struck. But how can this happen in Europe - we are not in hurricane territory - or are we? What caused this terrible flooding and destruction?
The weather presenters told us the details. Angela Merkel spoke immediately of problems with Climate Change.
The Cause
Human activities are causing the natural processes on the Earth to change. We've been talking about this for years and scientists have been warning us of the problems.
'Excess carbon in the atmosphere is causing the Earth to heat up.
The Earth's atmosphere now contains far too much carbon dioxide.
Excess carbon dioxide is coming from burning fossil fuels - a human activity!'
Now we're seeing the results for ourselves - and not very far from home.
The solution?
Well, sitting behind the settee hiding under a cushion is I'm afraid, not an option - that may have worked for me as a child when watching the Daleks on television, but it won't work now!
The problem is we've been hearing it for so long - and doing nothing. The problems are complex - and so many facets of human life are affected. What can we do? What can each individual person do?
We all have to grow up and take responsibility - because this situation is not caused by someone else ... it is caused by ALL of us.
So come on Rotarians, (People of Action) - let's get on with it.
Can we all reduce our carbon (fossil fuel) emissions?
We can do something as individuals, or together as Clubs, as a District or as a Region, Zone or even Rotary International. Any one of us - and all of us - can make a difference!
Start with ourselves - then share with our communities.
Let's consider FOUR major target areas:
1. End Plastic Soup!
2. Reduce carbon emissions
3. Improve sustainability
4. Improve Consumerism
I mentioned End Plastic Soup last month - read about it here - So, you already know about one of our target areas! Let's concentrate this month on Number 2 …
Reduce carbon emissions
Let's start with something simple -

Some Districts in Rotary have decided to launch a project to get their District to Net Zero by reducing their emissions. How? By getting every Rotarian involved and checking and improving their carbon emissions.
Why don't we all pledge to make a difference to our world?
Net Zero, or carbon-neutral, refers to achieving a balance between carbon emissions produced from our energy consumption and emissions of greenhouse gases removed from the atmosphere. We can accomplish this by reducing our emissions (carbon footprint) and removing carbon dioxide through mitigation projects, such as planting trees, building gardens with native plants, recycle or conserving biodiversity.
Governments around the world agreed to reduce global warming during the Paris Agreement and their target was to achieve net zero by 2050. Yet, there are Rotarians in the USA who believe that Rotarians can achieve District goals of reaching net zero by June 30, 2025 - yes - in just four years!
Why don't we join in?
The first step is to ask every Rotarian in the District to sign a pledge to measure their carbon footprint using a carbon calculator. There are many calculators available on the web. Here is a user-friendly one that we suggest https://www.footprintcalculator.org/ designed by Global Footprint Network. Note the ACTIONS we could aspire to.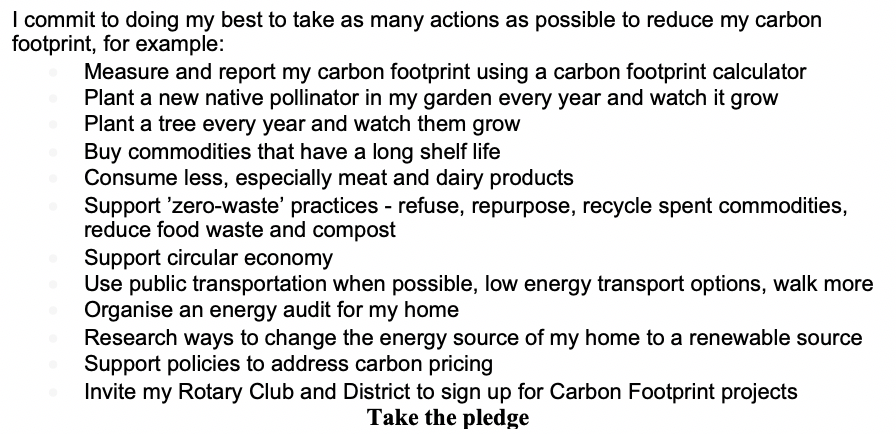 Fill in the pledge below - copy it and send it to:
gloria@barnettauthor.co.uk and I will keep a record of who is taking part in this pledge.
Carbon Footprint Pledge
From:
Name:………………………………………..
Rotary Club: …………………………………
District : ……………………………………..
Date: …………………………………………
My Earth Overshoot Day …………….(see the result of your carbon calculator)
Rotarian action in the community
Apart from our individual efforts, it would be great to encourage everyone in our communities to join in. So, once you have committed yourself to net zero in four years - then encourage your local community to do the same. Find ways to get the information out to everyone and encourage a 'pledge' to join in.
In my own Club (Rotary Club of Canterbury Sunrise) we are conducting a feasibility study of planting trees around school areas and encouraging biodiversity with school projects. As we progress with this feasibility study over the next few months, I will keep you all informed of our progress.
We are also continuing to introduce our environmental education resource project in local schools. (Go to my website link at the bottom of this blog to see what Rotary Clubs around the country are already achieving.)
As Environmental Lead for my own club - I have suggested a way for us to go forward with our ideas - and if anyone wants me to do a zoom talk to their Club then contact me. (see below) My suggestions are based on the information which is on the District Website Environmental Page i.e. reviewing club activities, supporting local Environmental Sustainability and suggestions for ACTION.
Work out your carbon footprint. Do it now…… Go on… you know you want to ….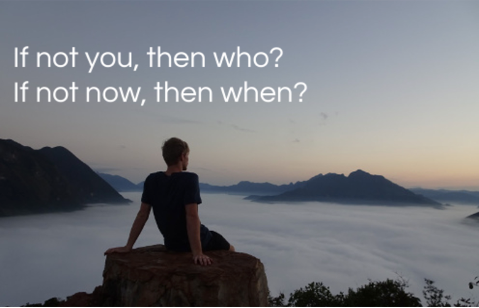 See you next month!
Find out how Rotary Clubs are using Gloria's work of 'producing Environmental Education Resources for Primary Schools' - to inform the next generation by visiting Gloria's website here .
Contact me : gloria@weirdfishlady.co.uk