For the entirety of our Rotary Year 2020 – 2021, our then President Frank Williamson ably presided at all our regular Thursday evening meetings on Zoom. Another Past President, Ian Lumsden, acted as host throughout the year, and still does, and facilitated often full attendances of our membership at meetings, with guests joining us from time to time. Our regular weekly meetings programme included our Christmas Night and Burns Supper with both gatherings being organised by our then Vice-President, now current President, Douglas Irving.
Christmas Night on 16 December 2020 with Ian Lumsden (top left) acting as Host, gathering us together on Zoom. The almost full attendance of members and partner also included, as shown, Hilary and Douglas Irving, Jim Anderson, Kate Kerr, Mike and and Sadie Hollis, Sue and Hamish Biggar, Alex Scott, our senior member, David Henderson, Caroline Robertson and David Butler and Dr Sebastian Pflanz, local G.P. and the Club's guest, who delivered our Christmas Message.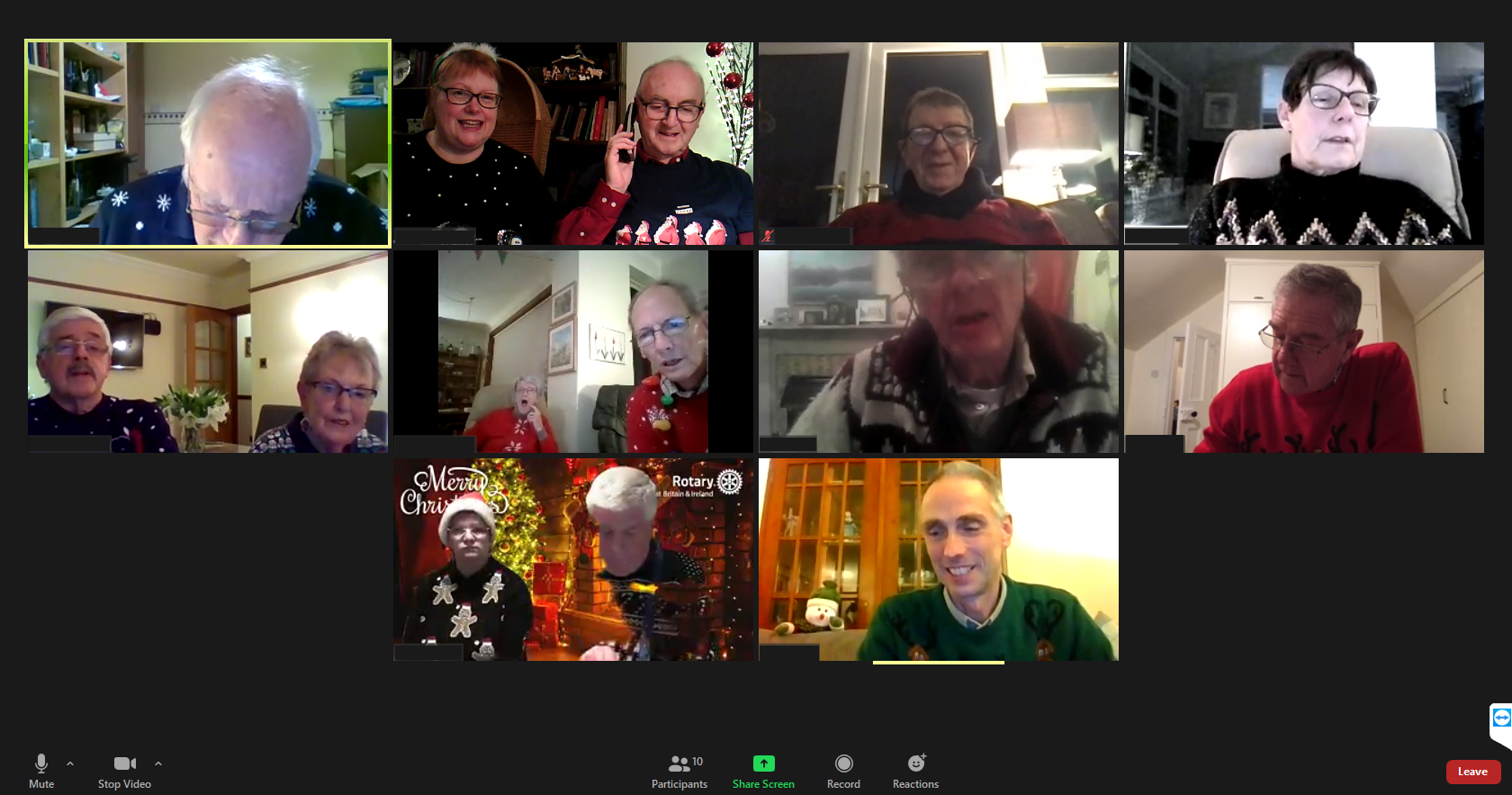 Our online Burns Supper audience included, as shown below (beginning top left, continuing in horizontal columns (left to right) Douglas Kerr, Roan Irving, guest, Brian Atwell, Ian Lumsden, James Robertson (Castle Douglas Club President) and his wife Irene, Mike Hollis, Ann and Alistair Robertson, Frances and David Henderson, Douglas and Hilary Irving, Margaret Boyd, Robert and Carolyn Kennedy, Isobel and Bill Gray, Kate Kerr, Club Junior Vice President, and Jim Anderson, Sandra and John Henry, Heather and John Rowland, Club Vice-President, Charles and Doris Cloy, Hamish and Sue Biggar, Mike Duguid, Kirkcudbright Club, who delivered the "Immortal Memory", James, Tina and Martin Yule, guests, with Tina and Martin playing a Medley of Scottish Songs on Accordion and Fiddle , Mr and Mrs Keith Warford (Castle Douglas Club), Gordon and Rhonda Cathro, Chris and Fraser Sanderson, David Butler and Caroline Robertson, Bill Hean (Castle Douglas Club) who proposed the Toast to the Haggis, and Frank Williamson, our 2020/2021 President, and his wife Joan.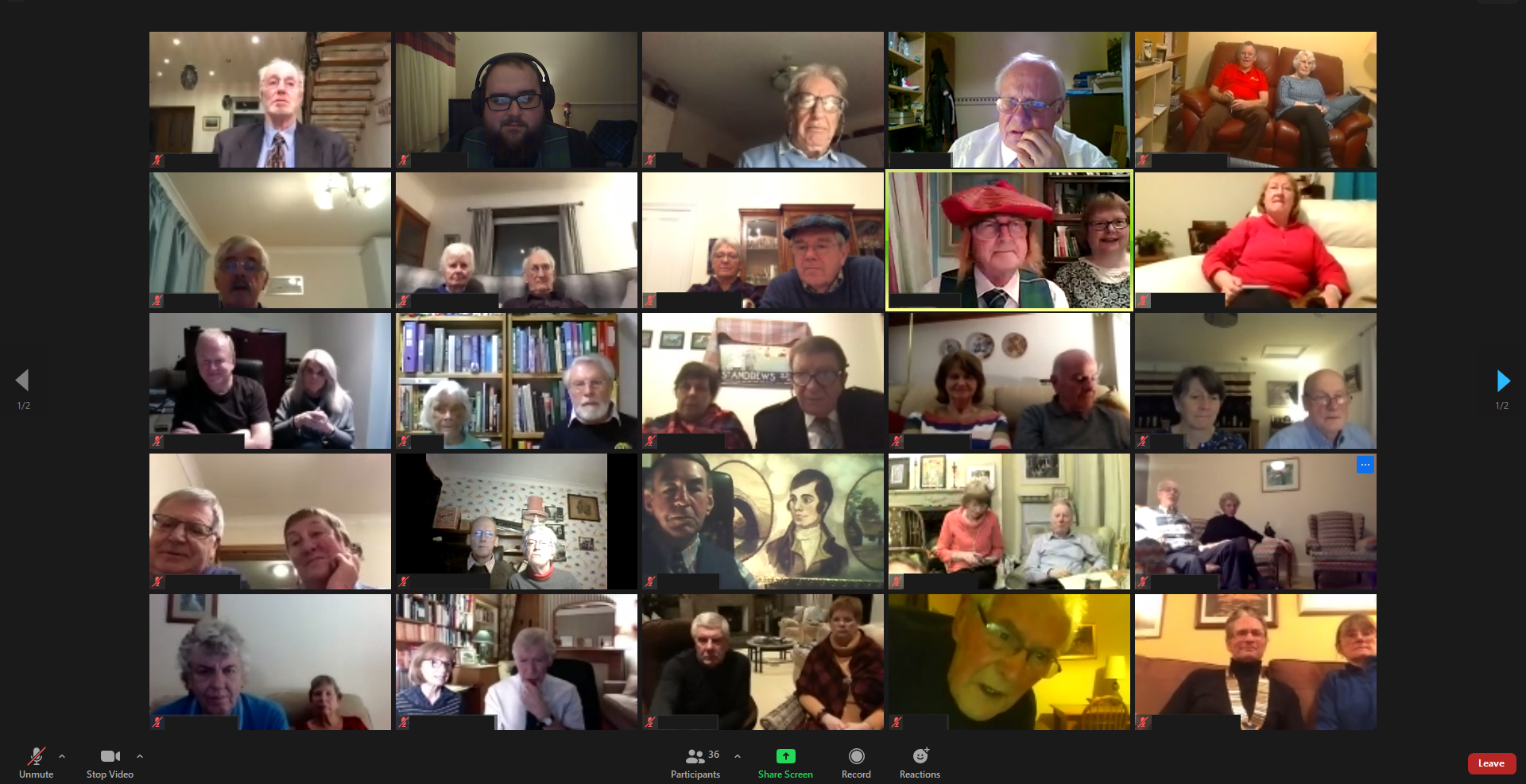 Other Burns Evening guests shown left to right in the bottom two columns of the undernoted image included Kenny Murray, Robin Hogg, guests, both Castle Douglas Club, Mr & Mrs Stuart McCulloch, guests, Mr & Mrs Angus Campbell, guests, Stephen and Alex Howie, Ian Wilbur, Anna Yule, guest and Jean Irving, guest.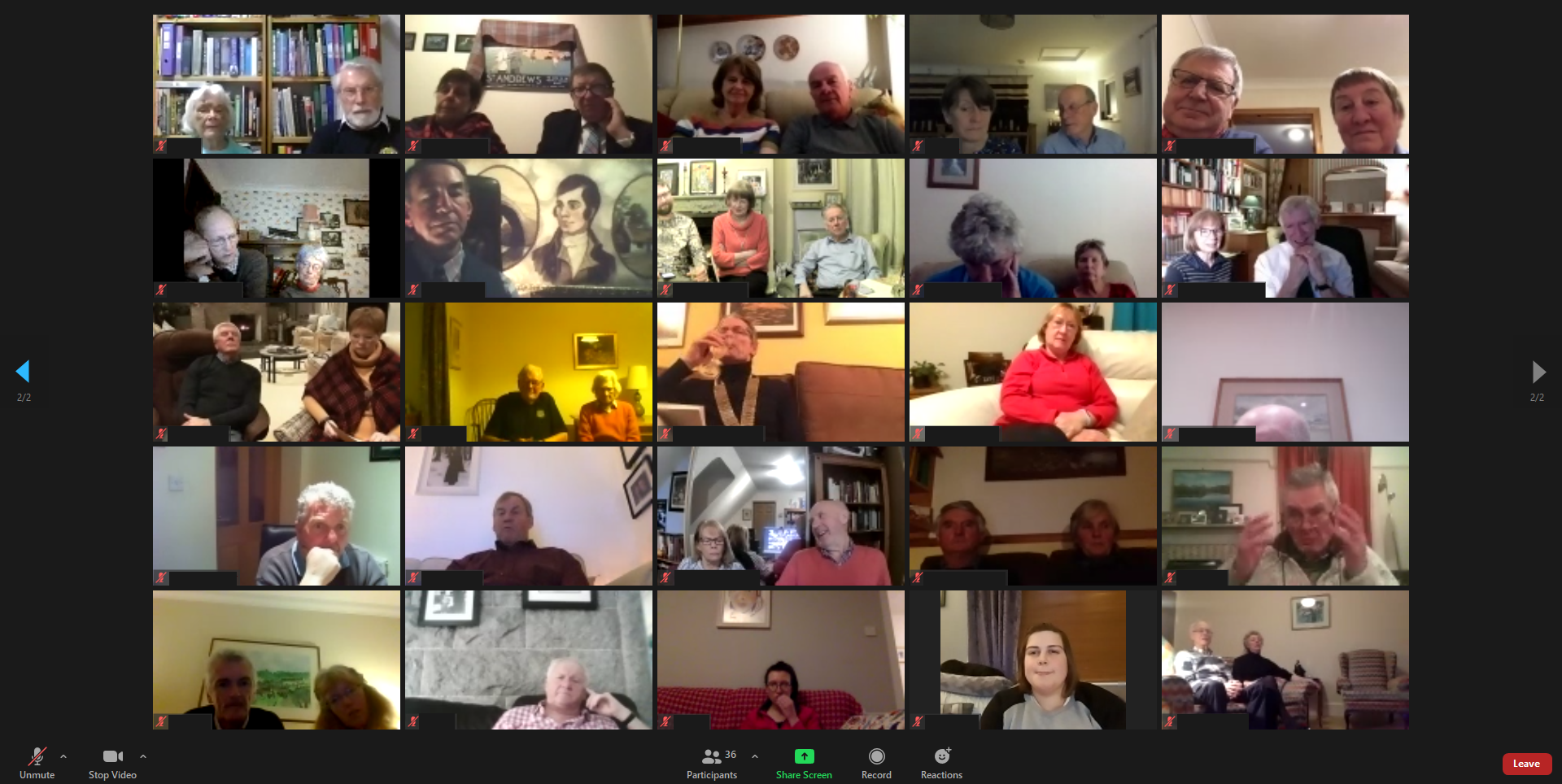 Entertainment on accordion and fiddle was provided by Tina and Martin Yule, Hest Bank, Cumbria
Robert Lind sang Burns Songs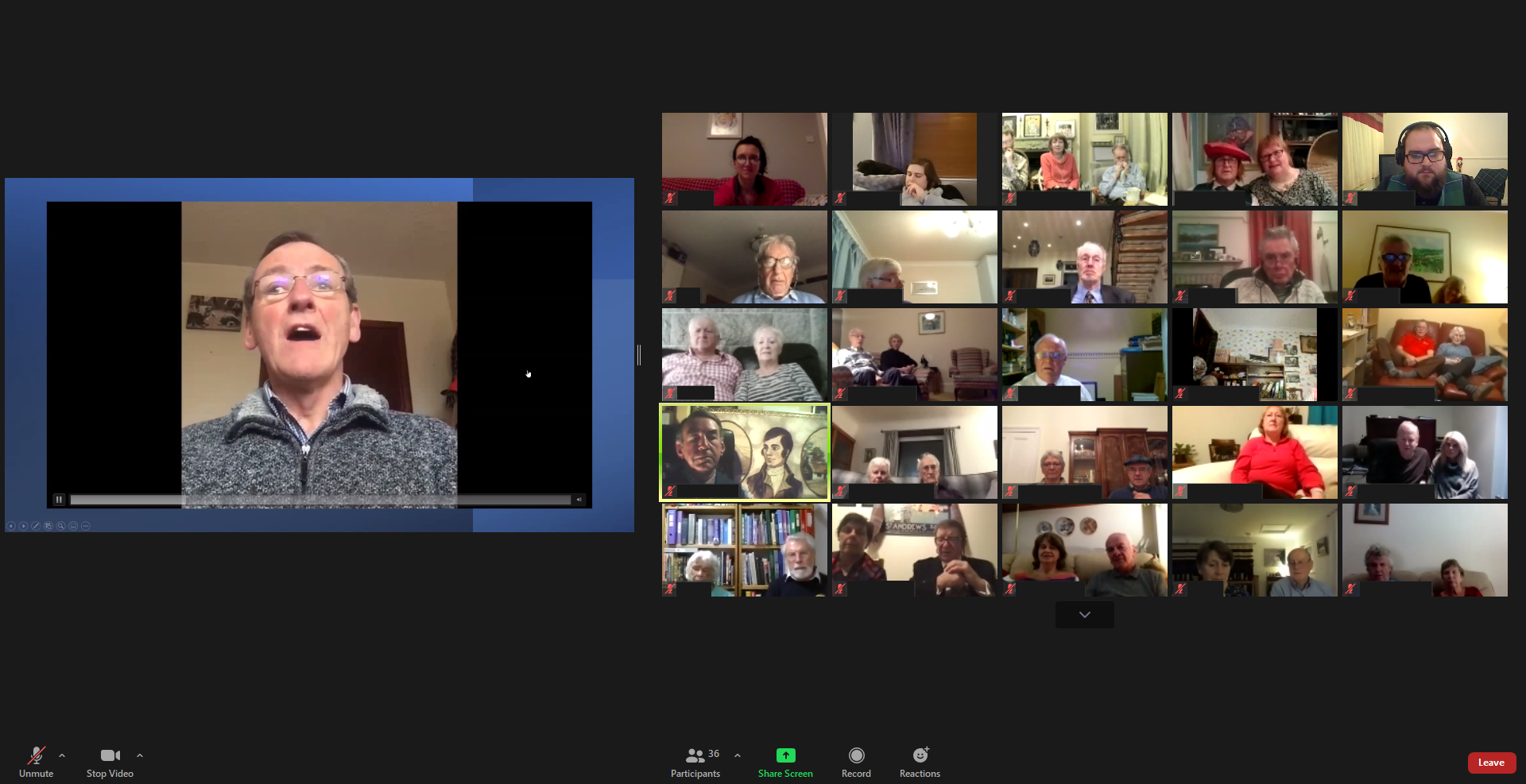 All members of the Irving Family were in attendance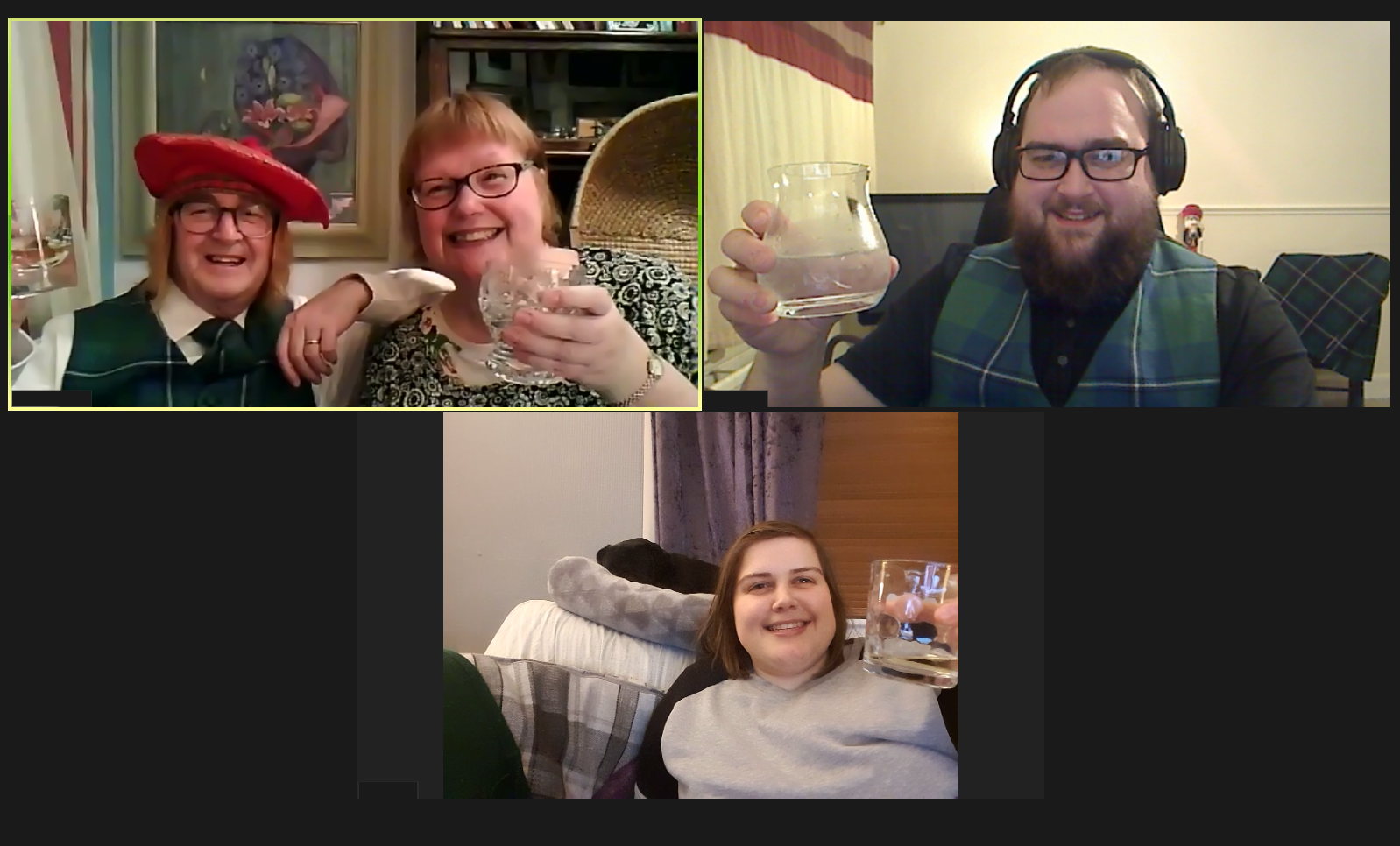 The current Rotary Year (2021 – 2022) has seen weekly meetings continue on Zoom. The undernoted image shows members in attendance on Meeting on Thursday 16 September 2021 when member Douglas Kerr (right, second column) spoke about his fund-raising over recent years visiting Scotland's Islands and climbing the highest point on each. Thereby, charities Mary's Meals, Dumfries & Galloway Befrienders and Dalbeattie Rotary Club stand to share in over £17,000 to date raised.