I Had Tea With The Pen Pals
In May we reported on the Quilters Pen Pals project, where the children write to "older" Pen Pals. Leader of that project, Maureen Lee, Volunteer at Quilters explains: "The response from the children and their Pen Pals has been fantastic and the letters back and forth have given everyone a bit of joy. We took two groups to Anisha Grange in July, and arranged an afternoon Tea on September 21 for the Pen Pals. The children made the cakes too"
We have sponsored the Anisha Grange visit and the refreshments at this afternoon Tea, and IPP Peter went along on the 21st to support the event.
Give me Sunshine
It was a beautiful sunny day and the school had set out 14 tables in the playground, each with four to six chairs.
Year 4 were the hosts and as each Pen Pal arrived, they were given a name sticker,escorted to the playground and seated at a table, where they were joined by some of the Pen Pal children.
As a guest, Peter was seated with Ray, Zach and Oscar, later joined by Amelia, and was offered a plate of sandwiches, scone and cakes, together with a mug of Tea. Unfortunately, the children were not allowed any of the food for risk of allergies!
And that wasn't all. There was entertainment too as four of the children took it in turns to play a tune on the piano, set up in the middle of the tables.
After just under an hour, the tea was over and the adults escorted to the gate while other children tidied away the remains of the food, and tables and chairs,
"This is a fantastic intergenerational project which brings joy to all involved," summed up Maureen. "Thank you."
The Tea Party was a great success. This report as printed in our Newsletter was noticed by the Billericay Dementia Action Alliance and reported on its Facebook Page, and we reproduce that Facebook item here.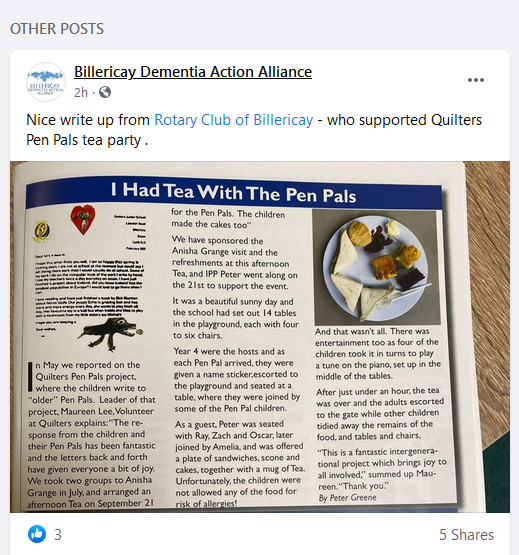 By Peter Greene