Weird Fish Lady BLOG 1st November 2021
(Remember – a blog is just the opinion of one person. All views expressed in this blog are those of the author.)
As I write this blog – the COP 26 meeting will be only days away. World Leaders are meeting in Glasgow to discuss how well each country has done with their promises of reducing carbon emissions. I expect some stunning announcements from many sensible countries, but I worry that the UK will not be high up in the list for having achieved or planned to achieve the strategies needed to enable the UK to become a carbon zero emission country in the desired time needed to save the planet.
Ministers of the Government are at the moment rushing around like headless chickens, with announcements about what they are going to do – these are all attention grabbing statements but to my mind these announcements show a distinct lack of planning for the future.
The Queen was reported a few days ago, as having said that she was 'irritated at the people who did a lot of talking, but who were taking so little action.' Well said, M'aam. She also commented that she'd no idea who was actually coming to the COP26 meeting. So many leaders of the gas-guzzling countries, who we desperately need to come to this meeting, are not yet telling us if they are travelling to Glasgow or not.
Things have been changing though. It was only a few years ago that a young Greta Thunberg decided to make a stand. She took a placard and sat in front of her Government Buildings – 'striking for the future'. She stopped going to school for nearly a year in order to visit the United Nations and the USA where she spoke up against the use of fossil fuels. I know that for many people this was the first time they actually took notice of the sort of warnings that had been publicised for many years and yet so many of us had ignored it all. Greta Thunburg did wonders for the majority of ordinary people (not just the children) to begin to realise that the Earth had a problem with its human activities.
Yet wonderfully, it now seems we are all climate change aware! Most of us understand that we only have ten years to address the problems of climate change which are rushing at us so quickly. The scenes in the past year in the UK and around the world, have shown us that climate change is not something that will happen in the future, but it is happening NOW! Individuals seem to be waking up to climate change and asking, 'what can I do?'
During the corona-19 pandemic and lockdowns, there were daily reports of numbers of people who had tested positive, hospital admissions and deaths. I can remember saying at the time (to family and friends) that this was the sort of reporting we needed for climate change – a daily report. Well, Sky News has started a programme at 1830 pm every evening – and it is doing a fantastic job at reporting the new technologies which are available, and which can be used in the forefront of the fight against climate change.
So, I am sure that I no longer have to explain climate change to people. Isn't everyone aware now of the problems? Are we all doing our best to individually change our ways so that we can avoid a disastrous future? Are we all starting to make sacrifices about our diets, buying electric cars and not replacing items in our homes for new sparkly things which we may not actually need? Are we all trying to stop being part of the throw-away society, which has got us into the problems of too much waste?
Well, maybe there are lots of us doing what we can, thinking about the future for our grandchildren – but is it the right way to move forward?
Up until this morning, I have used the
'If not you, then who? If not now, then when'
statement – trying to encourage us – as individuals – to change our way of life, encouraging people to 'do their bit' and alter our way of living to help with the fight against climate change, but this morning I read a report from a Government Department about human behaviour. The report came to the conclusion that the more we try to force individual people to do things, the less actually happens. The report is available here (https://t.co/jiEGkA2MMS?amp=1) – and it's quite long – so you may wish to scroll down to the conclusions on page 49 but it is stating that :
Climate change needs behaviour change – according to the Committee on Climate Change (CCC), 62% of future emissions reductions depend on it. The bulk of this (53%) relates to technology adoption, including low-carbon heating systems and electric vehicles. The other 9% relates to reduced demand for high-carbon activities including aviation, ruminant meat and dairy, wasted food, and car travel.
Yes – okay – we're all starting to understand that for ourselves – we need to change our behaviour … BUT it goes on to say:
… we can't do all this just by asking individuals to change their ways. We need to follow a system which will 'reduce the burden of action for the greatest number of people.' In other words – a Government should be taking action which enables a reduction in the need for individuals to take responsibility for their own actions. It needs to direct the choices we need to make.
(Remember the plastic bags in supermarkets – Government helped citizens to stop using plastic bags – by the simple start of making a charge for the bags … then not having plastic bags in the stores. It all added up to a change in behaviour by the public – and we wouldn't dream now of using dozens of plastic bags for our shopping every week! Our choices were 'directed' by the Government – so we all changed our behaviour.)
The route to success it seems is one which is both 'politically feasible and minimises the burden on citizens'. We need a government which will help to propel us to a 'world of the future' – and not expect us – as individuals – to achieve it all by ourselves.
(I understand this report was removed from the Government website only hours after it was first posted. I will leave you to decide why this may have been done! Is Government planning to take the action to oversee the changes we need to make to reach a 'better future world' or not?)
Another recommendation from the report is that
'laws need changing to encompass sound policy-making for Net Zero:
Build policy on evidence

Implementation, Implementation, Implementation

Beware of unintended consequences

Think big and small – bold action and detail

Collaborate. Government doesn't hold all the levers for societal change'
I have been advocating for ages that we need to make changes in our systems – and I dream that we can have a Coalition Government of all parties – politicians who can collaborate, rather like the Government in the last war – where party politics is put aside for the greater good of the country (and the planet). I believe the present system of elections and government versus opposition, is getting in the way of this country making sensible decisions about our future in this world. We can't afford the present system which leads to lack of planning, and every five years everyone jumping up and down and playing musical chairs.
Please can we have a coalition government – and soon? This is not just a national crisis, this is a world-wide crisis – and we need to address it very seriously if we are to plan sensible ways of achieving our 'better future world?'
I know this is possible – but we have to believe in it, then demand such a system be set up.
Lastly, I would like to comment on the EARTHSHOT Prize 2021. If you've not heard of this, or missed the BBC TV programme last Sunday, then do use the catch-up TV system to ensure that you see what this is all about.
Prince William has led this project for 2021. It is based on the MOONSHOT programme of 1960, when President Kennedy announced that 'in the next ten years they would send men to the moon'. (It is understood that when this was announced the officials at NASA all looked at each other and said 'What!! We don't even have a rocket!?") Yet, in 1969 – astronauts from the USA landed on the moon.
The EARTHSHOT project is aimed at 'Repairing the Earth in 10 years':
There are five areas to address:
Reducing Air Pollution,
Fighting the Loss of Coral Reefs,
Stopping Food Waste,
Improving Hydrogen Gas production and
Fighting Climate Change
Last weekend, the BBC TV programme announced the first winners in all these categories – Projects were considered from different countries, and the winners were awarded one million pounds each to enable their projects to be expanded around the world. In 2022, the EARTHSHOT prize will be in the safe hands of John Kerry, the USA Climate Change envoy and more technology will be granted awards and then spread around the world – helping to repair the Earth. It is a wonderful project and I was really excited by the whole event.
So, from the Queen – to Prince William and all the stuff in between – I hope that this blog is going to help you understand a little more about what you hear about COP26 in the next few days – and perhaps put into perspective what needs to be done.
See you next month!
*Find out how Rotary Clubs are using Gloria's work of 'producing Environmental Education Resources for Primary Schools' - to inform the next generation by visiting Gloria's website here .
Contact me : gloria@weirdfishlady.co.uk
An added bonus to my November BLOG – to give you information about ESRAG and COP 26.
If you want to receive the information about Rotary's work at COP26 – then go to this link
And read more …………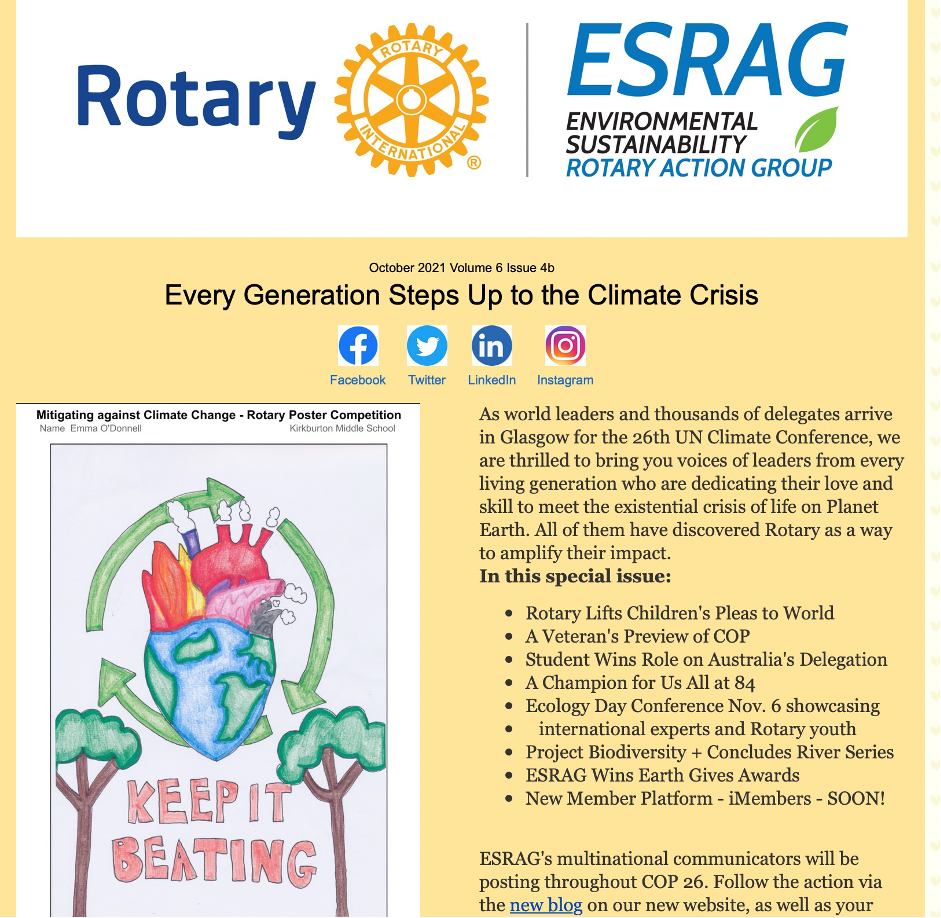 (Remember – a blog is just the opinion of one person. All views expressed in this blog are those of the author)