MIXED MARSHALL ARTS GROUP - Bodmin
Mixed Martial arts covering stance, footwork, punches, kicks,knees, elbows, takedowns/throws and groundfighting.
The Bodmin MMA Group were formed about 12 months ago and have experienced a lot of interest, initially from young ages. In order to expand and continue safely, the club run by experienced instructor, Ian Mudie, are in need of more safety equipment.
Bodmin Rotary Club welcomed Ian to a meeting, at which he explained how the club started and is now developing. Rotary Club members were so impressed with the MMA club and Ians dedication, that proposals were put forward to help with the cost of purchasing additional mats, head protection and gloves.
The group meet at the WalkerLines Gymnasium, Normandy way Bodmin. Times and age group details can be found on the Facebook Page 'MMA Bodmin'.
<
OR Contact Ian Mudie Tel: 07764 225569
Use FB 'Messenger' for contact....

Below: Photo of Ian receiving a cheque for £500 from Bodmin Rotary President Peter Ford.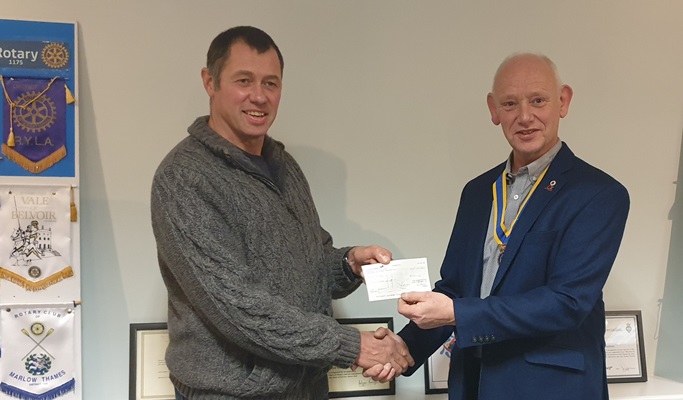 < Scroll down for more info....

Review quote:
From my first evening with the club I was made to feel a part of the group from the word go even though I have a limited fighting background. I had no prior experience in grappling/ground fighting. However, this was no problem as full instruction was given throughout the session. The instructors are nice and easy to get along with and have a vast knowledge of the sport.
<
<