Born in Port Talbot, from1973 Mike worked for the Department of Trade & Industry in London and in 1990 joined the Intellectual Property Office when it relocated to Wales. Since retiring, he has undertaken voluntary work for several charities, including Life for African Mothers and Cardiff City Hospice. He also co-founded his own charity - The Den Men's Shed in 2015. Mike has been a Rotarian for over 10 years including president of the Rotary Club of Cardiff and is currently a member of the Rotary Club of Cardiff East.
In setting up the Shed the aims were to do something for the immediate community and address social isolation, loneliness and loss of community spirit. Over 1.5 million over 50s experience loneliness while half a million older people go for 5 to 6 days a week without seeing or speaking to anyone. This is a particular problem among men. Loneliness also impacts physical health; increasing risk of early death by 26%, as bad as smoking 15 cigarettes a day, increasing the risk and cardiovascular disease and can suppress functioning of the immune system.
Some 36 studies were carried out into how to address loneliness and Men's Sheds came out as the top solution. Men's Sheds started in Australia and there are now 1,800 Sheds globally with 100,000 "Shedders". In Wales there are over 70 Sheds and 1,000 "Shedders". Each Shed is different and shaped by the interests of its members. And, despite the name, women are also welcomed. It has been shown that men bond best when working together on activities "shoulder to shoulder" hence the photo below.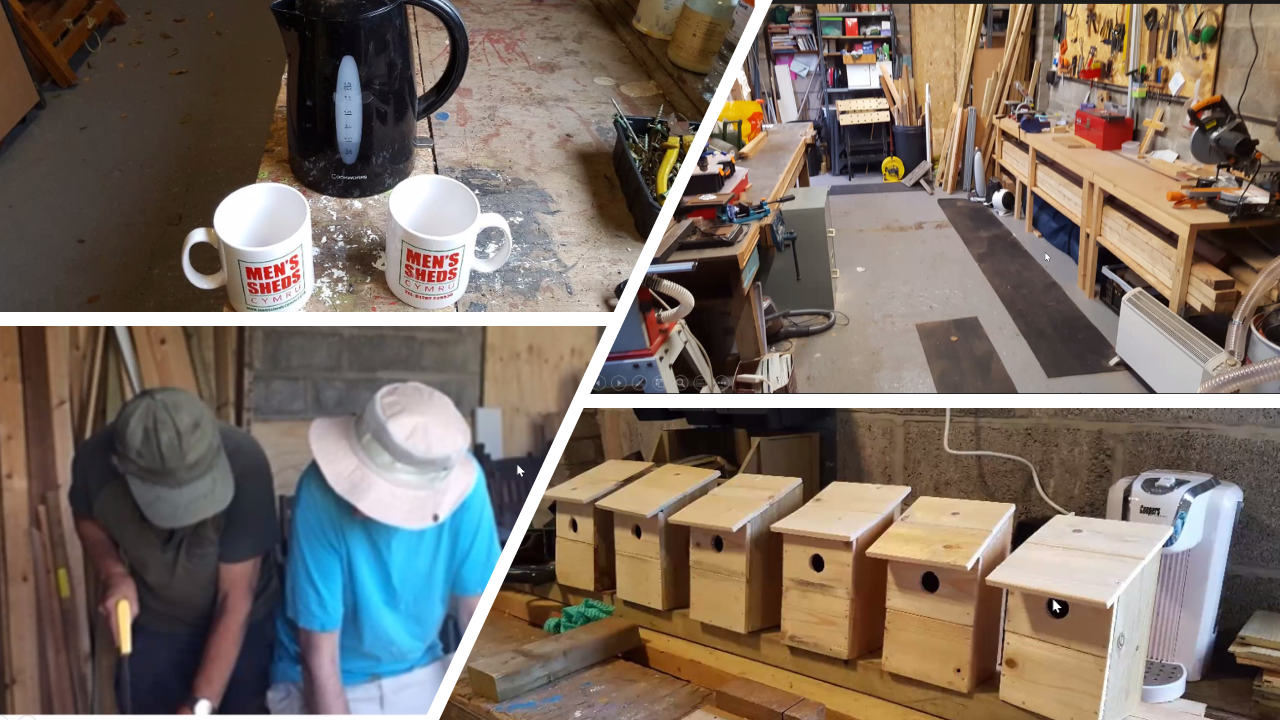 Mike and a colleague established "The Den" in 2015 in Rhiwbina, Cardiff, starting with three members and now with a maximum 13 from varied backgrounds and skills and with a waiting list to join. Mike shared with us some of the items that have been made in The Den, including planters, bird boxes, bat boxes, benches and even a cross for a church. Some of these products are sold to raise funds while others are placed in the local community. In addition to the workshop the Shedders now also have an allotment. To meet increasing need The Den has decided to open longer and more frequently.
The results of a survey by Men's Sheds Cymru showed that 99.5% felt better about themselves, 97% felt they have a place where they belong and can give back to the community while 90% have learnt new skills. It has brought together people who may never have met, establishing a "band of brothers".