District Governor (2021/2022) Ken Robertson chaired the Meeting.
District 1020 Team Members 2022/2023, under District Governor Elect Narek Bido (at present District 1020 Treasurer), were introduced. Tom Marchbank is to remain an Assistant Governor for the South West in the 2022/2023 Team.
Candidates for District Governor Nominee for 2022/23 made presentations (both of which may be accessed online) in this order:
1. Brenda Waugh, Annan Club, Manager of Citizens Advice Bureau, Annan
2. James Gibbons, Wishaw Club, current RYLA Officer
The ballot opens on Sunday 28 November and closes on Friday 17 December 2021 at 12 noon
Treasurer reported that District 1020 finances were in a strong financial position. During his Report, the Treasurer Narek Bido mentioned the figure of £116,000 at one point. On later querying him about this, the Treasurer advised that the figure relates to total payments made as undernoted by Clubs in District 1020 to Rotary Foundation United Kingdom for all purposes as shown below.

I also asked the Treasurer about other figures he gave on Club funding applications, to which he gave this response "To date the membership and public image teams have approved 20 applications totalling £8,155.55, which represents 16% of the total dedicated funds. Approved applications includes an application from the Bass Rock Community. The 20 applications represent 38% of the Clubs within the District."
Members present at the AGM agreed to recommendation to raise District Officers' travel allowance on Rotary business from 27p to 45p per mile with effect from 1 December 2021.
The Treasurer confirmed that there had been no applications during the last year for Satellite or Rotaract Clubs within District 1020.
Total District 1020 contributions from 1984 to date for Rotary End Polio Now were stated to having amounted to the order of £766,464.39.
Towards the close of meeting, Individual Club Projects in planning in District 1020 were detailed and included mention of our Dalbeattie Club's projects to (1) Re-Cycle Bikes Africa Project and (2) Water Aid Walk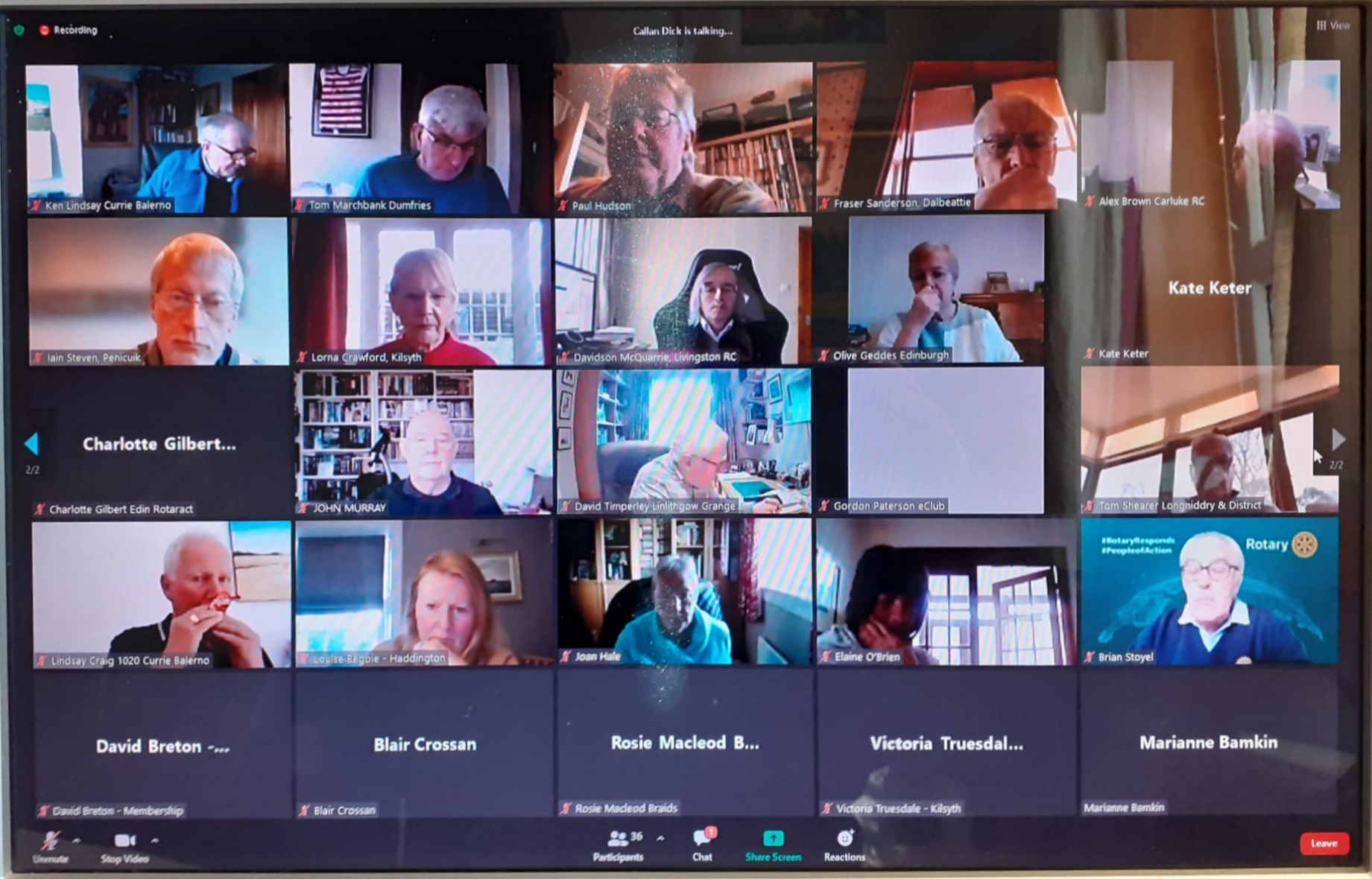 Both Douglas and Fraser joined Meeting online as shown.