Weird Fish Lady BLOG
1st January 2022
Hi everyone,
I hope everyone had a good Christmas break, maybe spending time with family or friends. Now it's time to put 2021 behind us and move forward to 2022.
Here we are – at the beginning of a new year – and I want to write about the positives ahead of us for the future.
Firstly, I urge you all to join ESRAG which is the 'Environmental Sustainability Rotary Action Group'. I believe this is the year we should all turn our minds to the sustainability of our planet and recognise that, as Rotarians, we are all people of action. I believe Rotarians and their work ethic are needed now, more than any time in the past. Just by being part of this group helps us to understand the worldwide influence of Rotary – as ESRAG organises talks and information from all over the world about Rotarians tackling issues in their own areas. The UK ESRAG team are quite remarkable too and have lot of ideas for projects and information on how we can all help to save the planet.
I love the logo used by the UK branch of ESRAG -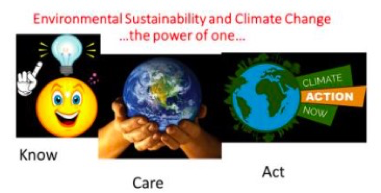 This shows, in just three words, what we need to do.
KNOW - CARE - ACT
Firstly, the understanding that education is at the heart of what we need to do. We can help others to understand the need for change in human thinking and encourage others by sharing the changes we make to our own lives.
Once we all 'know' then we should care about the future of our planet – for the sake of not just ourselves but for the generations who will follow – and then we need to translate our care into action!
Our mission (if we choose to accept it!) is to change human thinking. Is that big enough for Rotarians – can we help to do this?
Can we change human thinking away from this: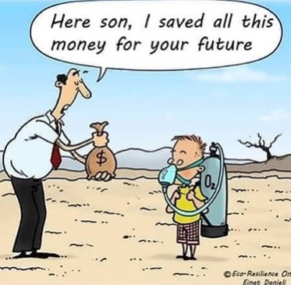 but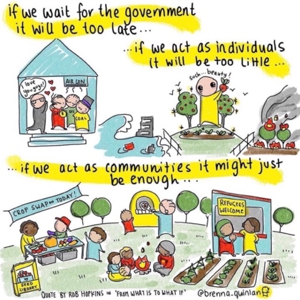 As Rotarians we need to work together as communities to change the world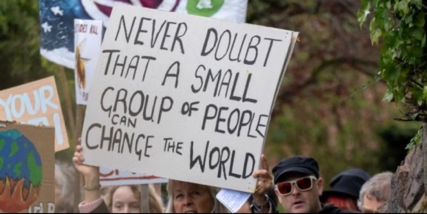 I believe this statement represents us – Rotarians - and our ability to change the world. Just think what we have already achieved over a century plus of Rotary's existence! But how do we save the planet?
Firstly, I suggest you encourage your own club to do a survey of the membership – ask how they have become more environmentally aware, and how they've changed their lifestyles and then share those ideas. Try to get everyone involved and encourage discussion. Encourage every individual member to take on ideas about changing their way of life and their way of thinking.
Individual Rotarians can make a big difference.
We can all reduce our carbon footprint by taking simple steps, e.g. use the bus, use renewable energy and reduce meat consumption by including more plants in your diet – and loads more ideas.
We can also care more for the oceans by avoiding the use of plastics. We can sort our recycling so less rubbish goes to landfill sites.
We can avoid consumerism – if you don't need it – then don't buy it!
We can do all these things as individual Rotarians, but Rotary is a community across the world – what can your Rotary Club do to get involved with projects around the UK or overseas? You can check with ESRAG – and find projects. Encourage your President Elect to add an environmental project to next year's plans. Has your Club appointed a member to be your environmental lead? Find someone who is enthusiastic and bring environment to the fore in club discussions. Please report back to me if your Club has found a way to be involved with international or UK projects. Let's all try to work together for the future. The more we share the more we can all help each other. Environment is one of our seven areas of focus and Rotary leaders are asking us all – the whole Rotary community around the world – to get involved and take action.
There are big steps being taken forward all over the world in all areas of technology and engineering, e.g. Namibia is already a hub for solar energy in Africa and now is set to produce hydrogen energy as well. The Netherlands have so many ideas and are constantly inventing new technology.
It has always been a source of concern to me that one in five people around the world have no clean water supply – but now there are treatment plants using graphene sieves to turn seawater into fresh drinking water The world is a big place – and everywhere you look there are groups of people – both industrialists and technology experts who are working to change and improve our world.
There is new information every day (although very little of which seems to get reported by the media in the UK). So much is changing, and we must all realise that it is possible to set our minds to change before it is too late. Don't wait for everyone else to do something 'first' – if you see a way forward then get on and do it.
What should we be doing?
Educate, educate, educate – help to educate both young and old about the future.
Set an example by sharing what you do with others
Join ESRAG and get ideas
Do joint projects with clubs in your district or join forces with a Club the other side of the world.
An example of what my Rotary Club is doing:
Environmental Project 1 – with a local school – planting trees, meadow grass and a pond, together with supplying the educational materials needed for children to learn about the nature on their doorstep. We also gift educational resources to local schools and arrange workshop visits about the environment in primary schools.
Environmental Project 2 - helping a village in Africa by supplying school resources and improving living conditions.
What can your Club do?
The year is now 2022 – let's not waste any more time talking about it. Rotarians are people of action – come on – get your hands 'dirty' and find a way you can improve the world around you – find a way to change human thinking. Rotary can help to save the world!
Happy New Year everyone!
See you next month!
On a personal note:
Speaking to Rotary Clubs
During 2020/2021 I had the pleasure of doing 145 'Ocean World' zoom presentations to Rotary Clubs around the world. However, life is no longer in lockdown and I'm busy once again travelling the Earth's oceans and talking to audiences LIVE on stage. I'm also concentrating on my environmental visits to primary schools as the Weird Fish Lady.
Although requests are still coming in for me to talk to individual Rotary Clubs, it is just not possible now to fit all these visits into my busy schedule. However, I have now produced an up-dated, pre-recorded 'Ocean World' environmental talk and a new pre-recorded talk 'What do we do NOW?'. Both talks last just 30 minutes. Watching a pre-recorded talk will give your Club the flexibility to educate/entertain your club members at any time that suits you so why not put a date in your Speakers calendar and contact me by email (see below) to get hold of a talk or to arrange for me to zoom into a primary school for a WeirdFish Lady environmental workshop.
*Find out how Rotary Clubs are using Gloria's work of 'producing Environmental Education Resources for Primary Schools' - to inform the next generation by visiting Gloria's website here. Go to the Rotary page !
Contact me : gloria@weirdfishlady.co.uk
(Remember – a blog is just the opinion of one person. All views expressed in this blog are those of the author)