Among the District 1020 Visiting Rotary Scholars introduced to Delegates at last October's District 1020 Conference was our guest Kacie Baumler, who joined us on Zoom on Thursday 11 February 2022. Kacie is actually pictured second from left in the accompanying Conference image in the District 1020 "Meet the Scholars 2021/2022. Kacie is from North Dakota, a land-locked American Mid West State bordering Canada, sandwiched between the State of Montana to the West and Minnesota State to the East. Kacie is studying for a two year post-graduate Masters Degree in Occupational Therapy at Queen Margaret University, Edinburgh, having secured a Degree in Rehabilitation and Human Services from the University of North Dakota. She is being hosted by Edinburgh Rotary Club. From her C.V., it was picked up that Kacie had worked with Mother Teresa's Missionaries of Charity in Kalighat, Kolkata, West Bengal, India, where President Douglas also undertook voluntary work in the Summer of 1980 with the Brother Missionaries of Charity in the Home for Dying Destitutes, Kalighat where he met Mother, now Saint Teresa.
North Dakota, with a population of 777,000 people, is a predominantly rural State with annual temperatures in the 40 centigrade plus to minus 35 centigrade range. Kacie spoke of her previous volunteer work in Chimbote, Peru and Kolkata, India. She has worked as a volunteer in hospitals and with agencies focusing on social inclusion in North Dakota and in Minnessota with Rise Inc. which provides support for people seeking to secure employment, housing and life-enrichment services. Kacie was introduced to Rotary's Global Grant Scholarship programme in 2020 with her application process involving interviews, presentations and written essays leading to an award of $50,000 to cover her two years' university tuition fees and accommodation expenses in Scotland. She enjoys the support of Grand Forks Rotary Club in the States and Edinburgh Rotary Club here in Scotland. Her two year pre-registration MSc Occupational Therapy Course (a suitable pre-registration course recognised both in the States and in Scotland) has the aim of developing theoretical, analytical, practical and evaluative approaches to professional occupational therapy practice.
During her time in Scotland Kacie will undertake four placements to include involvement in community mental health in Edinburgh and stroke rehabilitation services at Ayrshire Central Hospital, Irvine.
Kacie made a not inconsiderable impression on our membership and we wish her well during her time in Scotland and in her future professional life.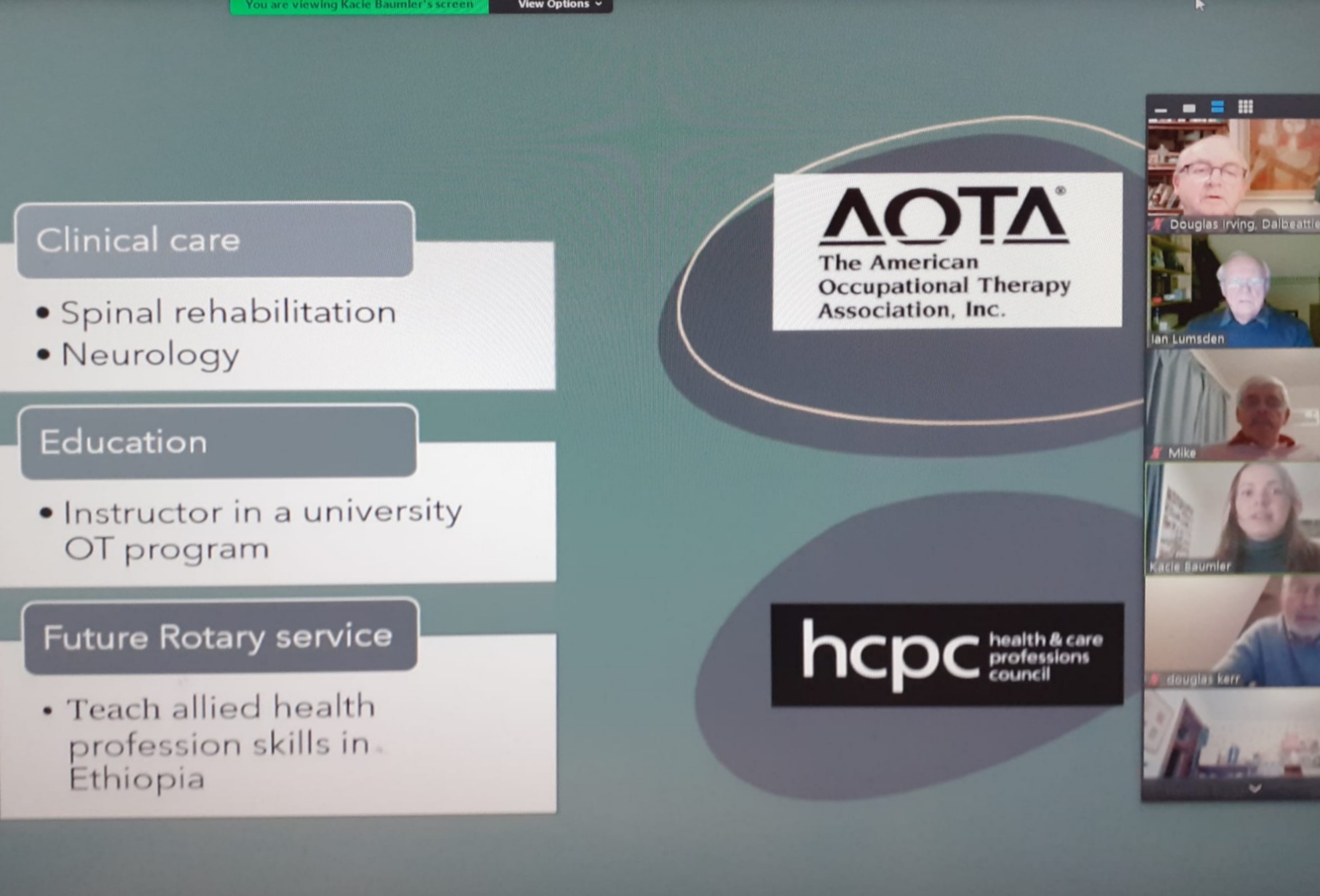 Kacie's projected future on screen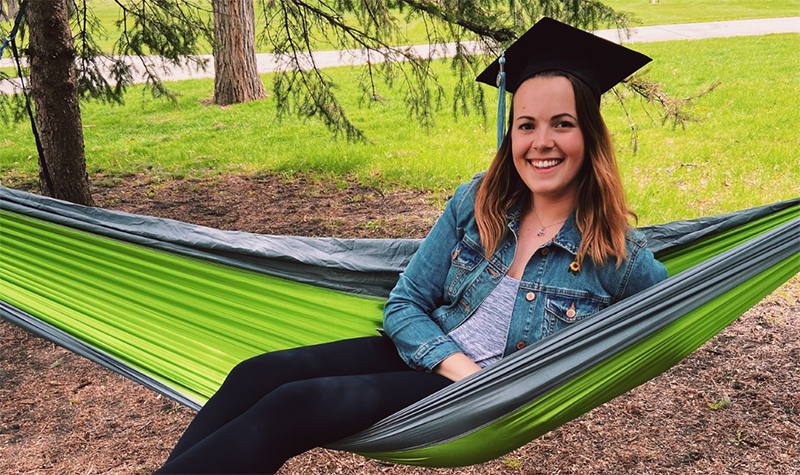 Kacie Baumler