1st March 2022
Hi everyone,
I hope you all survived the latest storms in the UK. I was at sea crossing the North Atlantic and met up with Storm Eunice before it arrived in the UK. Eunice was quickly followed by two other storms of similar high strength. There was no doubt that these storms were stronger than anything I have had to deal with before and I could feel the increased strength in the wind as it battered the ship with heavy seas, so I can say from personal experience that storm intensity and frequency are now more obviously on the increase and there is no doubt that this comes from changes in our climate.
My own Club is planning to plant trees and develop a nature area at a local school as part of an environmental education project, but luckily, we aren't planting the trees for another week or two. I think if we'd planted our trees before the last storms, they might have been blown away.
We are all being asked to plant trees – and of course I'm not going to argue with that. I have a membership with a carbon offset organisation, where I pay a monthly amount to offset my emissions – and the organisation plants trees all around the world (check out Ecologi if you're interested), but there is also something you can do as a Club. All Rotary Clubs could take part in the Queen's canopy of trees project which is part of her Jubilee celebrations. Also, have look at the Rotary treekly initiative https://www.rotarygbi.org/turning-footsteps-into-forests/ This is a system for turning footsteps into forests, so it's great way to get fit as well as putting trees in the ground.
We mustn't forget though, that planting trees is only reducing the amount of CO2 that humans have already put into the atmosphere. We can only win the battle against climate change if we stop emitting CO2 in the first place.
I liken the situation to having a wound which is bleeding badly, and a doctor gives you a blood transfusion. Yes, the transfusion is replacing the blood you are losing, but the wound is still seeping blood. It is a similar scenario with CO2 in the atmosphere – we can plant millions of trees to reduce the CO2 which is in the atmosphere – but unless we stop more CO2 going into the atmosphere in the first place, then we will never win the battle. The best way of reducing CO2 emissions into the atmosphere is to stop using fossil fuels – but I know it is not easy. At the present time my own initiatives have got stuck when it comes to replacing a gas boiler in my home, as the appropriate alternatives are not really available yet. We need Government action to find ways for everyone to stop using gas, so keep on writing to your local MP to try to get this done.
Rotary International President, Shekhar Mehta, has declared that mangrove restoration will become one of the key threads of Rotary's environmental focus. It has been recognised that, pound for pound, mangroves can sequester four times more carbon than rainforests can. Most of this carbon is stored in the soil beneath mangrove trees.
See the details at
https://www.rotary.org/en/ri-president-shekhar-mehta-urges-countries-at-cop26-to-protect-mangroves
This article also states
'Over the past five years, The Rotary Foundation has committed more than $18 million toward projects that support sustainable, community-based environmental projects. On 1 July, the Foundation began accepting applications for global grants that support the environment, which was added as an area of focus in 2020. Potential projects include using renewable energy to combat environmental degradation, growing food sustainably, and protecting water sources.'
The full information from Rotary International about the environmental focus can be found at https://www.rotary.org/en/our-causes/protecting-environment
I really do recommend you read about the Rotary involvement in environment – it makes me realise what an incredible thing it is to belong to such an influential organisation that Rotary is and how as Rotarians we can all work together to change the world.
I know that a lot of people feel overwhelmed with everything they read about climate change – thinking that there is too much to do, too little time and we, as individuals, can't get it all done. Well, you're right – we can't do everything as individuals, but we can work as 'communities' the way that Rotarians often work together – within a club, or clubs joining together within a town or city or with Districts having shared values and all working together. This includes working together as a worldwide force for action too.
Positivity is an essential tool in our climate change tool bag. It will keep us working towards solving our climate change problems and it doesn't take one person doing it perfectly to create change either. Many people trying imperfectly can create the change we need. Just go out, join in and do what you can.
How is your 'knowing – caring – action' system going? I firmly believe that crying "DOOM' with your hands over your eyes trying not to notice any of the changes, hoping they'll go away – well, that is not the way forward. Get your Club to discuss climate change – get more of your members to read some of the links I have given to you this month. Every Club has members who are holding their hands over their eyes or ears. Help them to join in the collective community that we need to become.
I'm putting a reminder below of the simple things we can try to do:
· Demand Change
• Sign Petitions
• Refuse plastic
• Buy food from local sources
• Only buy the things you really need
• Help re-wilding schemes
• Reduce your carbon emissions (transport, food, clothing, renewable energy, checking carbon footprint)
• Offset carbon emissions
and … STOP USING FOSSIL FUELS!
Have you managed to survey your Club yet? Remember only by knowing where you started from, will you be able to celebrate how far you have travelled in your search to become a 'positive' climate change person or Club.
It's not really a very long list – but boy – can it make a difference if we were all to address these ideas!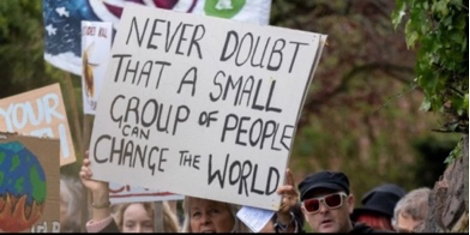 See you next month!
On a personal note:
Speaking to Rotary Clubs
During 2020/2021 I had the pleasure of doing 148 'Ocean World' zoom presentations to Rotary Clubs around the world. However, life is no longer in lockdown and I'm busy once again travelling the Earth's oceans and talking to audiences LIVE on stage. I'm also concentrating on my environmental visits to primary schools as the Weird Fish Lady.
Although requests are still coming in for me to talk to individual Rotary Clubs, it is just not possible now to fit all these visits into my busy schedule. However, I have now produced an up-dated, pre-recorded 'Ocean World' environmental talk and a NEW pre-recorded talk 'What do we do NOW?'. Both talks last just 30 minutes. Watching a pre-recorded talk will give your Club the flexibility to educate/entertain your club members at any time that suits you so why not put a date in your Speakers calendar and contact me by email (see below) to get hold of a talk or to arrange for me to zoom into a primary school for a WeirdFish Lady environmental workshop.
*Find out how Rotary Clubs are using Gloria's work of 'producing Environmental Education Resources for Primary Schools' - to inform the next generation by visiting Gloria's website here . Go to the Rotary page!
Contact me: gloria@weirdfishlady.co.uk
(Remember – a blog is just the opinion of one person. All views expressed in this blog are those of the author)