Weird Fish Lady BLOG
1st April 2022
Hi everyone,
As I write this blog (31st March 13:16 pm in South-East Kent, UK) it is snowing and thundering at the same time. I don't think I've ever experienced these two weather patterns at the same time, before today. So, I wondered if this was just bad weather or should we be blaming climate change for this unusual phenomenon. So, I looked it up!
Well, it seems that this sort of weather is NOT unusual at all, and it is known by meteorologists as 'Thundersnow'. Although it is rare, thunder, it seems, can occur while it's snowing, sleeting, or even during freezing rain. The 'Thundersnow' usually requires extremely strong vertical motion.
So, I can't blame today's weather pattern on climate change, then!
But it got me thinking – I know there is a difference between normal weather patterns and climate change. I've been explaining this difference to people for many years now:
1. Weather is the everyday expected weather you see when you look out of the window – raining one day, dry the next, sunny one day or cloudy the next - cold or hot or so on. These small changes act quickly and occur during seasonal weather around the world.
2. Climate, however, takes much longer to change. Climate is the type of weather conditions you would normally expect in a given place – e.g. Deserts have a hot, dry climate, whilst Canada has a cold and we expect it to be covered in snow for much of the year. Countries in the equatorial areas of the Earth are hotter than the polar regions and so on. This is climate – where the overall weather conditions we would expect in a particular place doesn't change from year to year and if it does change – it takes a very long time to do so.
So, why are humans worrying about climate change?
Well, it's the speed of change that is causing the problems.
We all know that excess heat in the atmosphere is affecting the speed of climate change on the planet. There is no doubt it is caused by humans burning fossil fuels. Fossil fuels produce carbon dioxide in the atmosphere – which in turn is trapping heat in the atmosphere.
The changes in our climate around the world are being caused by humans. Since the Industrial Revolution, it can be seen that huge amounts of carbon dioxide have been emitted into the atmosphere.
You can see in the graph below that we are now emitting almost 7000 million metric tons of carbon every year – and the steepness of the graph from around 1950 to now shows the speed at which the amount of carbon dioxide has increased over a short space of time.
The amount of C02 humans have put into the atmosphere in the past 70 years is almost unbelievable. The effect is for our planet to be heating up so fast that the weather patterns are changing, and the climate is unravelling into chaos.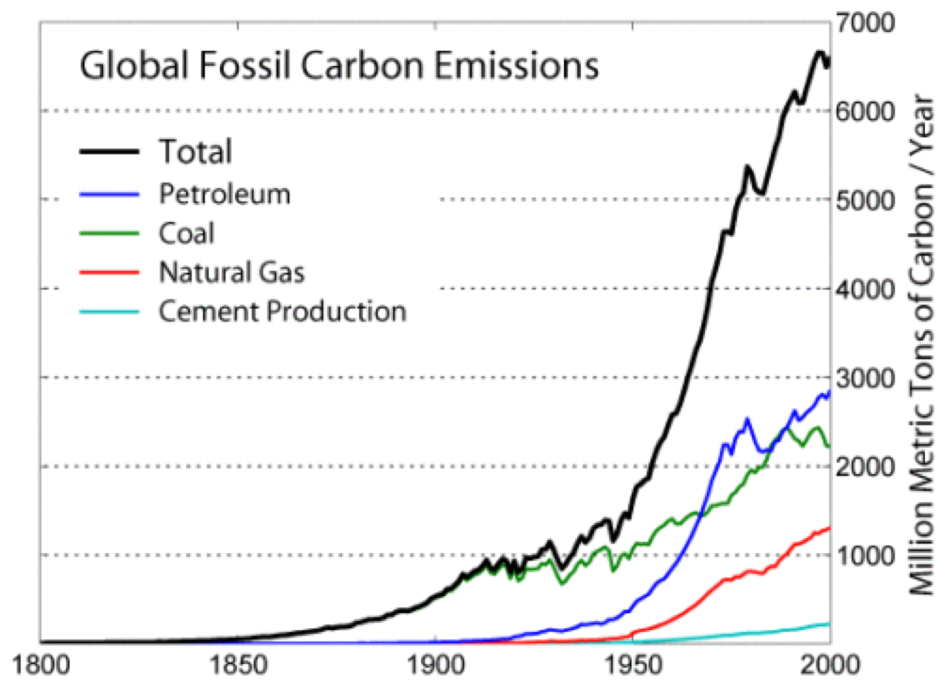 Some people are loving the moaning and gloom and doom of untruths such as 'humans are not responsible' 'it's not really happening' and 'we can't do anything.' But they are so wrong!
We can do something, and humans and ideas for new technology ARE changing so quickly now that I am optimistic about the future of life on this planet. We just need to understand just how much IS happening and believe in what we as individuals or communities are doing. It's definitely not 'doom and gloom' yet – and it never should be – as we have enough technological advances already to help cure the planet's problems – we just have to change our ways of doing things.
You already know what ways I've asked you to consider changing.
· less consumerism - reduce what you buy, as well as only buying what is recyclable or reusable.
· more sustainable behaviour – use public transport, eat more plants
· stop using fossil fuels
· return to more natural ways – rewilding and regeneration of arable land.
You've heard it all from me before!
Another misunderstanding is that we are talking about very small levels of increase doing immense damage. People are not able to easily understand why just a 20C increase around the world is so dangerous to life on Earth. It seems to be such a small increase, yet it can affect whether life can exist on Earth in the future?
One last thing. There can be different ways of looking at the problems. Do you know what an RCP is? Well, it stands for Representative Concentration Pathway. It helps us to understand how our climate may change in future, based on a prediction of human behaviour.
I attach below an excellent document that explains these ideas.
Why not take a read of this – if nothing else it should help you to see how we can change the outcome of warming the planet to disastrous levels.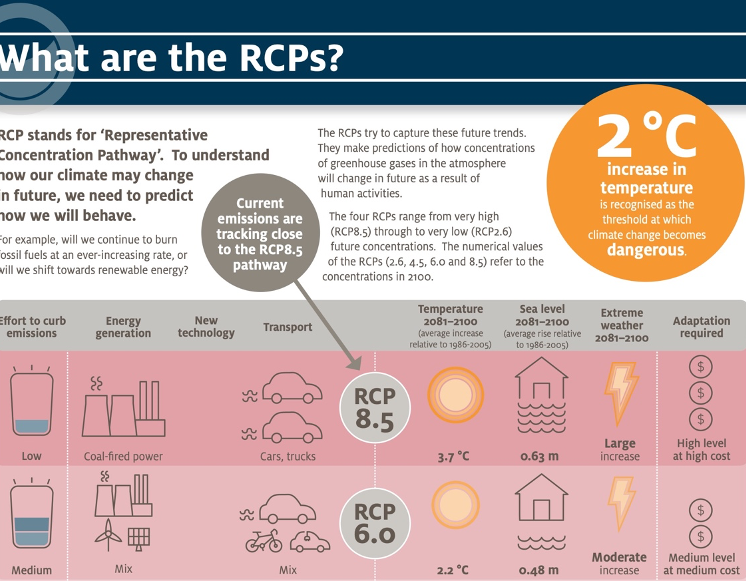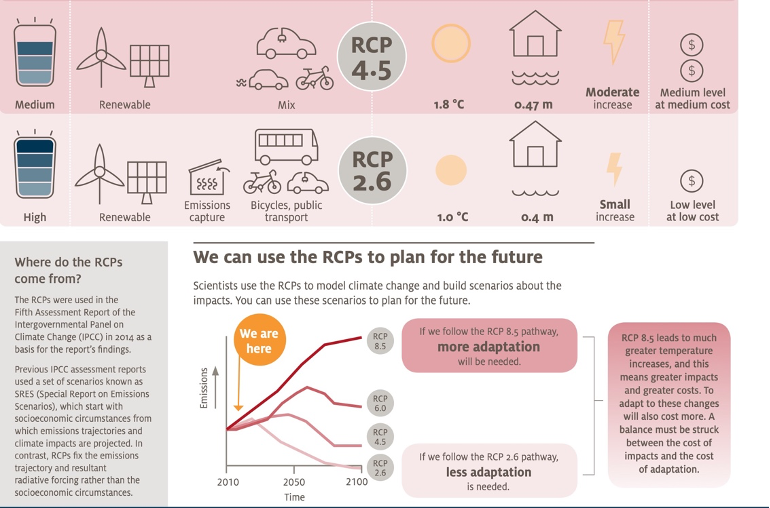 See you next month!
On a personal note:
Speaking to Rotary Clubs
During 2020/2021 I had the pleasure of doing 148 'Ocean World' zoom presentations to Rotary Clubs around the world. However, life is no longer in lockdown and I'm busy once again travelling the Earth's oceans and talking to audiences LIVE on stage. I'm also concentrating on my environmental visits to primary schools as the Weird Fish Lady.
Although requests are still coming in for me to talk to individual Rotary Clubs, it is just not possible now to fit all these visits into my busy schedule. However, I have now produced an updated, pre-recorded 'Ocean World' environmental talk and a NEW pre-recorded talk 'What do we do NOW?'. Both talks last just 30 minutes. Watching a pre-recorded talk will give your Club the flexibility to educate/entertain your club members at any time that suits you so why not put a date in your Speakers calendar and contact me by email (see below) to get hold of a talk or to arrange for me to zoom into a primary school for a WeirdFish Lady environmental workshop.
*Find out how Rotary Clubs are using Gloria's work of 'producing Environmental Education Resources for Primary Schools' - to inform the next generation by visiting. Go to the Rotary page!
Contact me: gloria@weirdfishlady.co.uk
(Remember – a blog is just the opinion of one person. All views expressed in this blog are those of the author)