Following the huge success of previous events, Night Fever and Viva La Diva, Narberth and Whitland Rotary in conjunction with Narberth RFC are delighted to bring you
Narberth Outdoor Rock 2023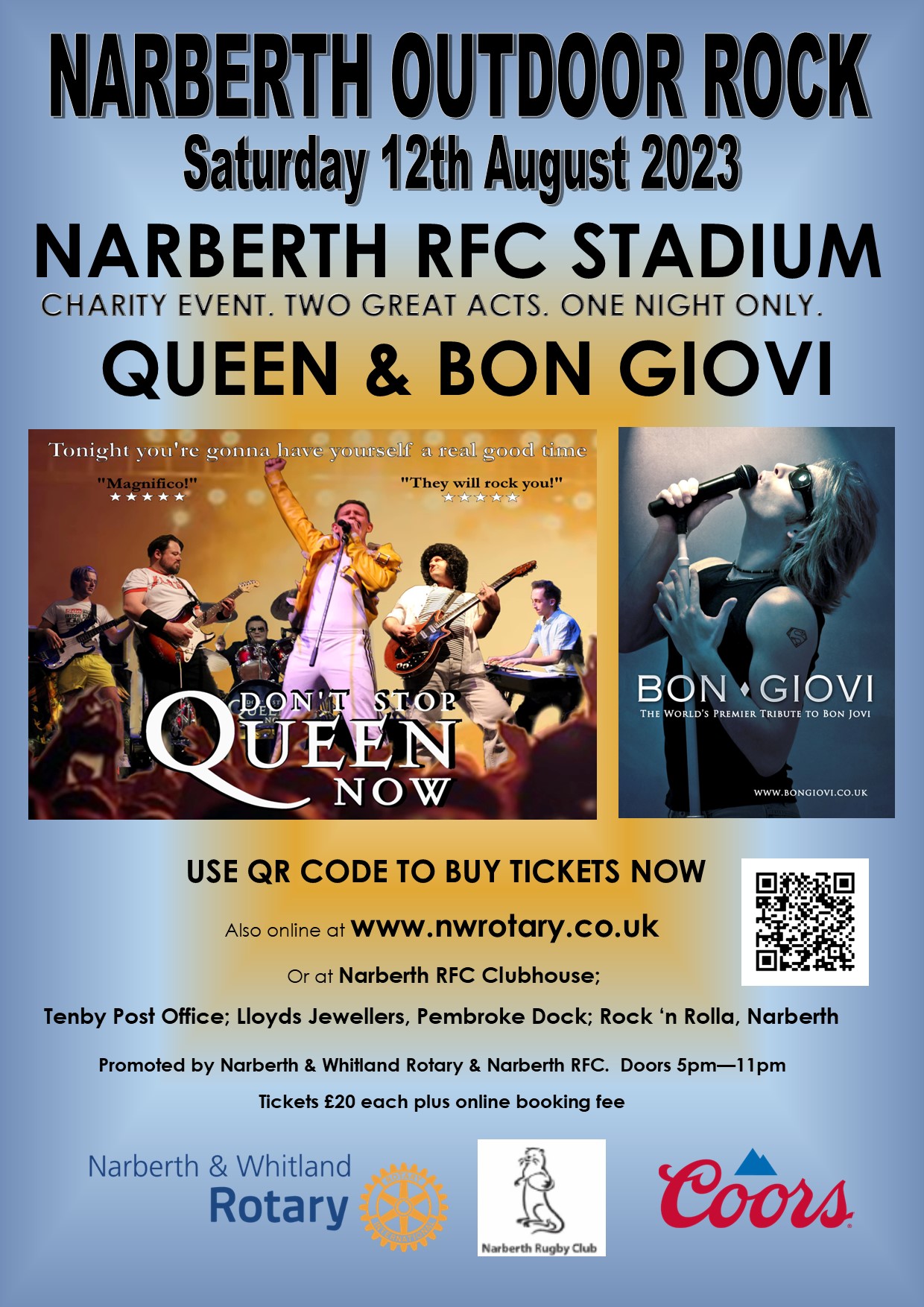 This great event will feature BON GIOVI, the World's Premier Tribute to Bon Jiovi, together with top QUEEN Tribute Band DON'T STOP QUEEN NOW
.
BON GIOVI are the World's Premier look-alike and sound alike Tribute to the New Jersey rockers ‪Bon Jovi
Formed in December of 1998, with over 24 years UK and International touring experience as a band and nearly 5 times that combined from individual members, this act is without compromise one of the best Tribute acts on the circuit today playing over 100+ shows each year.


Fronted by the UK's leading ‪Bon Jovi impersonator, The band have not only toured lengthily around the UK, for clients such as Harley Davidson, Sony, Vodafone, Butlins, Chicago Rock Cafes, Yates, Walkabouts, Mecca Chain, British Motorcycle Federation and Jack Daniels, but have also performed in over 29 countries, which includes most of the Middle East, 3 week tours of Russia, Romania, Slovenia, Lithuania, Austria, Cyprus, Turkey, Greece, Holland, Germany, Belgium, Spain, France and Ireland to name but a few.
Bon Giovi were also the ONLY UK tribute act to be asked to make a guest appearance on the New Jersey tribute album "Garden State Of Mind Vol. 1", A celebration of ‪Bon Jovi musical career to date.

Covering every aspect of ‪Bon Jovi's extensive career, BON GIOVI perform all the greatest hits such as 'Living On A Prayer', It's My Life, Wanted Dead or Alive, as well as many others from every album ever produced in one amazing stage show which include all these hits and more, not too mention performing rare tracks that even ‪Bon Jovi haven't performed for many years.
So if you're ready to 'Runaway' on 'One Wild Night' down that 'Lost Highway' for a taste of the some of the world's greatest Stadium Anthems, then book BON GIOVI with confidence now! for the closest you'll get to the Real Thing.

Don't Stop Queen Now are one of the finest tributes to the music of Queen in the North of England


Their amazing Freddie - Michael Spence - was recently selected from hundreds of applicants to be featured on the ITV1 series "Starstruck" - see video opposite of his stellar performance as the legendary singer.


The band delivers the magic of Queen whether you are a lifelong queen fan or discovering it for the first time as Don't Stop Queen Now play all the hits and more.


Testimonials
"Absolutely AMAZING! What a voice, not a tune out place . Best queen tribute act I have seen, and I have seen a few, these are best by far. They also took the time to come and chat with the audience, and take pictures. What a great night , see you again in Pudsey .
Thank you for an absolute fantastic night" Fiona in Pudsey
"Wow ! Absolutely amazing! Saw these guys at the Apollo in Manchester and was completely blown away with them. They are fantastic musicians and articulate Queen's music so well ! They were so good that they even made me cry ! Booked to see then again in February" Anne in Manchester.


Sample Repertoire:
* Don't Stop Me Now
* Bohemian Rhapsody
* We Are The Champions
* One Vision
* Radio Ga Ga
* Another One Bites The Dust
* I Want It All
* Under Pressure
* You're My Best Friend
* Show Must Go On
* Play The Game
* A Kind Of Magic
* Breakthru
* Somebody To Love
* Crazy Little Thing Called Love
* I Want To Break Free
* Fat Bottomed Girls
* Bicycle Race
* Tie Your Mother Down
* Killer Queen
* Hammer To Fall
* Now I'm Here
* Stone Cold Crazy
* Seven Seas Of Rhye
* Who Wants To Live Forever
* We Will Rock You
and many more ...