Press Release 4 September, 2023
ABBEY END BUSINESSES RALLY TO THE CALENDAR.
It's just 6 weeks to the day that this year's KENILWORTH ADVENT CALENDAR goes on-sale. You'll find our sales stall in the middle of town during late October and all of November up to the 28th. It'll be easy to find, with the Rotary flags and the big Advent Calendar banner. Or you can buy the Calendars on-line at www.kenilworthadventcalendar.co.uk and we'll deliver within the CV8 post code. (This dedicated website was developed for us by local digital marketing specialists LoudLocal: www.loudlocal.co.uk as a contribution to this fundraiser.)
Remember the Kenilworth Advent Calendar is also a raffle, with 120 prizes to be drawn during Advent. These prizes are all sourced from local businesses and during April and May, Rotarians went to every part of Kenilworth asking for donations. One place we went was Abbey End and what a pleasant experience that was! Nobody turned us away. Better still, Aquarius Interiors offered to sponsor our production costs to the tune of £300 and every other business we approached offered a prize. Raj Spice and the Sunam gave us discount coupons and the Almanac and Lil Greens both gave us vouchers enough to pay for a meal for two. A World of Ceramic tiles gave us a coupon for £100 off any purchase and so did Mercia Carpets. And if you're looking for something you can use right away, what better than a squirrel-proof birdfeeder from Kenilworth Pet and Garden Supplies?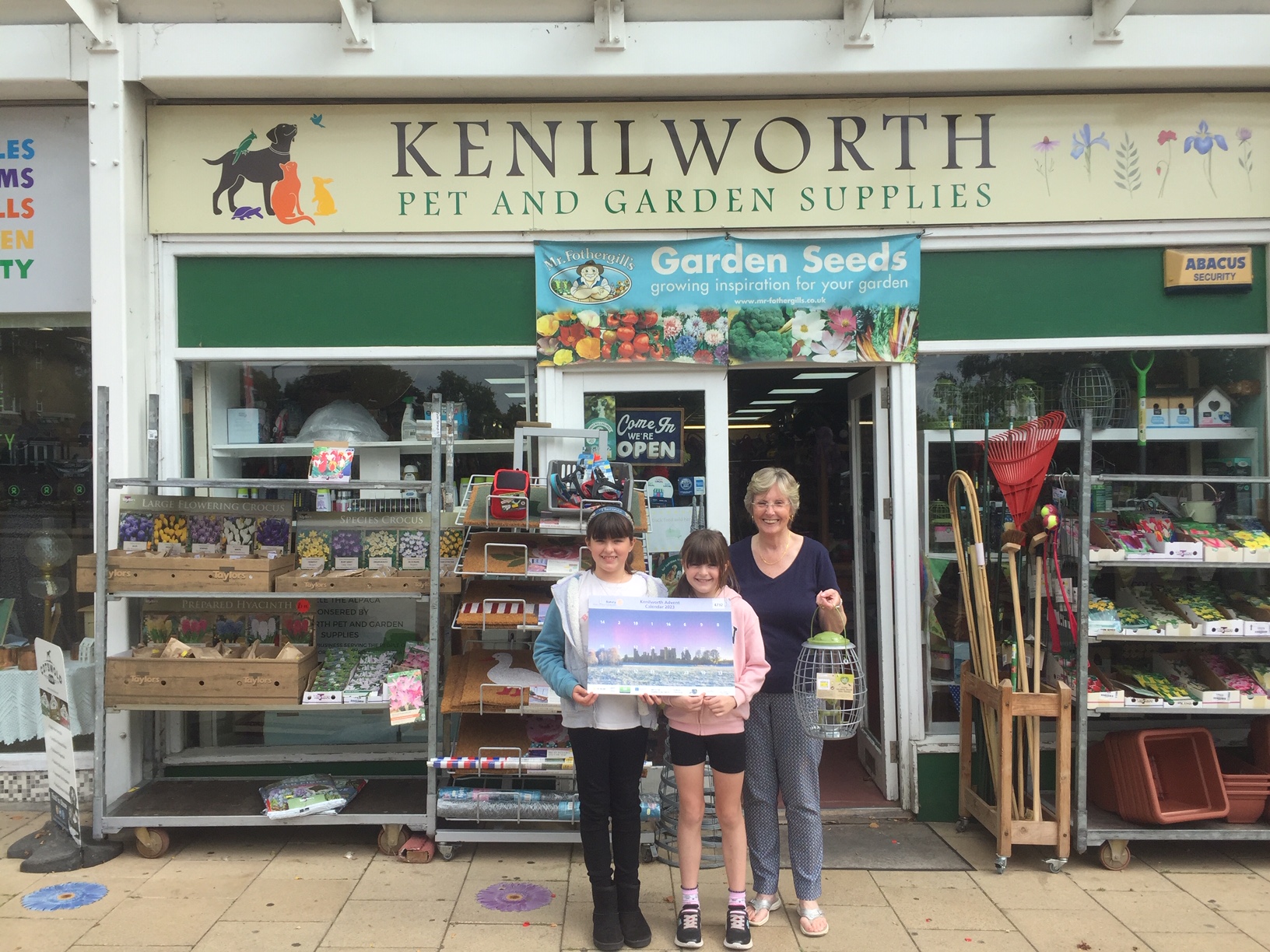 Betty holding the birdfeeder while her granddaughters Maisie and Florence hold this year's Advent Calendar.
Kenilworth Pet and Garden Supplies has done business in Abbey End for 16 years, when Betty and her partner Les moved there from Talisman Square. Les died 8 years ago, and Betty has run it on her own since then. As the name suggests, her shop offers everything you'll need for your garden, including bird food and feeders, and your pets.
Betty is a staunch supporter of local causes and most recently featured prominently in saving the fish in Abbey Fields when the lake dried out last year.