Press Release 18 September, 2023
THE KENILWORTH ADVENT CALENDAR GETS HEALTHY!
Local businesses are supporting this year's KENILWORTH ADVENT CALENDAR to the tune of 120 prizes, which will be drawn during Advent. They're covering the costs of producing the Calendar too. A big thank you to all of them from the Rotary Club of Kenilworth – their community spirit and generosity mean we can send more money to local causes!
Among the many kinds of service providers in Kenilworth, those offering routes to better health have been in the forefront. For example, Leyes Lane Pharmacy has sponsored our production costs with a donation of £100, while other businesses donated varied and different health treatments.
For example, your Calendar could win you a 'Pressotherapy' session, or a 'Red Light' therapy session, both provided by Curves Kenilworth. Or you might draw a voucher for a foot health assessment and treatment at Kenilworth Footcare. Then there's physiotherapy, with a £65 voucher for a consultation or treatment from The Reinge Clinic, and a 30-minute physiotherapy session from Warwick Physio and Rehab. Again, you might prefer a therapy session for 2 (or 2 singles) at The Little Himalaya Salt Rooms. Not to be outdone, Anytime Fitness has donated a 3-months membership of their gym while Kenilworth Chiropractic Clinic donated two prizes - a therapeutic massage, and a chiropractic initial consultation.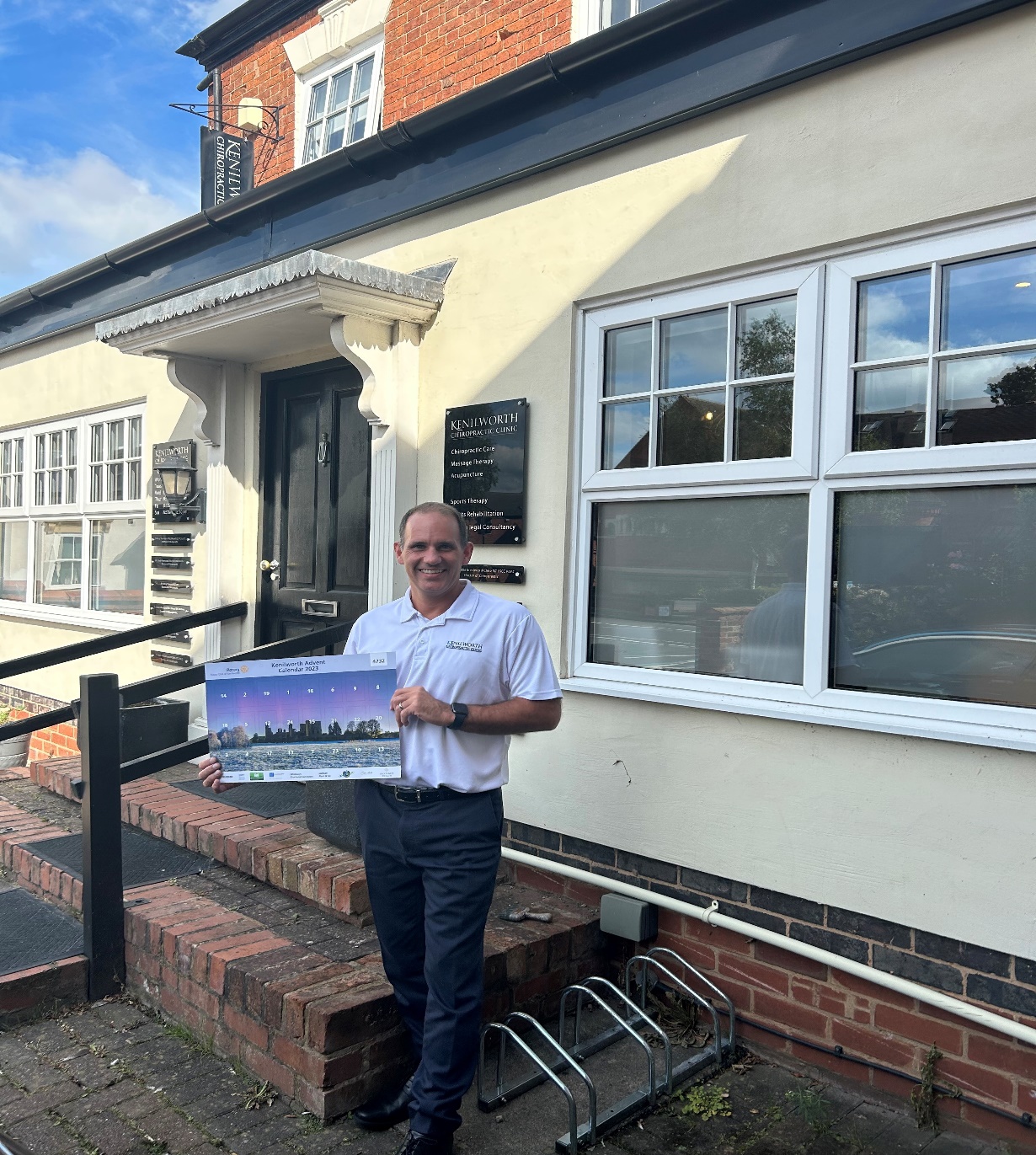 Pete Townsend, proprietor of Kenilworth Chiropractic Clinic holding the new Calendar.
It's a pity you can only win once, unless of course, you buy two of this year's Kenilworth Advent Calendars. That could be good for your health!
Rotarians and our helpers will be selling the Calendar at a sales stall in the middle of town during late October and all of November up to the 28th. Just look for the Rotary flags and the big Advent Calendar banner.
Or buy the Calendar on-line at www.kenilworthadventcalendar.co.uk and we'll deliver within the CV8 post code. This website, developed by www.loudlocal.co.uk as a contribution to the Calendar, will go live within days.
Finally, we could use some help, so if you have any free time during October and November and would like to contribute, do please get contact us www.kenilworthadventcalendar.org.uk