PRINCES DRIVE SECOND TO NONE IN SUPPORT FOR THE KENILWORTH ADVENT CALENDAR.
Like so many of England's small business estates, Princes Drive is hidden away as if we're slightly ashamed of it. But we should be proud of it because the good people of Princes Drive do more than most when it comes to supporting their community.
Abstract Design, for example, who created the graphics for this year's Advent Calendar gratis, and last year's too. Ever-patient, they've worked with us to produce a beautiful, functional Calendar which we're proud to offer to the people of Kenilworth.
Then there's Crackley Garage of Unit F, Princes Drive, even more hidden away than most of the businesses on the estate, which has donated a prize in the form of a free air-conditioner service, including a re-gas, worth £70. Crackley Garage has been operating for 30 years, 20 of them on the estate, doing general automotive repairs. And just last week it opened a new unit, in Unit E, just across the street, specializing in all-electric and hybrid/electric vehicles.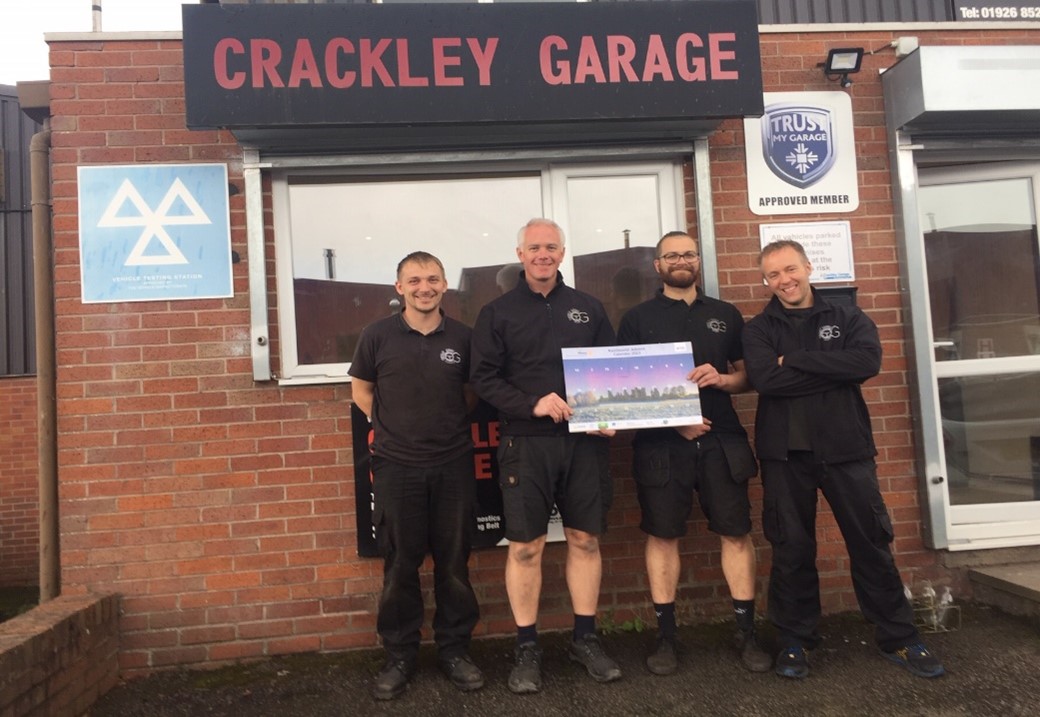 James Poulter and his crew holding up a Kenilworth Advent Calendar 2023.
Not far away, Coventry Automotive Refinishing Ltd, has donated a prize of £60 cash, which you may or may not choose to spend on having your car's bodywork restored to new in their shop.
Then there's Brookline Cars who's voucher for £50 towards any journey in their comfortable cars will make it more affordable.
China Search, famous as Europe's largest retailer of discontinued china, but selling new china too, has donated 4 lovely Wedgewood traditional blue-and-white Christmas decorations worth £140.
And finally, SEA Design, interior designers who design imaginative hospitality environments that customers connect with and operators love, has donated £50 cash.
Every one of these prizes and many more, 120 in all, will be won during Advent this year through The Kenilworth Advent Calendar, which goes on-sale in October. It's beautiful, it's fun and every penny raised will go exclusively to causes that make life better for the Kenilworth community.
For more information, go to www.kenilworthadventcalendar.co.uk created for us by LoudLocal (a local digital marketing company www.loudlocal.co.uk ) or contact us at kenilworthadventcalendar@kenilworthrotary.ord.uk