Press Release. 12 October 2023
ROTARY ANNOUNCES THE KENILWORTH ADVENT CALENDAR 2023 WEBSITE IS OPEN FOR BUSINESS.
There have been some important changes to this year's website www.kenilworthadventcalendar.co.uk, as a result of the experience we gained last year. Digital marketing specialists LoudLocal have taken on-board the feedback we received and have come up with some creative solutions. Do check it out!
For example, we heard that many buyers liked to see if they'd won something at breakfast time, but we were unable to post the winning numbers until 10.00 am. Now they can! We've changed the system so that prize-winning numbers will become available at 1.00 am each day.
And we learned that some buyers preferred to wait until the day the prizes were won before knowing what they were. On their own physical Calendars, they could choose to leave the doors closed, but when they went to the website, there was no avoiding them. Not anymore! This year, the prizes are kept behind the doors of the virtual Calendar and those doors can't be opened until the day itself, when a click will do it, revealing both the prizes and their respective winning numbers.
Another innovation: last year we had to shut down on-line orders a week early, for reasons to do with inventory control. This year, we'll be able to sell new VIRTUAL Advent Calendars right up until November 28, the official last day of sale. They'll have the same benefits as the physical Advent Calendars but without needing a place to store them and they'll ideal for those of us who leave things until the last minute.
Finally, our new website offers a delivery service within the CV8 postcode. For a small charge for packing and transport, we'll deliver a physical Calendar to your door in time for the first day of Advent.
LoudLocal www.loudlocal.co.uk offer a full range of digital services, from website design through content and social media to search engine optimization and all-important training. Like Emmerson Press and Abstract Design, they're donating their services to the Kenilworth Advent Calendar fundraiser as a contribution to the community in which they live and work.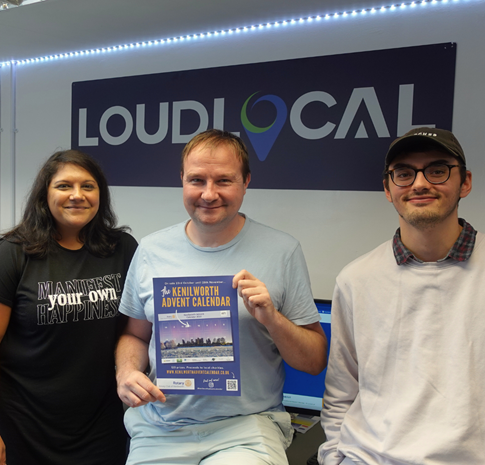 Priya Pandit, Leon Hidderley and Toby Tonks, the LoudLocal team working on the Advent Calendar.