District handover - a new beginning

This year we have an exciting date for our diaries: The inaugural District 1320 Handover Dinner.

The dinner will be a very special event as our own incoming RI President, Gordon McInally, will be our guest and will be speaking of his vision for the future and views of the past. Also attending will be the current Director and Vice President of Rotary International, Nicki Scott, and Eve Conway who is the RI Director elect for 2023-2025 and Past President of Rotary GB&I.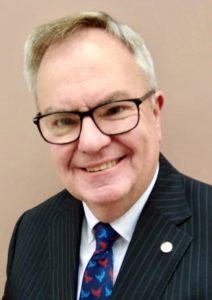 This is a unique opportunity, not only to meet RI President Elect Gordon, but to meet up with old friends and make new ones from across our new District of Scotland South. The date for your diary is Saturday 10th June 2023 and the venue is the Alona Hotel, Strathclyde Park, Motherwell.

The cost of a ticket for this historic event has been kept to a minimum and is £45. There is a large free car park at the hotel and plenty of hotels both in the park and surrounding towns of Hamilton, Bellshill and Motherwell should you wish to make it an overnight event.

To register for this event please click HERE


Rotary in Scotland Caring for Unpaid Carers
In the last 18-months, Rotary in Scotland, in collaboration with the 7 National Carers Organisations in Scotland has brought together a series of briefings and case studies to highlight the issues affecting unpaid carers of all ages. We have helped raise awareness of unpaid carers, highlight their needs to others and signpost those undiscovered carers. We also wished to highlight the work that Rotary clubs in Scotland are already doing to help carers

Our next meeting, dealing with the multifaceted aspects of caring and the additional barriers faced by carers in more marginalised groups, will take place over Zoom on 31st May 2023. Please save the date and come along for what will be an enlightening session. Normal time for the meeting will be 7pm till 8pm. For more details and registration click here.
Rotary in Scotland delivers a Fire Rescue Truck to Ukraine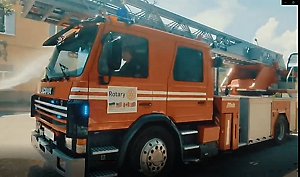 Rotarians in District 1020 have partnered with their counterparts in the US and Canada to deliver a Fire Rescue Truck to the city of Chernihiv in war torn northern Ukraine.
Rotarians in Ukraine had identified the need because of the number of high rise buildings in Chernihiv, where rescue efforts in the much attacked city were hindered by the lack of suitable equipment to reach them.

The Edinburgh club had been instrumental in setting up the Rotary Club of Kyiv and on the outbreak of war they were asked to work again with the five co-sponsoring clubs in the US and Canada to plan a way to help.

You can see the full story here.

Ukraine Disaster Fund

Rotarians worldwide have now donated in excess of $15 million to he Ukraine Disaster Fund set up by The Rotary Foundation. This is providing much needed funding for relief projects like the one above.

RI President Elect Jennifer Jones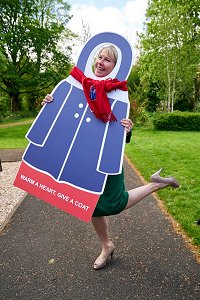 Rotary International President Elect Jennifer Jones visited Scotland at the beginning of May.

She visited all three districts and took part in an open Zoom meeting with Rotarians from across the country.

As well as a club visit, she went to a RotaKids club who demonstrated what they do, and planted a tree in Cumbernauld Peace Garden, where she also got into the swing of the Wrap Up project!

You can see a few photos of her visit to D1020 and watch the Zoom meeting here.

RI President 2023-24 Gordon McInally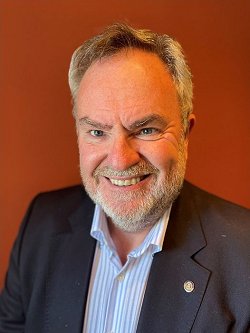 District 1020's own Gordon McInally has been selected to serve as Rotary International Presdident for the year 2023-24.

Gordon is a member of South Queensferry, a past District Governor of D1020 and a past President of Rotary International in Great Britain and Ireland. He has also served Rotary International as a director and as member or chair of several committees. He is currently an adviser to the 2022 Houston Convention Committee and vice chair of the Operations Review Committee.
Congratulations to Gordon, this is a richly deserved appointment, and we know he will be a first-rate RI President.
You can see more about his appointment here.
Freedom From Fistula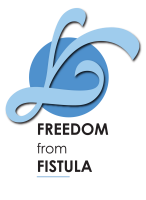 PDG Jo Pawley and Sue Hope from Freedom From Fistula were interviewed on Rotary Radio for the Global Grant being done in 1020.

You can hear the interview here.

.
Tablets for the vulnerable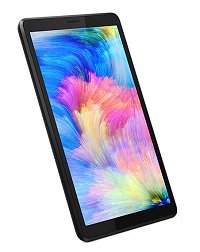 A special Covid-19 grant from The Rotary Foundation has allowed clubs in the District to supply tablets to day centres, care homes or hospitals in their locality who deal with dementia patients.
Work in a local district general hospital highlighted that the use of technology and various meeting platforms could bring individuals together remotely. This was found to be a highly positive experience for patients, families and staff increasing the social contact with families while reducing distress and agitation with dementia patients.

With guidance from the dementia nurse specialist, staff downloaded music, games, puzzles and painting apps to tablets and were very enthused when the cognitively impaired individuals with a little prompting in the beginning were soon mastering the technology and the games. The technology was also used to allow carers and families be in contact daily with patients who were identified as being isolated and vulnerable.
District 1020 applied for this special grant from The Rotary Foundation, which allowed us to supply each club in the district who wish to participate with four tablets which they can provide to suitable centres or care homes in their area. A Global Grant providing local support to the vulnerable in our communites.

More details of the scheme can be found here.

Africa declared Polio Free
After decades of work across 47 countries on the continent, the World Health Organization has certified the Africa region polio free.