District 1020 and COVID-19
A message from District Governor Jo.
As your District Governor I am extremely concerned by the COVID-19 virus which is affecting communities across the world.
I have been approached by a number of Rotarians and clubs on this subject and am aware that a number of clubs have taken the decision to suspend meetings for the time being.

You will have all seen that Rotary in Great Britain and Ireland has cancelled The Expo and is also cancelling face to face meetings planned for March April and May.
RI President Mark Maloney and RI President Elect Holger Knaack have written a joint letter to all Rotarians advising " In the near term, we recommend that Rotary districts and clubs cancel or postpone meetings or events following the advice of national and local health officials".
The District team have been monitoring the situation on a daily basis with advice changing it seems by the hour. I believe that the only thing we can possibly say for certain is that this situation will continue to get worse and affect us all in our daily lives. I would like to update you on what I as District Governor have done in consultation with others. These decisions have not been taken lightly but bearing in mind the age profile within this District are I believe needed to have been made. Please be reassured that the District team will
continue to monitor the situation closely
PETS Lockerbie and Livingston, Postponed
Having spoken with DGE Calum Thomson both PETS meetings are to be postponed at this time.

Kids Out, Cancelled
I have spoken with the organisers and this is to be cancelled. I appreciate that the event was to take place in June but I would not wish vulnerable children who have underlying medical issues to be put at risk under the Rotary Banner. I feel that it is wise to cancel this event now.
Rotakids Rally , Cancelled
I have spoken again with the organisers; this event is to be cancelled. Last year there were 40 plus Rotarians at the Rally. There is also a cost implication to clubs if they have booked or are booking transport and we then cancel at a later date. I feel that it is wise to cancel this event now.
Primary School Quiz District Final
After discussions with the organisers, I am aware that a number of area rounds of the competition are being conducted in schools. Whilst the schools remain open and subject to consultation with them, these events will NOT be cancelled,but this may change. Each area has a trophy and these can be used as a District Trophy so this year in effect we would have 6 winners if all the areas took part. The District Final to be held in May will be cancelled.
The Scottish National Final has been cancelled and all three Districts have
agreed with this course of action.
Future events
The District team will monitor the situation closely, and will announce, at the first opportunity, if other meetings or events are to be cancelled or postponed. Under consideration will be: District Officers training, The District Council meeting in April, The District Training Assembly in May, forthcoming Area meetings and the District Quiz. I am also liaising with the RYLA organiser as I am aware that deposits need to be paid by the end of the month.

In making these decisions, I have held as my priority the health and well-being of the Rotarians and the Rotaractors as well as those we interact with within this District. I am not prepared to put our members and communities at risk.
Jo Pawley
District Governor
District 1020

First Minister at Rotary Stand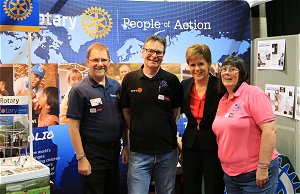 First Minister Nicola Sturgeon paid a visit to the Rotary Scotland stand at The Gathering in Glasgow. The Gathering is Scotland's largest event for charities, social enterprises and voluntary organisations. Over 3,000 people interested in the voluntary sector attended, and a number of contacts were made which could help clubs with projects, partners and potential new sources of funding for those projects.

A full report will be made at the next District Council meeting.

Scottish Schools Athletics



The Scottish Rotary Districts again sponsored the Scottish Schools Athletics Association Championship in the Emirates Stadium in Glasgow on 5/6 February. A great event, with over 200 schools across Scotland represented. More photos here.

Young Chef District Final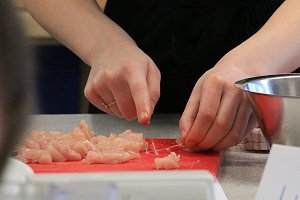 A very successful District final of Young Chef was held at in Livingston on 1st February. Four young chefs took part after qualifying from the club and area rounds of the competition and as always the standard was impressive. The judges commented that had some of the dishes been presented at a City and Guilds exam they would have been awarded a Merit or even Distinction.

More >
Borders collaberation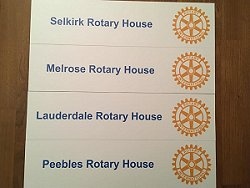 It's all coming together as 4 Borders area clubs will be recognised next week for their individual contribution to a Rotary International District 1020 grant to restore 4 Teachers Houses at Thondwe Primary school.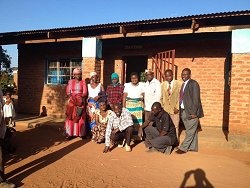 A house naming ceremony is another example of the Scotland Malawi partnership with St Ronan's Primary School and Rotary Foundation
Forth Bridge Abseil reaches £1m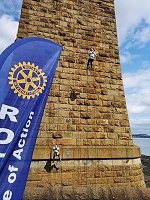 South Queensferry Rotary Club's Forth Bridge Abseil hit two milestones this year.
This is not only the tenth year of the event, but this year the cumulative amount of money raised for charity crossed the one million pound mark.
A spectacular sum for a spectacular event. Well done South Queensferry, long may it continue.

Primary Schools Quiz Scottish Final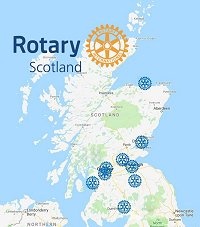 For this first time in many years the three Scottish Districts held a Scottish Final to the Primary Schools Quiz. Schools from Buckie to Dumfries took part marking a huge geographical spread across Scotland.
The quiz was held in the Iris Murdoch Building of Stirling University, and each District was represented by three schools. The room was packed with parents and supporters, and ended ina tie, requiring not one but two tie-breaks before Priorsfield Primary from Peebles was declared the winner.
Rotary Young Citizen

Nicknamed "Kira the Machine", 15-year-old Kira Noble from Edinburgh is one of this year's national Rotary Young Citizens Award winners. Kira has courageously faced the rare and aggressive cancer Neuroblastoma since she was 11-years-old but has now been told that her cancer is incurable. After doctors failed to initially recognise that she had the condition, she has campaigned for more awareness and training of medical professionals to save lives. She launched a Childhood Cancer campaign and joined forces with an Edinburgh mum whose son died of leukaemia.

Watch Kira's emotional interview on BBC. You may need to unmute the video with the control on the bottom right once it starts.
Kira's cancer has returned three times making her currently in her fourth journey with the disease. Whilst in hospital, she offers support to other cancer sufferers and their families as well as raising awareness of her condition through social media. Her attitude is "I don't like being negative because it isn't going to get me anywhere.". Kira was nominated for the award by the Rotary Club of Leith.
Kirkcudbright celebrates 70 years of Rotary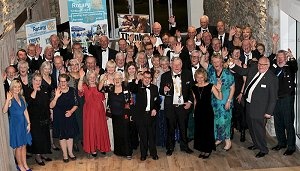 The Rotary Club of Kirkcudbright recently celebrated 70 years of service to the area.

A number of clubs from across the District were represented, and District Governor Agnes Ritchie presented PDG Maurice Halliday with a Citation for Meritorious Service to Rotary Foundation.
More Young Champions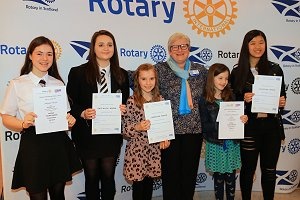 District Governor Agnes presents district winners in the Young Writer and Young Photographer competitions with their certificates.

A very high standard was achieved again this year, with the judges being very impressed with the entries.
Young Musician District Final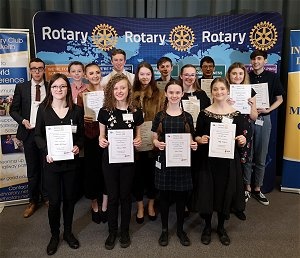 The District final had 16 Competitors and the standard of musicianship was amazing. The weather happily did not put off an enthusiastic audience from attending and enjoying a splendid afternoon. The adjudicators had a really tough task in deciding on the winners!

Those placed were:

Vocal - Shauna Healy (Currie Balerno) / Callen Love (Dumfries) / Milly Coltherd (Selkirk)
Instrumental - Callum Walton (Annan) / Benedict Tan (Currie (Balerno) / Lewis Blackwood (Larbert)

1st & 2nd placings go through to Regional final on 17 March


Rotary International Scottish Schools Indoor Athletic Championships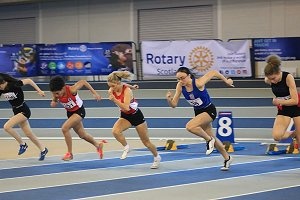 The Scottish Rotary Districts sponsored the championships for the Fifth year in succession with the opportunity to get some great publicity and to have a strong Rotary presence at the arena during the two days.
The games took place at the Emirates Stadium in Glasgow on Wednesday 6th February and Thursday 7th February 2019. 204 schools across Scotland were represented. The athletics were superb, and there were Rotary banners around all the stadium and surrounding the podium. Click More to see some highlights.

Purple4Polio crocuses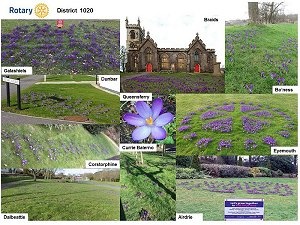 Clubs across D1020 have been planting crocuses as part of the Purple4Polio campain to raise awareness of the fight against polio.
You can see a slideshow of some of them in the Foundation section.
Could you be a Rotarian?
Is Rotary for you? Have a look at this and see. If you think it is, why not contact a local club?
About Rotary District 1020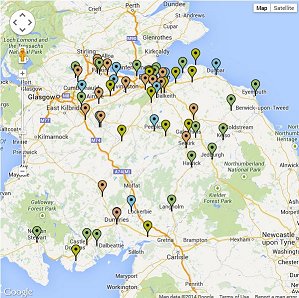 District 1020 covers the south of Scotland from coast to coast and from the Forth to the Borders.
We have around 1500 members in 55 Clubs
Click on the "Clubs" tab above to find out more about them, or find a Club near you by using this postcode search facility
Rotarians are supporting this website by advertising on it
Follow this link to see their advertisements