Scottish Schools Athletics



The Scottish Rotary Districts again sponsored the Scottish Schools Athletics Association Championship in the Emirates Stadium in Glasgow on 5/6 February. A great event, with over 200 schools across Scotland represented. More photos here.

Young Chef District Final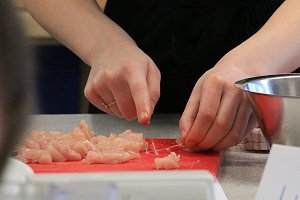 A very successful District final of Young Chef was held at in Livingston on 1st February. Four young chefs took part after qualifying from the club and area rounds of the competition and as always the standard was impressive. The judges commented that had some of the dishes been presented at a City and Guilds exam they would have been awarded a Merit or even Distinction.

More >
Borders collaberation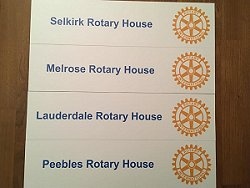 It's all coming together as 4 Borders area clubs will be recognised next week for their individual contribution to a Rotary International District 1020 grant to restore 4 Teachers Houses at Thondwe Primary school.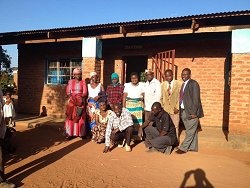 A house naming ceremony is another example of the Scotland Malawi partnership with St Ronan's Primary School and Rotary Foundation
Forth Bridge Abseil reaches £1m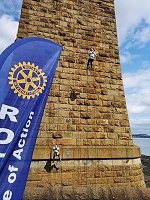 South Queensferry Rotary Club's Forth Bridge Abseil hit two milestones this year.
This is not only the tenth year of the event, but this year the cumulative amount of money raised for charity crossed the one million pound mark.
A spectacular sum for a spectacular event. Well done South Queensferry, long may it continue.

District Handover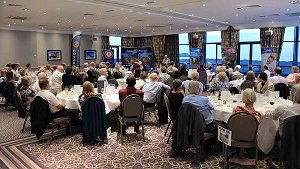 The District Handover was a special affair this year, with prestigious awards to two Rotarians and a joint handover with Rotaract. Click below for more.

Primary Schools Quiz Scottish Final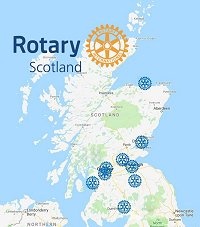 For this first time in many years the three Scottish Districts held a Scottish Final to the Primary Schools Quiz. Schools from Buckie to Dumfries took part marking a huge geographical spread across Scotland.
The quiz was held in the Iris Murdoch Building of Stirling University, and each District was represented by three schools. The room was packed with parents and supporters, and ended ina tie, requiring not one but two tie-breaks before Priorsfield Primary from Peebles was declared the winner.
Scottish Schools Athletics

Rotary in Scotland is the sponsor of The Secondary School outdoor Track & Field Championships at Grangemouth Stadium on 7th and 8th June. We are looking for volunteers to help behind the scenes and also invite all Rotarians to come and support their local schools.
Rotary Young Citizen

Nicknamed "Kira the Machine", 15-year-old Kira Noble from Edinburgh is one of this year's national Rotary Young Citizens Award winners. Kira has courageously faced the rare and aggressive cancer Neuroblastoma since she was 11-years-old but has now been told that her cancer is incurable. After doctors failed to initially recognise that she had the condition, she has campaigned for more awareness and training of medical professionals to save lives. She launched a Childhood Cancer campaign and joined forces with an Edinburgh mum whose son died of leukaemia.

Watch Kira's emotional interview on BBC. You may need to unmute the video with the control on the bottom right once it starts.
Kira's cancer has returned three times making her currently in her fourth journey with the disease. Whilst in hospital, she offers support to other cancer sufferers and their families as well as raising awareness of her condition through social media. Her attitude is "I don't like being negative because it isn't going to get me anywhere.". Kira was nominated for the award by the Rotary Club of Leith.
Kirkcudbright celebrates 70 years of Rotary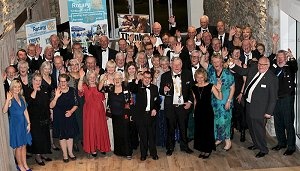 The Rotary Club of Kirkcudbright recently celebrated 70 years of service to the area.

A number of clubs from across the District were represented, and District Governor Agnes Ritchie presented PDG Maurice Halliday with a Citation for Meritorious Service to Rotary Foundation.
More Young Champions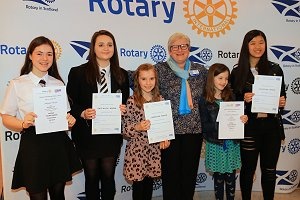 District Governor Agnes presents district winners in the Young Writer and Young Photographer competitions with their certificates.

A very high standard was achieved again this year, with the judges being very impressed with the entries.
Young Musician District Final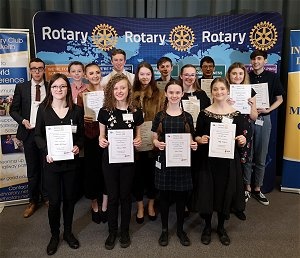 The District final had 16 Competitors and the standard of musicianship was amazing. The weather happily did not put off an enthusiastic audience from attending and enjoying a splendid afternoon. The adjudicators had a really tough task in deciding on the winners!

Those placed were:

Vocal - Shauna Healy (Currie Balerno) / Callen Love (Dumfries) / Milly Coltherd (Selkirk)
Instrumental - Callum Walton (Annan) / Benedict Tan (Currie (Balerno) / Lewis Blackwood (Larbert)

1st & 2nd placings go through to Regional final on 17 March


Rotary International Scottish Schools Indoor Athletic Championships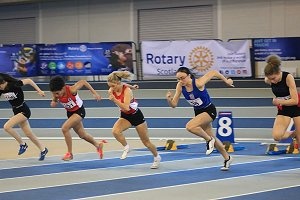 The Scottish Rotary Districts sponsored the championships for the Fifth year in succession with the opportunity to get some great publicity and to have a strong Rotary presence at the arena during the two days.
The games took place at the Emirates Stadium in Glasgow on Wednesday 6th February and Thursday 7th February 2019. 204 schools across Scotland were represented. The athletics were superb, and there were Rotary banners around all the stadium and surrounding the podium. Click More to see some highlights.

Purple4Polio crocuses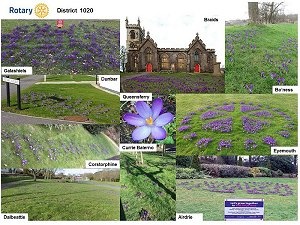 Clubs across D1020 have been planting crocuses as part of the Purple4Polio campain to raise awareness of the fight against polio.
You can see a slideshow of some of them in the Foundation section.
Could you be a Rotarian?
Is Rotary for you? Have a look at this and see. If you think it is, why not contact a local club?
About Rotary District 1020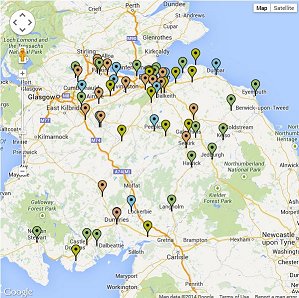 District 1020 covers the south of Scotland from coast to coast and from the Forth to the Borders.
We have around 1500 members in 55 Clubs
Click on the "Clubs" tab above to find out more about them, or find a Club near you by using this postcode search facility
Rotarians are supporting this website by advertising on it
Follow this link to see their advertisements