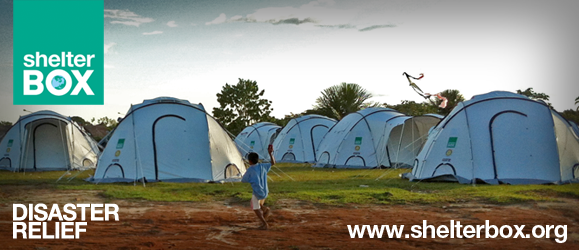 News about ShelterBox activity November 2012
---
Rotary and ShelterBox Syrian Response
Iraq
ShelterBox currently has a Response Team operating in northern Iraq making arrangements to distribute winterised tents with Barzani Charity Foundation (BCF). In his drive to support ShelterBox activities Belal Al Ayoubi visited Iraq and set up the partnership between ShelterBox and BCF. With the Response Team on the ground and the first 200 ShelterBoxes already at the Domiz camp, training is being conducted and distribution will begin very soon to provide shelter for the many families arriving in northern Iraq. 16 Classrooms in a Box have also been sent to the Domiz camp which will provide temporary school facilities for 800 students allowing the community to take steps towards rebuilding their lives.
Photograph by Rebecca Novell - Winterised ShelterBoxes arrive at the Domiz camp in northern Iraq.
---
Lebanon
ShelterBox has been looking into options to provide assistance to refugees in coordination with local groups and the UN Refugee Agency. The support of the Rotary network in Lebanon has been vital in making in-roads towards delivering vital lifesaving aid but significant challenges still remain. Belal Al Ayoubi, a Rotaractor and District Rotaract Representative 2011-12 for District 2450 first contacted ShelterBox in July this year. During our initial deployment he acted as host, translator, fixer and was extremely well connected. Since our withdrawal due to heightened security risks, the need for shelter has continued to grow with refugees facing immense hardship as winter closes in. Belal has been actively working to assist ShelterBox further and we hope to provide aid to those most in need in the near future.
---
Jordan
ShelterBox currently has a team in Amman exploring options for the distribution of prepositioned ShelterBoxes held with the Jordan Red Crescent. Ongoing co-ordination is taking place with a number of agencies however support from the Rotary network could prove pivotal to the provision of timely assistance to the refugees.
---
Turkey
Options to support agencies in Turkey are being explored by ShelterBox, specifically those working with refugees on the north Syrian / Turkish border. The assistance of the Rotary network in this region would help greatly in enabling ShelterBox to deliver much needed aid to families in need.
---
Source
Tim Bunting, General Manager, ShelterBox UK & Ireland
T: +44 (0)1326 555138
M: +44 (0)7775 413516
Issued by Tony Williams D1290 ShelterBox Coordinator