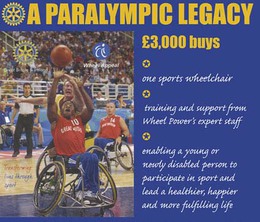 Each year approximately 1,000 men, women and children become paralysed due to an accident or illness. Through sport these people whose lives have been traumatically changed, can have an outlet for their frustrations and energy.
By focusing on something they can do, and potentially can excel in, increased confidence and a positive outlook can be achieved and this can influence other areas of their lives. WheelPower not only provides accessible facilities at the Stoke Mandeville Stadium, home of Wheelchair Sport, but through their Wheel Appeal aims to raise £6 million to provide over 2,000 newly disabled people with a sports wheel chair to enable them to participate in competitive or recreational sport. All Districts in Rotary GB&I teamed up with Wheel Power for Rotary Wheel Appeal. We are particularly fortunate in having Stoke Mandeville Stadium on our doorstep, so for D1090 it is a 'local' charity. Money raised locally can, by choice, stay local and enable young disabled people within the Thames Valley area.
Around Thames Valley in 80 Ways
Inspired by "Around the World in 80 Ways", a talk from Mike Mackenzie, chaiman of the Poppa Guttman Trust, keen supporter of Wheel Appeal and intrepid paraplegic sportsman/adventurer, Bicester and Haddenham & District Rotary clubs organised a District-wide relay event to celebrate these efforts and engage the wider community. The aims were:
To celebrate the Olympic & Paralympic Games 

To raise awareness of the work of WheelPower and the Paralympic movement
To fundraise for WheelPower leaving a lasting Sporting Legacy through the purchase of manual sports wheelchairs for worthy young disabled recipients in the Thames Valley area

To promote fellowship between Clubs
To show that Rotary can be fun!
'Opening Ceremony' Monday 8 April 2013 at Stoke Mandeville Stadium
This was enthusiastically received by over 80 club representatives who enjoyed meeting the Wheel Power Team, seeing the facilities and examples of the sports wheel chairs. Inspired by the Wheel Power Team and Mike Mackenzie with tales of his original Around the World in 80 Ways, lead clubs collected their relay 'batons' and, with details sorted, the show was on the road! See the Slideshow and further details
Several clubs raised considerable sums through various other events throughout the year and the partnership continues to be very rewarding with an increased awareness of WheelPower's life-changing work and many Rotarians volunteer at events held at the Stoke Mandeville Stadium.