Previous DRFC Newsletters which have appeared on the Main page and been replaced by more up to date editions
From February 2017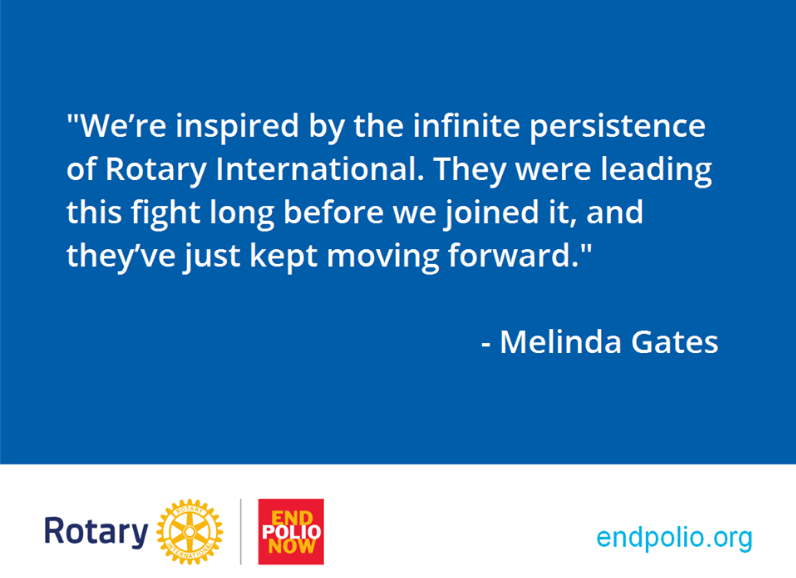 Invitation to all Clubs in D 1040
Reminder
If your Club wishes to apply for a Rotary Grant ( District or Global Grant) for the 2017-18 Rotary year, your Club has to be qualified. This is achieved by your President Elect and preferably one other member attending one of the two Grant Training Seminars organised and presented by members of the District Foundation Committee. In case the President Elect is unable to attend any of the seminars, another Club approved member can stand in.*
Clubs are required to qualify every year.
Rotary Grant Training Seminars
First Seminar: Date: 11 March 2017
Time: 9.30 for 10.00 – 12.00
Venue: The Bridge Hotel & Spa, Walshford, Wetherby LS22 5HS
Tel.# 01937 580 115
Bookings must have been received by Monday, 6 March 2017
Second Seminar: Date 25 March 2017
Time: 9.30 for 10.00 – 12.00
Venue: Arties Mill, Castlethorpe, Brigg DN20 9LF
Tel.# 01652 652 094
Bookings must have been received by Monday 20 March 2017
Rotarians may attend either of the Seminars, but all bookings must be made, stating Name and Club, by Email to anita.rayner@talktalk.net by the deadline.
Anita Rayner
DRFC 1040 Chairman
Tel.# 01924 255 183
Email: anita.rayner@talktalk.net
*Please note: This is a requirement of The Rotary Foundation. Clubs who have not attended one of the seminars cannot be considered for a Rotary Grant.
Rotary Grant Training Seminar for Clubs 2017-18
AGENDA
1. Welcome and Introductions - Anita Rayner
2. Rotary Global Grant Applications – Richard Henton-Jones
3. Comfort break and coffee/tea & biscuits
4. Rotary District Grants – Andrew Bateman
5. District Foundation Finance – Andrew Bateman
6. Questions and (hopefully) answers – Anita Rayner
7. Depart
A MESSAGE FROM DRFC CHAIRMAN, ANITA RAYNER
As you may be aware, all responsibility for District Grants administration now lies with the District Foundation Committee, and we have to ensure that we act in accordance with TRF requirements. If there should be an audit of our District by TRF, we will have to demonstrate that we did all in our power to comply. I would , therefore, request that these points which were presented to the District Council meeting on 28 January 2017 are observed by all clubs applying for or in receipt of a District Grant.
There are still clubs in District 1040 who consider The Rotary Foundation requirements to be an optional extra.

Clubs must accept that Rotary Grants come with obligations which need to be met.

The obligations include the submission to the District Foundation Committee of Interim and Final Reports on the Grant project, together with evidence of expenditure. Grants are given in support of a specific project, and money not spent on the project must be paid back to Foundation.

All Grant-aided projects are Club projects, and the responsibility for compliance does not end when a club member leaves or is unable to present a report owing to illness.

It is NOT in the spirit of Rotary to require busy volunteer officers to send out numerous reminders.

It is our committee's main objective to be as helpful as possible to clubs, but we will be obliged to request repayment of grant money from clubs who do not comply with the regulations.

Random Audits of District grant-aided projects will take place shortly, and we hope that all clubs will ensure that their records are accurate.
Anita Rayner
DRFC Chairman D1040
RC Leeds: Chairman International & Foundation Committee
Tel. +44 (0)1924 255 183
Email: anita.rayner@talktalk.net
Where to send End Polio funds?
Apparently some clubs are enquiring about sending End Polio Now funds to be sure they attract the Gates Foundation 2 for 1 matching.
All the various forms for submitting funds to Foundation can be found here: http://www.rotarygbi.org/members/humanitarian-service-programmes/rotary-foundation-2/clubindividual-giving/
You will need to log into the RIBI website first, because these forms are on the Members Only pages. The form you need for club contributions is the RFUK Club Contributions form, which is available as a .pdf file to download and print. You can also download it here.
It is important that you tick the Polio Plus/End Polio Now box to ensure that your funds are properly allocated. We are assured that all money sent with the End Polio box ticked WILL attract Gates Foundation funding without any other intervention.
From December 2016
D1040 Peace Fellow, Kate Rougvie
Kate was interviewed in 2013 by then DG, Rod Walmsley, then DRFC Chairman, Roger Percival, and District Peace Fellows Officer, Jim Staton, and her application for a Peace Fellowship was submitted to the Rotary Foundation, who awarded her a place at the University of Queensland, in Brisbane to study for a Masters degree. She graduated earlier this year and very quickly was asked to go to Burundi for the UN. She has recently sent an interesting account of her role, and a substantial section of that account follows:
"I'm the Gender-based Violence Sub-Cluster Coordinator for the United Nations Fund for Populations Affairs (UNFPA), in Burundi. UNFPA is a UN agency which focuses on gender-based violence (GBV), women and girls' maternal and sexual and reproductive health, and population issues around the world. The sub-cluster mentioned in my title refers to a coordination mechanism which is set up in humanitarian emergencies (they currently exist here in Burundi, and in places like Iraq, CAR, Yemen, Syria response, Somalia, DR Congo etc). It's essentially a means of coordinating all the humanitarian actors working on GBV in the emergency, including UN agencies, international and national NGOs, and government structures. So as a technical specialist in GBV in humanitarian contexts (conflict and/or natural disaster), I bring together all these actors to make sure that we know where everyone is, what exactly they're doing, build their capacity and skills, identify where the gaps are in the response, manage all this information, advocate towards donors to fill those gaps, and provide on-going advice and technical assistance to everybody, in a bid to improve overall the number of people we are able to reach with humanitarian assistance and the quality of that assistance.
We have about 20 organisations and agencies within the coordination, and around 40 with a kind of observer status. You might be surprised at how hard it can be just to figure out which organisations are doing what, and where, and how…so I try to bridge that gap. And working with local NGOs and civil society is great, many work in this area but have never received significant training, so I really enjoy working with them to build their skills and learn from their experiences here. I also spend a lot of time working with non-GBV responders - everybody from Food Security specialists, to Shelter experts, to the people supplying latrines and wash facilities to internally displaced persons camps, to ensure that the work they do takes into account the different needs that women and girls can have in emergency contexts, and to find ways to reduce violence through making humanitarian programming safer for local populations. For example - if we build latrines in an IDP camp, then they should have locking doors and lots of lighting, so that girls aren't assaulted when they go to the loo in the night (it's not what we imagine when we think of risks in humanitarian situations, but it happens a lot!).
It's a great job, and wonderful in the sense that I'm in the rare position of having a kind of bird's eye view of the whole response to GBV. In previous jobs I had worked much more on direct response - managing aid projects - so this is a step away from the immediate implementation of aid, but it's rewarding when we're able to build cohesion between everybody, get together to discuss what we think the big issues and challenges are, and find solutions together. A couple of weeks ago I managed to get 5 NGOs together and we developed some evaluation tools, and they went out and carried out focus group discussions in over 50 locations across the country, and then sent me the 50 odd reports to compile! This kind of effort means we can put together a clearer picture of what GBV looks like in Burundi, which helps us to design a response which really responds to the needs here, and gives us something to show donor governments and agencies. It was a real victory.
So that's a roundup of what I'm up to over here. Burundi itself is a beautiful country, next door to Rwanda and Congo and Tanzania, with lots of mountains, very green. It's been a troubling year for the country, between political instability, economic crisis, and severe climate change-related disasters.
In terms of how I got the job - bit convoluted, but I was previously on an emergency standby roster called CANADEM, run by the Canadian government (no Canadian connection, just chance). They supply 'stand-by partners', experts in specific fields, to UN agencies, on secondment, for short missions, usually 3-6 months. Earlier in the year they contacted me to see if I'd be interested in attending a training/evaluation being run by UNFPA in Turin, Italy, at one of the UN training centres. The training was designed to build capacity but also to evaluate candidates for a roster of specialists that UNFPA itself was establishing. Following the training they asked me whether I would deploy to Burundi. French language skills were definitely a major factor. So 2 weeks later (and quite unexpectedly - I was on holiday in the UK and was meant to fly back to Aus, where I'd left all my stuff!) I deployed to Burundi and now have been here for about 3 months. It's a 6-month consultancy contract, though hoping for renewal in February. "
Where to send End Polio funds?
Apparently some clubs are enquiring about sending End Polio Now funds to be sure they attract the Gates Foundation 2 for 1 matching.
All the various forms for submitting funds to Foundation can be found here: http://www.rotarygbi.org/members/humanitarian-service-programmes/rotary-foundation-2/clubindividual-giving/
You will need to log into the RIBI website first, because these forms are on the Members Only pages. The form you need for club contributions is the RFUK Club Contributions form, which is available as a .pdf file to download and print. You can also download it here.
It is important that you tick the Polio Plus/End Polio Now box to ensure that your funds are properly allocated. We are assured that all money sent with the End Polio box ticked WILL attract Gates Foundation funding without any other intervention.
From October 2016
Transformation of Barrow Playing Fields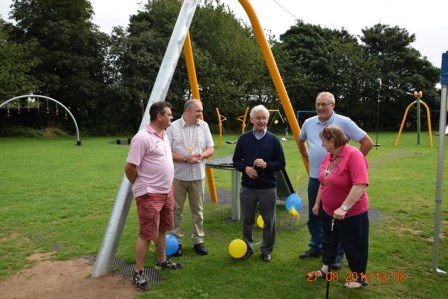 The journey began when President Simon Weightman (2014/15) along with several members of the Rotary Club of Barrow Meridian attended a Barrow upon Humber Parish Council meeting where Claire Wollington from Synergy Grimsby gave a presentation of the availability of grants for the area.
Simon led various discussions at the Rotary meetings and it was agreed that Rotary would attempt to transform the playing fields in the village. The existing equipment was tired and some of it under the threat of being removed and scrapped.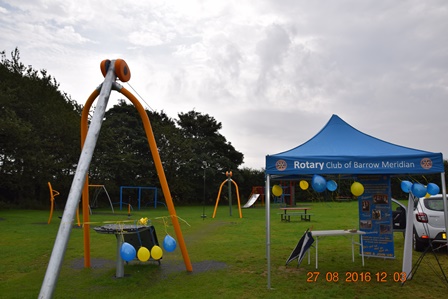 The first task was to secure a Big Lottery Award (Claire guided us through the application) to mount a village fun day, where we secured over 300 questionnaires, to establish what the village wanted from the playing fields. The overwhelming message was new play equipment for the children. The fun day was good fun too, giving the Rotary Club time to talk in a relaxed mode with many of the villagers and especially with the children.
Other hopes were established from the survey and hopefully these will be addressed in future phases.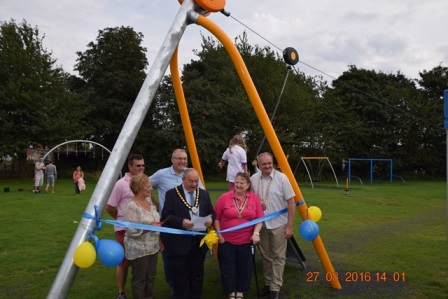 The next stage having established that the project was to provide suitable play equipment, was to work with the local Parish Council who manage the playing fields for the Fields in Trust who are the trustees of the playing fields, together Simon, the Rotary Club and the Parish Council worked together on the application and tenders were sort from approved suppliers. During the discussions with the approved suppliers it was established that some of the existing play equipment could be refurbished.
The process took some time and many issues had to be investigated but finally WREN, who are a not for profit business that award grants for community, conservation and heritage projects awarded funds, but not for the full amount that had been applied for. Simon rose to this challenge and along with the Parish Council, negotiations took place and ways were found to supply the original list of equipment with in the amount awarded.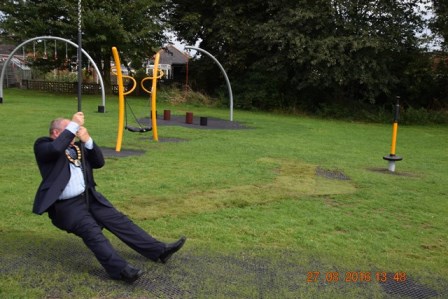 Finally Hags, the chosen supplier, working with a local company, LPE (Steve James), refurbished the existing play equipment and installed in the new equipment. Steve James, being a local businessman, took it upon himself to refurbish some of the other equipment in the play area that would otherwise have been scrapped.
The children in the village, having just started their summer holiday, flooded to the playing fields to play on the equipment; families were having picnics there and it was lovely to see what was becoming a neglected area transformed into a hive of activity.
Simon led the project from start to finish and at times there were some big issues to overcome but he did it. The local Parish Council and Rotary are very proud of what has been achieved.

Quotes from interested parties included:
Penny Beaumont, WREN's grant manager for Humber, says: "It's wonderful to see something we have funded finally open and ready to make such a difference to youngsters and families in Barrow upon Humber. WREN is always happy to consider grant applications for projects that benefit local communities and this is a great example of what can be achieved."
The importance of it being delivered is that a lot of the equipment was near being scrapped and the community had basically stopped using it. Some parents had started travelling to Goxhill to use the play equipment there. Now they do not need to. I personally have had quotes from children saying thank you it is amazing, ace, fab and various other comments from both children and parents alike being thanked on so many occasions along with other members of the Rotary Club. Families have taken picnics up to the playing fields whilst their children play on the equipment. One gentleman said "Can I just thank the Rotary Club for providing the play equipment. It is such a joy to see the children happily playing on the equipment and can I also say what a pleasure it is to see the community of Barrow enjoying themselves. I have not seen this kind of community spirit for a long, long, time"
Simon Weightman of the Rotary Club of Barrow Meridian and the Playing Fields Project lead says: "This vital facility is going to make a real difference to those who use it, as well as the wider local village community. We are extremely grateful to WREN for providing funding as we would not have been able to go ahead without its support."
And Deputy Mayor Mr Peter Clark said:
"Good afternoon everyone. It gives my wife and myself great pleasure to be here this afternoon. Since the Rotary Club of Barrow Meridian was
formed, a great number of local organisations have benefited financially because of the voluntary work you do. This wonderful new play equipment and refurbishment of the old equipment is a fine example.
Due to you working with the Parish Council, funding was obtained to finance this play equipment by successfully securing a grant from Awards for all.
Finally I congratulate you on the work you do and as they say 'keep up the good work'. I officially declare the new play equipment open. Thank you"
From September 2016
Dear DRFCs and RRFCs,
Greetings from Evanston!
It is a pleasure to introduce myself as the coordinator for The Rotary Foundation Cadre of Technical Advisers (the cadre).
Representing all Rotary districts and a wide spectrum of professional expertise, the cadre is a diverse group of volunteer Rotarians who monitor and evaluate Foundation grant projects all over the world by conducting paper reviews and traveling to project sites to evaluate technical feasibility and compliance with The Rotary Foundation's missions and objectives.
I have attached the latest issue (September 2016) and encourage you to forward Tech Talk to the members of your district.
The cadre is currently recruiting volunteers in the following areas.
· Maternal and child health professionals (such as nurses and obstetricians) in Africa and Asia
· Water and sanitation professionals (such as civil and mechanical engineers) in Africa and Asia
· Spanish-speaking auditors in North and Central America
· Rotarians living in Africa, in all areas of focus
· Rotarians with expertise in monitoring and evaluation, sustainability, and community needs assessments
If you know of any Rotarians in your district who would make great cadre members, I encourage you to forward them the attached cadre registration instructions.
I appreciate your assistance in sharing this information with the Rotarians in your district. If you have any questions about the cadre, please do not hesitate to contact me.
For more information on the cadre please visit www.rotary.org/en/cadre-technical-advisers
Sincerely,
Veronica
To download a pdf entitled "Tech Talk Sptember 2016" click here
To download a pdf entitled "How do I fit in the cadre?" click here
Veronica Dominguez
Cadre Coordinator
One Rotary Center | 1560 Sherman Ave. | Evanston, IL 60201 USA
From June 2016
As at 15th June, the total number of cases of wild polio is only 17 – quite a dramatic contrast to the 1000 PER DAY when the campaign started.
ENDING POLIO NOW
Hello again to the volunteers of the Rotary Clubs of District 1040. As the days turn into weeks, and the weeks into months, we notice how quickly time is passing. Rotarians are conscious of how each club is a small cog in the big wheel that is Rotary International, and as we celebrate our Rotary Foundation centenary we are having a big push once and for all to complete the task we started in 1985 – the eradication of polio throughout the world.
As The Rotary Foundation moves towards its centenary year and with the chance to eradicate polio now closer than ever before thanks to the efforts of Rotarians across the world, it is important we keep fighting and finish the job. This means continuing our support now and for at least three years after the last case of polio is reported, in order for the world to officially be declared polio free.
The first major programme now sitting within the Purple4Polio campaign is the enhancement of the mass crocus corm planting for November 2016 and the exciting development of links with the Royal Horticultural Society. The purple crocus is a symbol of Rotary's worldwide campaign to eradicate polio, with its colour representing the purple dye used to mark the finger of a child who has been immunised.
The partnership will allow Rotary clubs to join forces with the RHS's community-based Bloom Groups and work in tandem to bring people together, transform public spaces to brighten up the local area and promote health and wellbeing. This community ethos is a value shared by both Rotary and the RHS, and, with the purple crocus planting also helping the RHS's Greening Grey Britain campaign, we will together be adding a purple splash of colour and vibrancy to areas up and down the country.Purple4Polio. It is worth a mention that the Gates Foundation (Bill Gates and his wife) give £2 for every £1 raised by Rotary International to this worthy cause.
I am willing to visit your Club & bring you up to date with the very latest details of our fight with Polio. " WE ARE SO CLOSE"
Please contact me at
newis@talktalk.net or 01274873888
Robert Jackson ~ District 1040 ~ End polio Now Co-ordinator
From March 2016
Just received from The Rotary Foundation:
Dear district governors, district Rotary Foundation committee chairs, district scholarships subcommittee chairs, and district grants subcommittee chairs:
The Rotary Foundation and UNESCO-IHE Institute for Water Education are working together to tackle the world's water and sanitation crisis and are offering up to 10 scholarships for graduate study at UNESCO-IHE's Delft campus in the Netherlands. The partnership aims to increase the number of trained professionals who can devise, plan, and implement water and sanitation solutions in developing areas. The scholarships also are designed to promote long-term productive relationships between Rotarians and skilled water and sanitation professionals in their communities.
Scholars will receive a Master of Science degree in urban water and sanitation, water management, or water science and engineering. Graduates work with their Rotary club sponsors on a related project to benefit their local community. The application deadline is 15 June. For more information, review the application toolkit and scholarship terms and conditions.
If you have questions, please contact grants@rotary.org.
Sincerely,
Abby McNear
Rotary Grants Manager
Tel 1.847.425.5656
From October 2015
POLIO
Join us on 23 October for our third annual End Polio Now: Make History Today event. We'll be streaming live from New York City, so tune in at 18:30 New York time (UTC-4) to watch a global update on the status of the fight to eradicate polio, and take part in the conversation. Guests will include representatives from the Global Polio Eradication Initiative partners, celebrity polio ambassadors, and polio survivors.
Check out the World Polio Day tool kit for ideas on how your club or district can celebrate World Polio Day. Among the suggestions: hosting a viewing party, contacting your local news media about the importance of eradicating polio, advocating government support for ending the disease, and organizing a fundraising event. The tool kit also contains sample Facebook and Twitter posts that you can share. Use #endpolio to follow and join the global conversation on social media.
You'll also find social media graphics, a sample press release, an outreach guide, and other resources on the World Polio Day page at endpolio.org.
INDIA ~ NATIONAL IMMUNIZATION DAY
There is information from India re the official announcement that the immunization day will be
SUNDAY 21st FEBRUARY 2016
We have many Rotarians in our District who have attended previous sessions and any who would like to be part of this project to End Polio Now and share their experiences with others, or maybe travel with this latest initiative to India are asked to contact Rotarian Mike Yates at mike.yates@yates-international.co.uk
The government of Afghanistan have announced a routine vaccination programme for children under the age of one, part of a worldwide roll-out of the vaccine across 126 countries
£1-5 Billion needs to be raised to finish the job
WE ARE SO CLOSE TO DEFEATING POLIO
*** With your help ~ we will ***
Robert EPNC
POLIO – MORE DETAIL
After the headline news last week on 21 September of WPV2 being officially confirmed as eradicated, then the WHO announcement on 25 September that Nigeria was no longer polio endemic having had no cases for over a year, we return to focusing on what remains to be done and particularly the need to raise another $1.5 billion to finish the job and to become a polio-free world. The latest Polio News from GPEI makes interesting reading.
See: http://us2.campaign-archive2.com/?u=1519be1cd815ed6195660c2c8&id=14749f7a31&e=c3f54bf910
For those who care to look at the GPEI website for the weekly polio position please note the totals in the summary table do not incorporate the two WPV1 cases reported in Pakistan this week. I have notified the WHO about this. Meanwhile, taking the country reports as correct, here are the global polio position highlights:
WPV1 cases:
46 cases have been reported this year vs. 208 cases at the same time in 2014. (22% of 2014 position.)
a. 34 cases in Pakistan vs. 173 cases at the same time last year. (20% of 2014 position.)
b. 12 cases in Afghanistan * vs. 10 cases at the same time last year.
c. Nigeria now is polio-free.
d. No cases in any of the 6 non-endemic countries that reported cases in 2014 vs.19 cases then. (5% of the total number of global cases last year.)
WPV2 cases: Now officially eradicated. (Last case in October 1999 from Aligarh, Uttar Pradesh.)
WPV3 cases: No cases reported since 10 November 2012. (In Nigeria.)
cVDPV1 cases: Eleven cases this year. Two cases in the Ukraine and nine cases in Madagascar. (One case reported in Madagascar last year with onset of paralysis on 11 November 2014.)
cVDPV2 cases: Two cases this year one in Guinea (reallocated from Mali though confirmation of this is still pending) and an earlier one in Nigeria vs. 53 cases in 2014 for the full year from 3 countries.
Recent Improvements to the online grant application tool:
Project contacts can enter expenses for global grants in multiple currencies.
Entering budget items in grant applications and reports takes less time because the pages refresh more quickly.
The grant application budget automatically refreshes when the currency exchange rate is changed.
We clarified the process that district Rotary Foundation committee chairs follow for authorizing district designated funds.
Watch for information about more improvements to come.

We're confident that these changes will make the grant process simpler and more efficient. Please tell Rotary members in your club and district about these improvements, and direct questions to your regional grants officer.
Thank you for your commitment to The Rotary Foundation.
From August 2015
Foundation Basics course

DG Hazel reports that some clubs still feel that Foundation is like a Black Hole. So here is a link to a way for members to learn more about the Rotary Foundation.
Have you ever been asked to speak about The Rotary Foundation at a club or district event and not known how to begin? Or are you simply interested in learning how our Foundation works? A new Rotary Foundation Basics course is now available in the Learning Center. It includes The Rotary Foundation Reference Guide, a PowerPoint presentation that you can download and customize, and even a quiz to check your knowledge. If you're looking for a way to introduce the Foundation, this is a great place to start.
Message from the Chairman of Foundation Trustees
Excellent news just received. As Chairman in 2014/15 of the Trustees of the Rotary Foundation I am delighted to advise you that the giving to the Annual Fund worldwide was in excess of $123m not only surpassing last year`s figure of $117m but also exceeding the goal set this year. This is the highest figure ever contributed to the Annual Fund.
I am therefore grateful to all Rotarians who have made this possible and thank them for their continuing generosity.
The good that the Foundation can do is only limited by the contributions it receives.
John Kenny
Past President RI 2009/10
Foundation Chair 2014/15
POLIO - the Good News continues!
As many of you know, it is now more than one year since the entire continent of Africa last reported a case of polio. The UK's Guardian newspaper has published a news story on the milestone which quotes Carol Pandak: http://www.theguardian.com/global-development/2015/aug/11/africa-year-free-polio-giant-step-towards-eradication. The story names Rotary one of the biggest donors to polio eradication, specifically calling out our $688.5 million in donations to fight polio in Africa.
Rotary is the only GPEI partner quoted. Oyewale Tomori with the Nigeria Academy of Science is also quoted.
Three WPV1 cases in the week of 12 July 2015, two in Pakistan and one in Afghanistan. No cVDPV cases reported. The global summary is:
WPV1 cases:
33 cases have been reported this year vs. 122 cases at the same time in 2014. (30% of 2014 position.)
a.28 cases in Pakistan vs. 94 cases at the same time last year. (29% of 2014 position.)
b.5 cases in Afghanistan vs. 8 cases at the same time last year. (63% of 2014 position.)
c.No cases in Nigeria since 24 July 2014. At the same time last year 5 cases had been reported. (>2% of all the cases last year.)
d.No cases in any of the 6 non-endemic countries that reported cases in 2014 vs.15 cases at the same time in that year. (79% of the cases in the endemic countries last year.)
WPV2 cases: No cases have been reported since October 1999. (In Aligarh, Uttar Pradesh.)
WPV3 cases: No cases reported since 10 November 2012. (In Nigeria.)
cVDPV1 cases: Eight cases this year in Madagascar. (One case reported last year with onset of paralysis on 11 November 2014.)
cVDPV2 cases: One case this year vs. 53 cases in 2014 for the full year.
Various internet reports suggest the WPV1 case incidence this year is less than one per week but these neglect to take account of the reporting time lag. (The case reported in Afghanistan had onset of paralysis on 7 June.) Nevertheless it is a very low polio incidence although the high transmission season has yet to start.
GLOBAL GRANT 1414791
You may recall that this Global Grant project is now fully operational in Tanzania. I've received several reports about its progress.
One specific aspect of the project is our efforts to challenge the myths about albinism by a series of village meetings. When we were there in February we launched the initiative and participated in one such meeting which was a moving experience.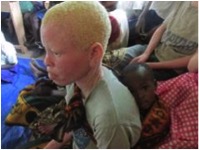 Since then there have been a number of meetings. Click here to read an interim report and evaluation. (This is a large file and will take some time to load)
A quote from the report is a powerful affirmation of the impact of Rotary: 'At one follow-up Village Planning Workshop we asked about any developments since we saw them last. One young woman with albinism stood up and said, "Before you came we were treated like animals; but now we know we are human beings."
There was an article about the project in the ROTARIAN magazine and also a small piece in the Sunday Telegraph. These have helped to broaden the support for the project within Rotary and beyond.
We'll be going back to Tanzania in the New Year to offer support to our colleagues there.
Thank you for your support so far.
John Philip
From June 2015
POLIO Good News and even better News!
Since the beginning of 2015 there have only been 23 reported cases of Polio compared with 77 at the same time last year. This is wonderful news.
The cases have come from Pakistan (22 cases) and Afghanistan (1). There have been no cases in Nigeria at all this year – the last case reported from Nigeria was in late July 2014 - and no cases from any of the 6 non-endemic countries that reported cases in 2014.
The monitoring and Surveillance teams, however, are reporting that the polio virus is still circulating and therefore there is a need to continue the rounds of immunisation in these last 3 countries. Below is a table showing the projected funding shortfall for the coming crucial 3 years. Pledges have been made but it is essential that our global Rotary funds continue to support this last push towards 2018 when the world will be polio free.
| | | |
| --- | --- | --- |
| Year | Pledged (millions $US) | Funding Shortfall (millions$US) |
| 2016 | 538 | 255 |
| 2017 | 538 | 87 |
| 2018 | 440 | 109 |
If your club has not yet made its contribution to Polio this year, please send off the donation to TRFUK with the downloadable donation form from the RIBI website. Next year will be crucial; bivalent vaccine will be used, as will the injectable vaccine too.
Soon the World Health Assembly will meet in Geneva. Eradication of polio will be high on the agenda. Please, please write or e-mail your MEP and ask him/her to ensure that all monies pledged from the EU for Polio eradication are given in time. This simple piece of advocacy will ensure that our contributions are available when needed.
Thank you to all the clubs who have so far donated to Polio eradication this year. I hope we will have 100% of clubs involved…
Chris PHILIP, May 2015
The Return of the Crocus – Think Purple – "(Be) A Gift to Rotary"
We have become aware that in some Districts there is an interest by clubs in resuming the 2010/11 project of planting Purple Crocus Corms (bulbs) as a community project which brings with it several "Gifts to Rotary" as it:-
Reinforces the End Polio Now (EPN) message. – Foundation
Offers a point of engagement with schools to promote Rotakids & Interact – Youth
Offers a link with communities and local authorities – Community
Provides publicity opportunities to raise the Rotary profile locally – MPRC
Represents a fantastic membership opportunity. – Membership
The idea of groups of Rotarians engaging in an autumn planting frenzy with schools, communities and local authorities is quite compelling. …. HOWEVER …. time is tight. In order to arrange a supply of Purple Crocus Corms to be available for planting in September, orders have to be placed by 30th June 2015.
The RIBI Foundation Committee have identified a supplier who can provide a supply of high quality Purple Crocus Corms; delivered to one address in your district; within our time frame.
Purple Crocus Corms are only available in packs of 5000 corms
5000 corms gives 'solid' coverage for an area of ten square metres
Cost per pack delivered to one address only per District is £85.00 (includes a £15.00 donation to EPN)
(1) – To minimise costs only one order per District for however many packs of 5000 corms the Clubs in your District want in total. All orders must come through you the District Foundation Committee. No orders direct from clubs will be accepted!!!
(2) – All orders will in turn be delivered to just one single delivery point in the District.
(3) – Distribution / collection thereafter will be a matter for you the District to arrange.
(4) – All orders must be accompanied by payment made out to "RFUK".
There is still time to arrange a club planting activity this year.
Please return all orders to DRFC Secretary, Ian Slim, by 23rd June.
Email: ianslim2010@btinternet.com
Zone 17 – End Polio Now Communique – March / April 2015
This edition is both a 'thank you' and a 'timely reminder'.
EU Written Declaration – you will have seen the various briefings via your DG. Thank you for the work undertaken in ensuring all Members of the European Parliament (MEPs) within your geographical areas have been contacted.
I appreciate, after personally communicating with all the MEPs based in the Baltic Countries how time consuming this task can be. It is equally rewarding when you receive confirmation from their staff that they have signed and submitted the Declaration of Support – it is also one less reminder to send!
DDF Contribution – to date two districts in our Zone have contributed. At the RI Assembly in January 2014 almost all, if not indeed all, of the incoming DGs enthusiastically pledged their district's support with respect to DDF contributions, many at the requested 20% level. I know there are still a few months to go, but your early attention to this matter would save the odd reminder later in this Rotary year! (If you need a form, just drop me a quick note to save looking through mountains of old e-mails!)
Club contributions – thank you for the work you are doing to ensure the End Polio Now programme remains in the club's programme of support. Although it is Rotary's number one humanitarian programme it does benefit from your continual encouragement.
Next year (2015/16) – Thank you to the ones that have told me that they are handing over to someone new. To others that are in that position please let me have your colleague's details so that I can update the distribution list. To everyone going to 'pastures new' thank you for the work that you have done towards the eradication of Polio.
Thinking of next year – please encourage all clubs to set both their End Polio Now as well as their Annual Programme goals. As a guide the suggested 2014/15 club goal plus 10% would be a good starter for ten with a minimum of $1500 per club as a stretch target.
Mike Parry – End Polio Now Coordinator – Zone 17 (Wales, Ireland, Scotland, IoM & northern England)
From April 2015
GRANTS NEWS
District Grants 2015-2016 Forms available
To see the updated guidelines for District Grant applications and to download the relevant forms, please go to:
The District Grants page in the Foundation section of the District website
Windfall Grants
The following Clubs have been awarded a District 1040 Windfall Grant:
RC Halifax on behalf of all Calderdale clubs (5,000)
RC Wakefield (1,800)
Scarborough Cavaliers (1,000)
Sowerby Bridge (1.200)
Pontefract (1,000)
This now leaves 5,000 to be awarded in 2016.
An explanation of District Designated Funds (DDF) by Anita Rayner, Dist. Grants Sub-committee Chair
The District Designated Fund we receive from The Rotary Foundation (TRF) is based primarily on the contributions which clubs make to the Annual Fund of the TRF. The money is held and invested for 3 years. After that 50% of the fund is made available to the District for District Grants (up to 50% of DDF), Global Grants and/or donations to Polio Plus, Peace Fellows Programme, etc. The remaining 50% goes into the World Fund.
In District 1040 the allocation is as follows:
50% Block Grant for District Grants (up to 1,000 each max.)
50% + carried forward funds from previous years for Global Grants (max. $10,000).
Support for Polio Plus, Peace Centres etc. is left to individual club donations.
Examples of how this has worked in recent years:
Year 2012-13 (under the previous nomenclature and system)
District Designated Fund: $53,041.75District Simplified Grants: $10,608.00
Carried forward from 2011-12: $22,036.53Transfer from D1070: $19,695.00
Total DDF: $94,794.85
Year 2013-14
District Designated Fund: $50,919.02District Grants: $25,364.00
Carried forward from 2012-13: $98.712.71
Total DDF: $72,942.36
Year 2014-15
District Designated Fund: $47,443.16District Grants: $23,709
Carried forward from 2013-14: $72,942.36
Total DDF: $91,676.52
Please note: The information provided is simplified so do not start to add it all up.
All the information is available on the RI Website under Reports look at DDF available to Districts.
HOPEHAVEN SCHOOL PLAYGROUND PROJECT
In the 1970s Keighley Rotarians Alan and Marie Hickman were appointed Salvation Army Officers in Melaka, Malaysia. During this time they recognised that there were no facilities being provided for disabled children despite there being an Orthopaedic home on the outskirts of the town so they decided that they would try to rectify this. Alan and Marie rightly felt that all children should at least benefit from a basic education.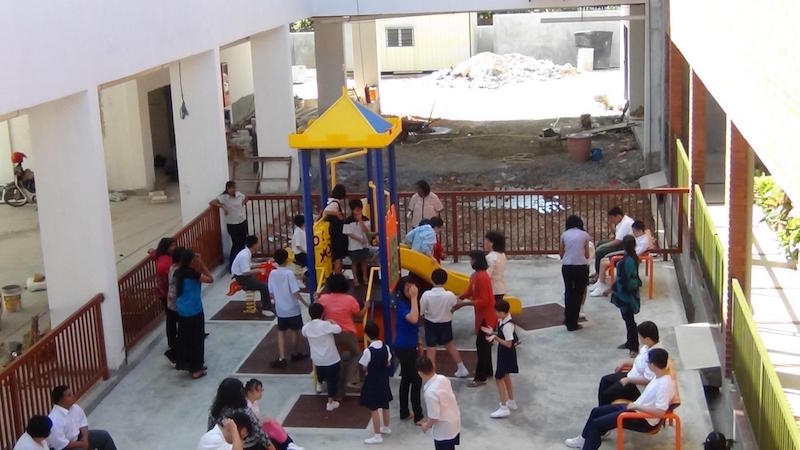 After managing to obtain funding support from the Rotary Club of Melaka a school was started with just one teacher and twelve children. Over the years the state gradually took on the responsibility for the physically disabled at the school but the Salvation Army remained involved with the focus on providing for young people with learning difficulties. The school grew substantially and now provides from pre-school (age 3) to vocational training for those 16 and over.
Alan and Marie kept in touch and on a visit to the area three years ago were advised that some expansion and rebuilding was to take place but there was a need for playground equipment and no budget to cover this. The playground would also be used by residents of a nearby childrens home if funds could be found to provide the facility.
With the help of an old friend Rotarian Chew Ban Seng of the Rotary e-club of Singapore and the help of the Kulai Rotary Club together, of course, with the Rotary Club of Keighley and the Rotary Club of Kota Melaka funds were raised to provide this facility. The project, however, could not have been completed without the support of District Matching Grants and the support of a Rotary Foundation Matching Grant.
The playground was completed in December 2014 and provides a real testament to Rotary at its International and caring best. As can be seen from the picture, the children clearly share that sentiment.
January 2015
For an account and photos of the latest visit to Ukerewe click here
To read the latest RIBI Foundation Committee newsletter, click here.
From February 2015
ROTARY PEACE CENTERS
The Rotary Peace Centers is proud to announce that the application for the 2016 Rotary Peace Fellowship is now online, and we are more excited than ever for the upcoming year!
Why are we so excited? This year the Rotary Peace Centers Fellowship has a newly designed webpage with additional resources for you and potential applicants. Please go to our website to view the new animation video about the application process, stories from alumni, and many more amazing resources. Click the links below to access more information:
Link to homepage: Rotary Peace Centers
Link to Rotarian Resources: Peace Fellowship Resources
Online you will also find the online application for the 2016 Peace Fellowship Application. Some important changes and reminders to the application include:
1. New deadline! 31 May 2015 District Deadline
a. Applicants must submit their applications to the district by 31 May to seek endorsement
b. Districts must interview and submit their endorsement forms to The Rotary Foundation by 1 July 2015
Attached in this email are a few extra resources for you to help recruit applicants, better understand the application process, and conduct interviews for applicants you are interested in endorsing.
Additional resources include:
1. Rotarian Program Guide to the Rotary Peace Fellowship
2. Rotary Peace Centers Brochure
Also, we hope that you will save the date for a webinar specifically for Rotarians:
1. Rotary Peace Centers 201
a. Date: 10 February 2015, 9:00am CST
b. Goal: Rotary leaders will understand how to coach and recruit applicants. Experienced Rotarians will be available to answer questions.
c. Click here to register: https://attendee.gotowebinar.com/register/7748148852842568705
By working together to find highly qualified candidates for the 2016 Rotary Peace Fellowship, we continue to build peace and work towards conflict prevention and resolution in our world.
Rotarian Action Group unveils PeaceHUB Map
The Rotarian Action Group for Peace has developed an interactive map of Rotary peace resources. The Rotary PeaceHUB Map is an innovative solution for sharing a large volume of data in a way that enables users to make important connections quickly and easily. While no such resource can be all-inclusive, the map will grow as Rotarians and Rotary Peace Fellows add material.

The map, which is available to the public, can be used to find:
a. Rotarian Action Group for Peace members and other Rotary members working on peace projects
a. Project-specific information including contact people, planning documents, funding collaboration
Rotary Peace Fellows, including the more than 850 alumni and the current class of 80-plus fellows at the six Rotary Peace Centers
Nonprofit organizations in the field of peace and conflict resolution worldwide
Educational institutions that offer degree programs and training in peace and conflict resolution
To find out more:
Check out the Rotary PeaceHUB Map.
Join the Rotarian Action Group for Peace and help expand the peace resources map.
Watch a short video about expanding PeaceHUB resources.
Peace fellows in action

Peter Paul Opata (Bradford, 2010-12) is the executive secretary for the HIV/AIDS department of the Uganda Catholic Secretariat. Hes responsible for coordinating the churchs multisector response to the HIV/AIDS epidemic; providing education on prevention, care, and treatment; and mobilizing resources. 

Check out Rotary Peace Centers alumni updates!
Rotary Peace Center at Chulalongkorn University is celebrating its 10th anniversary

In honor of its 10th anniversary, the Rotary Peace Center at Chulalongkorn University in Bangkok will produce a publication celebrating its decade of accomplishments. The publication will highlight the experiences of the centers alumni who are working for peace around the world, in part to emphasize the need to link theoretical, academic teaching with practical application. The center intends the publication to serve as a resource for academics as well as those working in the field. 

Alumni of the Chulalongkorn center are encouraged to submit contributions about their experiences for inclusion in the publication. Learn more.

District Polio trophy
The trophy is awarded to Knaresborough Club for the highest per member donation to Polio in the last Rotary year. There will also be certificates of appreciation for all the clubs who managed to give 1000 or more last year to Polio.
Those clubs are Knaresborough 5733.90
Ossett 3000
Wensleydale 1,563
Otley Chevin 1500
Halifax 2027.50
` Mirfield 1093.20
Scarborough Cavaliers 1,000
North Allerton 1,000
York Vikings 1260
York 1.035
It is important to congratulate those clubs and also to say a big thank you to all the 41 clubs who managed to give something. What is sad is that 38 clubs apparently gave nothing. I would like to please ask all clubs to try to make a donation of at least 300 this year. The funds must be specifically designated for Polio when sent in; there is a donation form on the RIBI web site.
After almost 30 years trying to eradicate polio we MUST complete the job.
Pakistan is still the major cause for concern and all kinds of special efforts are being made to shore up the Pakistan Governments efforts in tribal areas where the Taliban still forbid immunization. Last year (2014) there were 350 Cases of polio globally of which 297 were in Pakistan.
But there are still major efforts required when the virus is carried across borders. The WHO are still planning that 2018 will be the year in which polio is eradicated. Please make sure your club is part of the end-game. We are all in this together and need to share the burden right to the end.
Many thanks
Chris Philip
PS the data I used to calculate the giving per member was supplied by RIBI. Any inaccuracies must be queried with them, not me!
District 1040 was 100% up-to-date with reporting requirements for grants sponsored by the district and its clubs as of the January 2015 analysis
From December 2014
UKEREWE REPORT FROM ROTARY CLUB OF FILEY
Five of us have just returned from Ukerewe where we distributed the solar lights together with school uniforms which we had purchased locally, to the most needy children/families in the local villages. There is virtually no electricity in the villages and the community have to use Kerosene lamps which pose a health hazard and are also a fire risk. The solar lights complimented the school uniforms that we issued, along with exercise books and pencils, giving the children the means to do their homework after school, and thereby saving their guardians the cost of kerosene.
The 1000 total donated by my Rotary Club, added to the District Grant, purchased 240 Solar lights, which were received with much joy and appreciation.
On behalf of the Rotary Club of Filey, I would like to thank the District Committee for their support in making a difference to the lives of those less fortunate than ourselves.
Derek Edwards, Rotary Club of Filey.
FANCY A TRIP TO UKEREWE IN TANZANIA?
A LIFE CHANGING EXPERIENCE - A team of 9 people will be going to Tanzania in February to undertake a variety of projects, working alongside local Rotarians. We plan:
1. To assess the impact of our previous interventions
2. Within our ability, to undertake any repairs and to make good any problems in the installations and renovations we have previously undertaken
3. To inspect the microcredit projects and the bee keeping programme funded by the Trust and provide a refresher training courses
4. To extend the provision of biosand water filters
5. To improve water supply to Murutunguru Teachers training college
6. To help improve some aspects of health care
7. To undertake eye checks and distribute spectacles
7. To visit the Albino community and initiate vocational training
We've two teams - one will go out on 28 January (for three weeks) and the other on 4 February (for two weeks). We'll return on 18th February.
If you know of anyone who may be interested in joining us on this trip please let me know. The overall cost is in the region of 1600.00 I look forward to hearing from you.
Dr John Philip
johnphilip@btconnect.com Phone: 01484 421032 or 07889 388038
District Grants 2015-16 - good news for clubs in D1040
I am pleased to let all clubs know that, based on the experience of operating District Grants for two years now, it has been possible to somewhat simply the process. The suggestions have been accepted by the District Governor and the Governor-Elect. They have also been ratified by the full District Foundation Committee.
1. District Grant Proposals will no longer have to be submitted prior to a formal Application. This avoids duplicating much of the information and requires only one deadline to be met.
2. A signed Memorandum of Understanding only needs to be submitted - together with the grant application by clubs applying for a grant. Again unnecessary work will be avoided.
I trust that clubs will welcome these changes which will become operative for the 2015-16 year.
Anita Rayner, DRFC Grants Sub-committee Chairman
Report from Grants Sub-Committee meeting held 10/12/14
The following decisions may be of interest to clubs in District 1040.
1. Windfall Grants: The Rotarians from the Grants Sub-committee will consider the applications received and decide on the award of the Grants on 5February 2015. Once the decisions have been ratified by the District Foundation Committee, clubs will be informed.
2. Club Survey evaluation: All clubs in District 1040 had been invited to express their views on the way District Grants are administered. We received 17 responses and assume that the clubs who did not reply are in agreement with the present system. All clubs agreed that we should continue to claim 50% of DDF for District Grants. 14 clubs fully supported that the maximum grant should continue to be 1000. One club wished to increase the amount to 2000 (to enable larger projects to be funded) and 2 clubs suggested conditions to be attached. 14 clubs agreed with the areas of focus to remain and 3 clubs suggested alternative foci.
Clubs comments will be kept under review, but for the time being we feel that we have the mandate to continue on the same basis as the preceding two years.
3. Club Grant Training Seminars: There will be two opportunities for clubs to attend a Grant Training Seminar (one at Malton and one at Walshford). The seminars will be run on a Saturday morning (10.00-12.00). The presenters will take full account of comments received after last years events. There will be less emphasis on the detailed planning of Global Grants and more opportunity to ask questions and discuss issues. All clubs will be informed via the District Secretary of the seminar dates, once these have been agree with the Hotels. Please note: only clubs who intend to apply for District or Global Grants are obliged to attend, because clubs which are not qualified by training will be excluded from applying for grants.
4. Updating of Grant Information: Early in the New Year all grant information and application forms will be updated and some drastically revised to assist clubs with making application for District Grants. Global Grant applications have to be submitted on line in accordance with The Rotary Foundation requirements.
5. Reporting requirements: Reporting requirements are still not met by all clubs. This causes the Grants Sub-committee much additional work and concern. These requirements are NOT imposed by the District team, but by The Rotary Foundation. If we do not meet the requirements, we will be excluded from receiving Grant money. All clubs who received grants are urged, therefore, to comply at the appropriate time.
Anita Rayner, DRFC Grants Chairman D1040
From October 2014
Calling Presidents-Elect and your teams
If you plan to undertake a project next year for which you hope to receive a Foundation Grant, then it is essential that you start planning now. Dont wait until you take office at the beginning of July, because you will have missed the deadline for submitting proposals! And if your club hasnt been represented at a Grant Training Seminar in March, then you wont be eligible to apply!
Time Table
At the time of writing, the timetable is:
March 2015 Grant Training Seminars (2)
End April 2015 Closing date for District Grant Proposals
Mid May 2015 Grants Sub-Committee will consider proposals
Early June 2015 Notification to clubs on success/non acceptance
End July 2015 Closing date for formal District Grant Applications
August 2015 Application for release of DDF for District Grants to TRF
Sept/Oct 2015 Distribution of Grant cheques to compliant clubs
February 2016 Consideration of and decisions on Windfall grant applications
Grants Training Seminars
There will be two training seminars for incoming Presidents and club members involved with grant applications, similar to last year, but with greater emphasis on District Grants. Some of the detailed technical aspects of Global Grants will be omitted. These will probably be at Malton and at Walshford in March 2015
Clubs who do not send an authorized representative will miss out on the opportunity to apply for a grant in Rotary year 2015-16.
For more information about District Grants go to: District Grants page on D1040 website
News of 2014-2015 Grants
The Grants Subcommittee received and considered 21 District Grant proposals from clubs for projects to be implemented in their own area or abroad. One proposal was withdrawn and 20 received approval from the District Foundation Committee. Of these 15 proposals were for projects in the clubs home area and 5 in other countries, i.e. Nepal, Gambia, Ghana, Zambia, and Tanzania. The variety of projects was considerable and encouraging.
We have now received the District Designated Funds* from The Rotary Foundation for distribution to clubs, who qualify for receipt as they have met all their obligations. It gives me great pleasure to announce that the clubs will be receiving 100% of the grant applied for this year, although we suffered a reduction of almost 500 owing to the unfavourable dollar exchange rate at the time of money transfer.
Grant cheques will soon be on their way to clubs, either by post or by personal handover at a club meeting.
It is hoped that all supported projects will be successful and help those in need of our efforts to improve their living conditions.
Thanks are offered to all clubs who generously support the annual giving to The Rotary Foundation, on which our allocation of District Designated Funds is based.
Anita Rayner, Chairman: DRFC Grants Sub-committee * US$23,709 = 13,988.31
A very brief summary of the projects for which grants have been agreed is: Dictionaries (3 grants); Nepal Little Doctors training; Educational visits for disadvantaged; Gambia water pump & tank; Soup Kitchen run in Bradford; Ghana subsurface sand dam; defibrillators for Bingley; Inner city kids to experience countryside; Enabling disabled & disadvantaged kids; Partner local Action group to provide opportunities for artists; Renovation of neglected Roadside verge; Contribution to mass spectrometer to improve cancer; Social, emotional, intellectual support for senior people; Zambia college & living expenses for teacher training; Restore a water supply; Kids Out; Solar lamps to Ukerewe, Tanzania.
From July 2014
Windfall Grant Proposal
As no proposals for the Windfall grant had been received by the closing date, the District Foundation Committee decided the following:
1. That the unused "windfall grant allocation of 5,000 available for the year 2013/14 shall be carried over into the Rotary year 2014/15 and be aggregated with the 5,000 currently allocated for that year;
2. That the 10,000 that will be thereby available for the "windfall grant distribution shall be distributed by the District Foundation Grant Committee on a matching grant basis in such amounts as that Committee shall determine subject to a minimum amount of 1,000; and
3. That applications for such "windfall grant payments shall be submitted to the District Foundation Grants Committee by 4.00 p.m. 31 January 2015.
It is hoped that clubs will make proposals for the use of this grant which is not subject to the restrictions of The Rotary Foundation and available for use on Rotary projects in the clubs community or abroad in the coming Rotary year 2014-15.
The Proposal form is now available and can be downloaded here.
Any queries should be directed to the Grants Sub-committee chairman at anita.rayner@talktalk.net
UKEREWE AN ISLAND IN LAKE VICTORIA
DISTRICT 1040s FIRST GLOBAL GRANT PROJECT (GG 25781)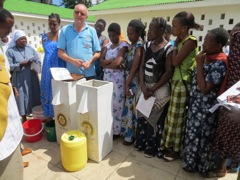 During the last five years, District 1040 has been supporting a hands on humanitarian project in Ukerewe, an island in Lake Victoria Ukerewe. This is the largest inhabited island in the Lake, accessible only by a three and half hour ferry journey from the mainland town of Mwanza in Tanzania.
The Ukerewe Districts population of 350 thousand live in an archipelago of 12 islands, detached from the mainland. They rely on fishing and farming for subsistence.
Ive led four teams of volunteers mainly from the UK, but also from Sweden altogether some 40 people. Weve also undertaken three fact finding trips to the island.
The project was funded through 2 Matching Grants and 1 Global Grant. There was also support from many Rotary Clubs, members of the Inner Wheel, schools, hospitals, churches and businesses.
This was approved in June 2012 by the Rotary Foundation, under the new Future Vision Pilot Scheme. At the time, D1040 was not approved for GG, and hence D1070, which was a pilot future vision district kindly agreed to front our application.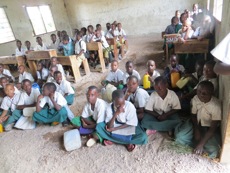 At the time of application and subsequently we received excellent support from 1070 leaders especially the Foundation Committee Chair John Dehnel. 1070 leaders worked closely with our Treasurer Keith Harbage in ensuring that the funds were handled and accounts maintained correctly.
Following our last visit to Ukerewe, our final completion report together with the final set of accounts was submitted to TRF. Im pleased to say that TRF has accepted our submissions and closed the grant. In an email Ingrid Schwab, TRFs Regional Grants Officer said: Many thanks to all involved for your help with the reporting and for your dedication to the project throughout.
Keith Harbage wrote to 1070: Following the closure of the global grant for Mwanza/Ukerewe, I just wanted to put on record my sincere thanks to you all in D1070 for the tremendous help and support you gave so willingly to us in D1040 to secure the grant. You will have seen from the final report what a tremendous difference we have been able to make to the lives of the people in that small community. Truly an inspiring example of Engage Rotary, Change Lives. Thank you once again.
Some of the comments from 1070:
Thank you for such a comprehensive report and financial analysis. I have read and reviewed both documents and commend you both on the project and the record keeping. Based on your assurance that all expenses are receipted, I am happy from a Stewardship perspective. Peter Borner, Chair District 1070 Stewardship Committee
I have to say, I have been most impressed to date with the handling of your project. Good luck for the future. Irvin Metcalf 1070
I have completed my authorisation and once again congratulations on an excellent and worthy project. It has been a pleasure to play a very small part in helping you to do a lot of good in that part of the world Trevor Davies, 1070 DRFC
Pleased to help. Well done to you, John Philip and the D1040 team for such a fantastic project. John Dehnel
OUR ACHIEVEMENTS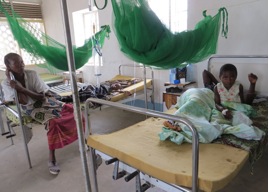 Our first objective was to improve the facilities in the District Hospital. We refurbished the operating theatre, installed solar lights, an autoclave, improved water supply and supplied medical equipment and beds. We also renovated an old building as a waiting hostel for pregnant women. We made structural improvement to four wards. At the same time, we provided training and encouraged teamwork.
In the beginning there was incessant demand from the staff for more and more material gifts. It took time to build trust and work in harmony as time passed, our role changed from outsiders to partners.
Poverty is at the heart of poor health care. There are no quick fixes for some of the intractable health problems in a poor community such as this high maternal and child mortality, unacceptable mortality and morbidity from infections such as malaria and bilharzia, inadequate provision for managing trauma. Even the most noble medical project will fail unless there is collaboration, partnership and local ownership.
We worked alongside our local friends to improve education, supply water to schools, install locally made sand filters in schools, improve sanitation and train people to make re-usable sanitary pads. We also instigated a microcredit programme, started a fruit juice bar, trained farmers in bee-keeping, supported an orphanage and helped the local Albino community.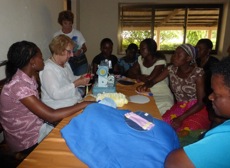 Our aim to empower the local leaders was fulfilled in 2010 when a new RC was chartered on the island.
There were two unique indicators of the success of our approach one was when a senior hospital staff said: until recently we had accepted our failing health systems, but now we know we can do a lot ourselves to improve the system. Weve the potential to be one of the best hospitals in Tanzania. The second was when a member of our team said: What we gave to the islanders and what we did are all important, but what we are taking back is far more important.
LESSONS LEARNED
Weve learned valuable lessons some may well seem obvious, but they are worth re-stating the solution for African problems is in Africa. The people there have the resourcefulness to overcome their challenges, but may be short of resources. Our aim should be to empower them to solve their problems in their own way not to export our solutions. Humanitarian projects are best done by Rotarians through Rotary. It changes lives both of beneficiaries and of providers.
NEXT STEP OUR SECOND GLOBAL GRANT APPLICATION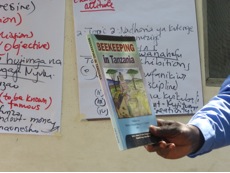 At a team get together, recently we decided that our friendship with the people of Ukerewe was too strong to terminate. So, we have decided to continue our engagement with the people there our next project will focus on working with the Albino community.
Weve submitted an application for another Global Grant 14791 and wait to hear from TRF. Albinos are often persecuted by local people based on the myth that their body parts have magical powers. This project is supported by 7 Rotary Districts and some non-Rotary organisations.
If you would like to know more about this exciting project, please contact me.
John Philip
07889 388038
johnphilip@btconnect.com
Mirfield Rotary Club
District 1040
From March/May 2014
SPEAKING ARRANGEMENTS FOR PEACE FELLOWS
In recent years, there have been ever more requests for Peace Fellows to speak at ordinary Rotary club meetings. In fairness to the Fellows, whose first responsibility must be their academic studies, this is not a good use of their time, and so we are, since 2011, no longer be asking Fellows to accept speaking engagements at ordinary Rotary meetings which would involve a lot of travelling time to give brief talks to comparatively small audiences. Instead, we are concentrating on district-level engagements, or at least on engagements involving groups of clubs.
It is important to remember that the requirements placed on Peace Fellows are different from those that used to apply to Ambassadorial Scholars. Ambassadorial Scholars were expected to visit ten or so different Rotary Clubs during their stay in a District and so many clubs came to expect a visit from a Rotary Scholar each year. Peace Fellows should not be regarded as a way to fulfil that annual expectation.
An exception to this is where Fellows visit their host counsellors clubs. Each Fellow has a host counsellor from a Rotary Club within easy visiting distance from Bradford and they are encouraged to visit and form friendships with their host clubs. If your club is reasonably close to Bradford and you are interested in becoming a host counsellor to one of the Fellows due to arrive in September a most enjoyable and interesting experience then please contact Ian Slim ianslim2010@btinternet.com and if you would like to have an early look at some of the members of the next class, click on the link to Class arriving Sept 2014 at the top of the page at: www.rotarypeacebradford.org.uk
TOO LATE FOR A 2014-15 GRANT APPLICATION
If you didnt attend a training meeting on 8th or 15th March, you are too late to apply for a grant for this year! Under the new arrangements, clubs may only apply for a Foundation grant if they have been represented at a District Training Seminar and have signed a Memorandum of Understanding for the relevant year. A Memorandum of Understanding applies only to the year for which it was signed and so must be renewed, together with attendance at a training event, for every year that a grant application is to be made.
These new arrangements make it more important than ever for Presidents Elect to start planning early for their year of office.
POLIO UPDATE - MARCH 5TH 2014
The news has been unsettling over the last 2 months with 24 cases of polio reported in the first two months of the year, 21 of which were in Pakistan. The main area of concern is the Federally Administered Tribal Areas and Khyber Pakhtunkhwa. This area is considered to be the engine for polio transmission in the country: immunisation activities have been suspended by local leaders since June 2012. It is critical that children in all areas are vaccinated and protected from the virus. Immunisations in neighbouring high-risk areas are being intensified in order to boost population immunity levels in those areas and prevent further spread.
No cases have been reported this year from Afghanistan. Sub-Immunisation days (targeted areas only) were carried out 9-11 Feb in selected southern and eastern districts as well as in Kabul.
No cases have been reported in Nigeria this year. Last year there were 53 cases and of these only 6 were reported since September 2013. Four of these were in Kano. A National Immunisation is planned for later in March.
There have been no cases reported in West Africa. An NID is planned for Niger 13-16 March and multi country NIDs in April and May.
In Syria there have been targeted immunisation days in January and February with over 3 million children being reached in January (85% coverage). WHO and UNICEF are committed to providing humanitarian relief to as many Syrians as possible. This includes vaccination of all children, no matter where they are found. The objective is to stop the circulation of the wild polio virus by the end of March 2014.
Press reports recently (Sunday Times 6 March) have highlighted the plight of health workers in the NW of Pakistan where Taliban leaders have declared vaccination un-Islamic. Health workers are suspected of being spies for the CIA. Discussion is obviously on-going at all levels in the Government of Pakistan (who seem unable to influence attitudes) and with Islamic authorities.
India has planned a celebratory convention for 29-30 March in New Delhi. This will be attended by the good and the great in Indian Politics as well as by Rotary leaders including Foundation Chairman D.K.Lee. Both the Indian President and the Prime Minister have commended the tremendous effort of the 2.3 million vaccinators (some from District 1040) who have made the success possible. They both attributed Indias success to strong political will, assured financial commitment, and robust oversight of the strategy adopted by the Indian Government.
FINANCE
Rotary is still very much a key player in the support and sustaining of the world-wide monitoring and vaccination of children. We gave $36 million in February to the Global Polio Initiative. Rotary grants included $6.8 million for Afghanistan, $7.7 million for Nigeria and $926,00 for Pakistan. These sums are based on requests from our partner organisations of WHO and UNICEF who work with the governments of affected countries.
Other countries receiving Rotary funds currently are: Burkino Faso ($2.1 million), Cameroon ($3.4 million), D.R.C. ($3.9 million), Niger ($2.3 million), Somalia ($1.3 million), South Sudan ($2.6 million), Sudan ($1.2 million).
WHO also received a grant from Rotary of $934,000 to study the impact of introducing injectable, inactive polio vaccine to the program as part of the 2018 Endgame Plan.
As you can see there is still a huge need for us to be supporting the programme the end is insight but we have still the sprint to the finishing tape.
From January 2014
2014-15 District Grant Applications procedures
Now on the District Foundation website are details of the revised and updated procedures and requirements for applications for District Grants. Set out below are some of the most important changes to the procedures. Go to: http://www.rotary-ribi.org/districts/page.php?PgID=422299&DistrictNo=1040 to see the full details.
It is most important that grant-aided projects are accepted and acknowledged by the whole Club as Club projects.
Grants will not be awarded for projects which have already started. Clubs must wait for authorization before commencing a grant-aided project.
For the sanity of the Grants Team, who are required to do an enormous amount of work to ensure that applications are sent to RI with all the Is dotted and ts crossed, it is necessary to require that applications are submitted in a consistent format.
From 2014, therefore, applications for District Grants will only be accepted if they are submitted electronically, using the forms that can be downloaded by following the links on the web page linked above.
Applications must be digitally signed. Advice on how to do this is also available from the above-linked web page.
Applications received in printed form, or without digital signature will be returned.
The timetable for District Grant applications has changed. Proposals must be submitted not later than 30th April (again, a form is available on the website), with final, full application forms submitted by 31st July.
The Club must be qualified to apply for grants through attendance at one of the Foundation Grant Seminars to be held on 8 and 15 March 2014.
The Club must sign a Memorandum of Understanding each Rotary year.
Best Practice in Rotary Scholarships
RIBI recorded a webinar, held on 08 January 2014, which addressed best practices for Rotary grants scholarships, both inbound and outbound. This webinar content is tailored specifically to clubs and districts in RIBI.
The webinar runs for some 50 minutes and can be accessed at: https://vimeo.com/83713919
From December 2013:
Message from District 1040 Foundation Chairman, Roger
In these tricky times....THANK YOU!!!!
Nothing creepy crawly here!! Each month I see all the donations made from this District - bereavements, individual donations, Club donations, etc., etc.
We sometimes forget to say thank you for the gift to our charity, however modest - it is appreciated, and needed.
All good wishes,
Roger Percival
Rotary Scholar in District 1040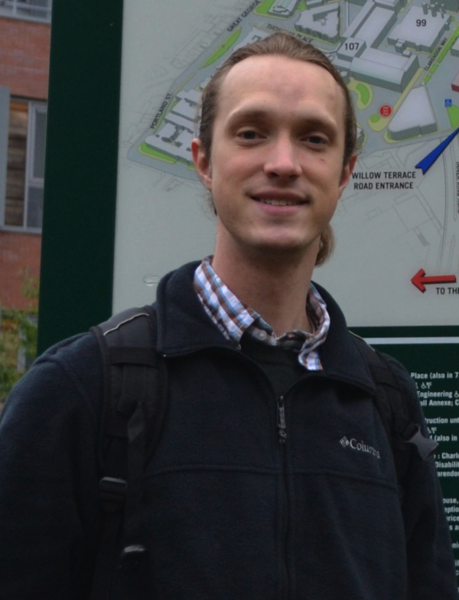 Members of District 1040 will be interested to know that the Rotary Club of Headingley is hosting a Rotary Scholar from Washington (sponsored by District 7620).
Daniel Smith is studying at Graduate School, Faculty of Engineering, The University of Leeds, on a one year MSc course in Water Sanitation and Health Engineering.
Daniel is willing to speak at club meetings and this may be arranged by contacting Headingley Rotary Club, via David Kirby, Tel: 0113 267 8695 or email: revdakirby@hotmail.com
Daniel will also be attending District Conference in Scarborough on Saturday 12th October supporting the Foundation team in House of Friendship.
Anyone seeking advice on Rotary Scholarships may contact Jim Murison, District Scholarships Officer, email: jim.murison@sky.com
There is also up to date information available on the new RI website on global grants and scholarships for graduate-level academic studies. The link to the website is: https://www.rotary.org/myrotary/en/global-grants
Rotary Websites and what can be found there
In response to a question at the recent District Conference, I rashly promised to include something in the next District Foundation Newsletter about the various Rotary websites and what can be found on them. So, here goes:
District Website
The Foundation Home page on the District website can be found at: http://www.rotary-ribi.org/districts/page.php?PgID=255267&DistrictNo=1040
Putting the mouse over the word Foundation in the column on the left hand side will give access to the lower pages in the Foundation tree some will show two levels, some only one.
I try to change to Home page every couple of months, to coincide with the circulation of the latest newsletter (which is what you are reading now).
All previous material has been archived. There is so much of it, and a lot of it is very old, that it has all been set to Inactive to avoid cluttering up the site, but it is still there, if anyone needs to see anything.
We would welcome suggestions for other content on the District Foundation website which would be helpful
RIBI Website
The Foundation Home page on the RIBI website is here: http://www.ribi.org/committees/the-rotary-foundation
There are a number of sub pages, some more up to date than others, and it is certainly possible to learn a lot from the RIBI website.
As always, there is a risk of duplication between the District and RIBI websites. To try to minimize the need for that, I will add a link to the RIBI Foundation pages from the District Foundation pages.
Several links from both the above sites to the RI website no longer work and need updating, because
RI Website
As many Rotarians will have discovered to their frustration, the RI website has recently changed dramatically. Thus far, there seem to have been very few complimentary things said about it; but perhaps that is a result of our natural resistance to change.
The Foundation pages are at https://www.rotary.org/myrotary/en/rotary-foundation Alternatively go to www.rotary.org then hover the mouse over the words The Rotary Foundation on the top line of links. Ignore the drop-down which appears; instead click on The Rotary Foundation.
To get the best use of the RI website, it is necessary to register (once only from the www.rotary.org Home page) and then sign in each time you access the site. Material such as grant application forms is only available to people who are signed in.
As I explore the RI website more, I am slowly beginning to understand the changes and realize that things may, indeed, have been improved. We all need to give change a chance, in the same way as we are implored to give peace a chance.
What has happened to GSE?
This was another question asked at District Conference. The answer is that GSE as we knew it is no more; it is now called a Vocational Training Team. It is still possible to support vocational travel visits through Foundation, using a District Grant; there is no longer a separate procedure, in the way that a GSE was recognized.
Have a look at the What they support section at the top of: https://www.rotary.org/myrotary/en/take-action/apply-grants/district-grants
NEWSLETTER FROM SEPTEMBER 2013
Rotary Scholar in District 1040
Members of District 1040 will be interested to know that the Rotary Club of Headingley is hosting a Rotary Scholar from Washington (sponsored by District 7620).
Daniel Smith is studying at Graduate School, Faculty of Engineering, The University of Leeds, on a one year MSc course in Water Sanitation and Health Engineering.
Daniel is willing to speak at club meetings and this may be arranged by contacting Headingley Rotary Club, via David Kirby, Tel: 0113 267 8695 or email: revdakirby@hotmail.com
Daniel will also be attending District Conference in Scarborough on Saturday 12th October supporting the Foundation team in House of Friendship.
Anyone seeking advice on Rotary Scholarships may contact Jim Murison, District Scholarships Officer, email: jim.murison@sky.com
There is also up to date information available on the new RI website on global grants and scholarships for graduate-level academic studies. The link to the website is:
https://www.rotary.org/myrotary/en/global-grants
Jim Murison
30th September 2013
Rotary Peace Fellows Class XI 2012-2013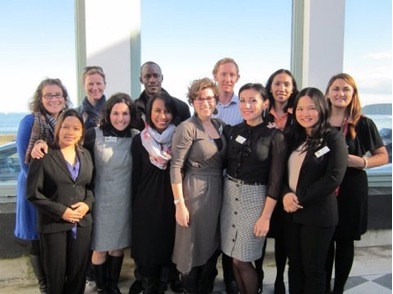 Invites you to the

Bill Huntley Peace Seminar
EFFECTING POSITIVE CHANGE
Saturday 26 October 2013 9am4:30pm
Great Hall,
Richmond Building University of Bradford
For more information and
to register
please visit
www.rotarypeacebradford.org.uk
District Grant Proposals 2013-14
By the deadline, 31 July 2013, 24 Proposals for District Grants had been received. Of these 22 were successful, with two unfortunately not meeting the criteria for this year. All clubs have been informed and requested to submit their detailed applications by 15 September.
In addition 11 clubs submitted proposals for a District Grant in support of Sand Dams. Four of these were successful, owing to lack of available funds.
The increase in clubs planning and applying for a grant to be used locally or in another country is very encouraging.
It is hoped that the Grant cheques will be available for distribution in the near future. This depends, though, on the co-operation of those clubs who received grants last year and have to provide their final reports and evidence of expenditure for approval by The Rotary Foundation. A few clubs have not been as diligent with this task as is required and are, therefore, responsible for holding up the process.
To run a successful and speedy service for all clubs in District 1040, the Grants Sub-committee needs the co-operation of all clubs.
Global Grants
An expression of intent to apply for a Global Grant during the 2013-14 Rotary year has been received from 5 clubs. Clubs who missed the 1st September for their response are asked to let me know as soon as possible so that we can start sensible financial planning for the future.
Please stay in touch with the Grants sub-committee!
Anita Rayner
District Foundation: Chairman, Grants Sub-committee Chairman
anita.rayner@talktalk.net Tel. 01924 255183
Polio Update as at 4 September
The good news: to date this year only 76 cases in the 3 endemic countries compared to 129 last year.
The concern is that 174 cases have been diagnosed in Somalia/Kenya since May this year. Virus has been carried over borders from N Nigeria, requiring two rounds of immunisations to saturate the whole population.
Hot items:
The optimistic note stuck in the recent GPEI assessment of the Horn of Africa outbreak. Fewer cases are now reported in what was considered the "engine" of the outbreak, the Banadir region of Somalia, but there is a risk that the outbreak will extend beyond six months and the response may continue into 2014.
Summary:
a. No reported Wild Polio Virus 3 (WPV3) cases. All cases have been WPV1.
b. A total of 250 cases compared to 134 at the same time last year.
c. 76 reported cases in endemic countries. 129 cases at the same time last year.
The most recent case had onset of paralysis on 14 August.
Nigeria 45 cases vs. 83 last yr; Pakistan 27 cases vs. 29 last yr; Afghanistan 4 cases vs. 17 last yr.
d. 174 cases from non-endemic countries. Horn of Africa outbreak!
First case reported in the week of 14 May, onset of paralysis was 18 April.
Outbreak response was underway by the end of May.
The most recent case had onset of paralysis on 7 August.
Somalia 160 cases; Kenya 13 cases; Ethiopia 1 case
e. No cVDPV2 cases this week. Total this year 20. (There were 66 in the full year 2012.)
NEWSLETTER FROM JULY 2013
Closing date for District Grant applications is 31 July
The new Foundation Grant structure takes effect in all Districts this year. More information is provided on the D1040 website, together with application forms which can be downloaded. Or have a look at http://www.rotary.org/en/grants/grants-basics/explore-grants
Application details were circulated recently through Club Secretaries. Contact Anita Rayner if they have not reached you: anita.rayner@talktalk.net or 01924 255 183
.
More support for polio campaign from Gates Foundation
The Gates Foundation will match two-to-one, up to US$35 million per year, every dollar Rotary commits to reduce the funding shortfall for polio eradication through 2018, said Jeff Raikes, the Bill & Melinda Gates Foundations chief executive officer. If fully realized, the value of this new partnership with Rotary is more than $500 million. In this way, your contributions to polio will work twice as hard.
The estimated cost of the Global Polio Eradication Initiatives (GPEI) 2013-18 Polio Eradication and Endgame Strategic Plan is $5.5 billion. Funding commitments , announced in April, total $4 billion. Unless the $1.5 billion funding gap is met, immunization in polio-affected countries will decrease. If polio rebounds, within a decade, more than 200,000 children worldwide could be paralyzed every year.
Endgame strategy
Bruce Aylward, assistant director-general for Polio at the World Health Organization -- a GPEI partner -- said that the finish line for polio eradication is in sight, but cautioned that it is one thing to see the finish line; it is another to cross it. We now have the plan to complete the program of PolioPlus, Aylward said. And we have the backing of you, Rotarians around the world, to get the job done.
Million dollar donation
Sir Emeka Offor, a Nigerian Rotarian, is making a US$1 million contribution to PolioPlus. He explained that his contributions to a number of causes are motivated by his humble origins. I hope my means will inspire others to join the fight to end polio in Nigeria, Offor said. Polio can be eradicated in my country in my lifetime.
External Verification
The Independent Monitoring Board (IMB) reports that stopping polio transmission by the end of 2014 is a realistic prospect. The IMB independently verifies progress toward the achievement of a polio-free world.
Its report commended the Global Polio Eradication Initiative for changes that have helped reduce polio to the lowest levels ever. All of those who work towards polio eradication should be proud of what they have achieved over the last two years, the report stated. The prospects of achieving interruption of polio transmission globally have been transformed by their work.
However, the IMB also underscored that further steps need to be taken. Whilst the poliovirus has been knocked down, it is certainly not knocked out.
.
ROTARY INTERNATIONAL IN GREAT BRITAIN AND IRELAND
DISTRICT 1040
ROTARY FOUNDATION
and
ROTARY SCHOLARSHIPS
The new Rotary Year 2013-2014 has brought significant changes to the structure of the Rotary Foundation and by now all clubs in District 1040 should have received information about the new Rotary Grants model.
In essence the Rotary Foundation has devolved the management of grants to Districts throughout the world although the Foundation still retains a weather eye. As part of this process fundamental changes have been made to previous programmes supported by the Foundation. For example, Group Study Exchange has been removed from the programme altogether and the name Ambassadorial Scholars has been removed and replaced by a new category known as Rotary Scholarships.
Rotary Scholarships takes on a completely new format, details of which will be summarised and distributed on a separate paper. Essentially, under the new format Districts and Clubs will need to fund future scholarships through District and Global Grants with the support and management of the District Foundation Grants Sub-Committee. However, there will still be a Rotary Scholarships Sub-Committee as part of the District Foundation.
The Rotary Scholarship remit is broadened to include short term placements as well as multiple year sponsorships and scholarships attached to projects.
The Peace Fellow programme will continue to be funded centrally by the Rotary International Foundation.
Applications for funding support will now have to be made through the District Grant Sub-Committee, with substantial funding from the sponsor club.
Further details will be supplied in the near future. In the meantime if you have any queries concerning the Scholarships please contact Rotary Scholarship Chairman Brian G Skidmore or for Grants please contact Rotary Grant Chairman Anita Rayner.
Rtn. Brian G Skidmore Rtn. Anita Rayner
Orchard House Sunnymead
3 The Orchard 5 Carr Lane
Campsall Sandal
South Yorkshire WF2 6HJ
DN6 9AG Telephone: 01924 255 183
Telephone: 01302 700 001 anita.rayner@talktalk.net
brian.skidmore@btinternet.com
NEWSLETTER FROM JUNE 2013
Up to 1,000 may be available for your Clubs project
The new Foundation Grant structure takes effect in all Districts this year. In future there will be two types of grants that are likely to be of interest to Rotary Clubs: District Grants and Global Grants. The District Grant is designed to be much easier for clubs to access.
District grants fund smaller, short-term activities that address needs in both your local community and communities worldwide, with the proviso that all District Grants must support one or more of the six Areas of Focus listed below:-
Peace and conflict prevention/resolution
Disease prevention and treatment
Maternal and child health
Basic education and literacy
Water and Sanitation
Economic and community development
You can use district grants to fund a variety of activities, including:
Humanitarian projects, including service travel and disaster recovery efforts
Scholarships for any level, length of time, location, or area of study that falls within an Area of Focus
Vocational training of any team size or timespan
The timetable for District Grants 2013-14 requires that, by 31 July 2013, District Grant proposals must have been submitted to DRFC Grant Sub-committee Chairman. After that, it is hoped that, during September/October 2013, Clubs will receive grant cheques, provided TRF has released the block grant.
Application details were circulated recently through Club Secretaries. Contact Anita Rayner if they have not reached you: anita.rayner@talktalk.net or 01924 255 183
.
Follow the exploits of our GSE Teams visit to Venezuela at http://www.facebook.com/RotaryDistrict1040GseToVenezuela
.
Can your club find a future peacemaker?
The Rotary Peace Fellowship is a great opportunity for people with a passion for peace to take their education to the next level. Fellows study at one of six Rotary Peace Centers around the world and can either earn a professional development certificate in peace and conflict resolution or a masters degree in international relations, public administration, sustainable development, peace studies, or a related field. The fellowship covers tuition and fees, room and board, round-trip transportation, and internship or field study expenses. Do you know anyone who might be a good candidate? There is no cost to club or district.
What kind of person would qualify?
Have a look at www.rotarypeacebradford.org.uk for more information.