Young Technologist
Young Technologist Competition

What is it?
Teams of four Design and Technology students with an interest in engineering and science subjects are invited to apply to compete in a full day out of school event to devise and build a solution to an unseen technical task.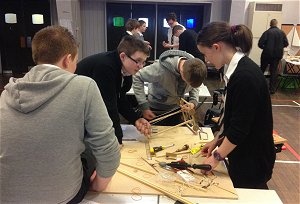 There are three age categories for teams to enter. The one task has three levels of difficulty:

Basic Task (for students S1-S2)
Intermediate Task (for students S3-S4)
Advanced Task (for students S5-S6)

Working against the clock your team will need to have good communication skills, be well organised and able to show the development of your task solution in a design portfolio.

At the end of the day your solution in the form of a working model will be tested and judged against competing teams from your own school / college and teams from neighbouring schools & colleges.


District Competition 2018
District 1020 Young Technologist Competition will take place on Wednesday 7 March with the exception of the West Area, due to other commitments by host school Kilsyth Academy, it will be held on the 8 March.

Clubs are invited to enter teams from High Schools in their Area to take part in this stimulating and rewarding competition. Each team will consist of 4 students and if possible have an even gender balance.
Venues for the Competition are as follows:

City Area - Royal High School
Central Area - Bo'ness Academy
East Area - Beeslack Community High School
West Area - Kilsyth Academy
South West Area - Douglass Ewart High School
For more information contact:-

District - Bill Munro - 01314400880

City Area - Brian Dempsey - 01313342807

Central Area - Ian Wallace - 07801855146

East Area - Derek Hryhorskyj - 0131665 0175

West Area - Bill Thomson - 01236821580

South West Area - Gordon Bennie - 01671402275

Borders Area - Contact District


Contact Bill Munro about this page: