Sand Dams Project - Latest
Sand Dams an Excellent Project by District 1010 Clubs
Raincatchers: a film by Al Jazeera. Al Jazeera recently paid a visit to our partners in Kenya, Africa Sand Dam Foundation, to learn how sand dams are transforming people's lives.
2 Years of success!!!
Year 1
As many of you know, District 1010 International Officer Eleanor Macalister and I launched District 1010s support of the Sand Dam Project almost 2 years ago.
Sand Dams provide a low cost, virtually maintenance free, year round safe water supply for communities in semi-arid areas where the annual rainfall occurs within a few months and there are long periods of drought.
Water is trapped within sand and gravel build up behind a concrete dam and is protected from evaporation, animal fouling or water borne parasites by the covering of sand. It is made available for drinking or irrigation either by a pipe and tap through the dam wall or by a shallow well and hand pump
We started this with a donation from my Club (Westhill and District), solicited donations from Clubs who expressed an interest and, within a year, raised the 9,000 necessary to build our first Sand Dam in Munyuni, Kenya.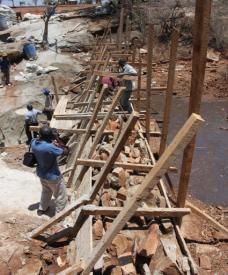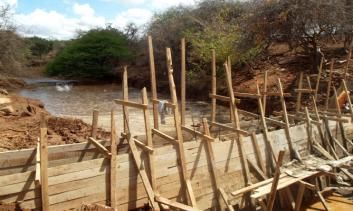 The picture above shows the completed sand dam on 24/10/12. Normally this takes 1-3 seasons to fully mature. The Plaque on the top Left credits The Munyuni Self Group. Supported by: Africa Sand Dam Foundation; Excellent Development and Rotary International District 1010.
Update
Rotary Clubs in District 1010 have contributed a further 15,682.26 towards further Sand Dams. As a District Accredited Project, this will be fully matched by District Designated Funds and our 31.364.52 will link together with funds raised by other Districts in a Multi District Global Grant application fronted by RIBI International Officer Drew Hughes and District 1140 International Chair James Onions. Our Districts contribution will probably therefore pay for Dams and associated water Projects totalling approx 47,000 as part of a grand total of approaching half a million from RIBI Clubs and Districts.
As part of a fact finding Mission, the leaders of the Multi District Group went to Kenya and visited the 5 Dams they had previously funded and also our Dam which was a real bonus, bringing back the following report and Pictures:
We also took the opportunity to visit the Munyuni sand dam built in October 2012, funded by your District. We werent able to meet with the Self Help Group however we were told by our friends from the Africa sand Dam Foundation that the group had harvested 50,000 onions. We also saw signs of other crops growing.
As you can see from the photographs, the dam has been completely back-filled with sand and a shallow well has been sunk which provides clean drinking water. The dam has obviously made a great difference to the community thanks to the generosity of your members.
The scale of the support from RIBI Clubs will mean that bigger and better projects can be undertaken. A series of Dams up a river course can make a whole valley fertile and transform the lives of the local farming communities from basic subsistence and dependence to being self sufficient and productive with major benefits in Lifestyle, Health, Education and sustainable improvement in the environment.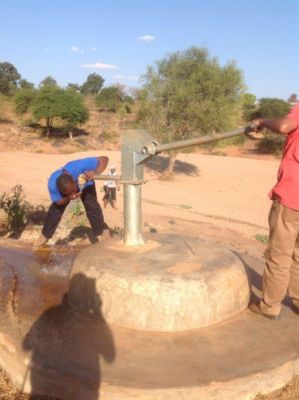 District 1010 would like to continue to support the roll out of Sand Dams for the benefit of needy communities over the next few years at least. For further information, please contact John Glascodine, District 1010 Sand Dam Coordinator john.glascodine@virgin.net .
What we have done so far would not have been possible without the generosity of the following Rotary Clubs: Westhill; Ellon; Banchory Ternan; Central Buchan; Cupar; Crieff; Aberdeen St Machar; Stirling; Dyce; Kinross; Aberdeen; Perth Kinnoul; East Sutherland; St Andrews; Stonehaven; Inverurie; Pitlochry; Oldmeldrum; Anstruther; Callander, Abertay; North Fife: Elgin. Thanks to you all and in particular to those who have given multiple donations or have pledged further support over the coming year(s). We hope other Clubs will join our proud band of supporters of this very worthwhile cause. This is a perfect example of joined up Rotary with clubs working together to Engage Rotary and Change Lives.
Contact John Glascodine about this page: