Rotary Foundation Grants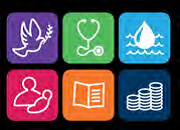 Rotary Foundation Grants
The Rotary Foundation transforms your gifts into service projects that change lives both close to home and around the world.
During the past 100 years, the Foundation has spent $3 billion on life-changing, sustainable projects. It does this directly, by supporting major international projects, like End Polio Now, but also by providing funding for the District Grants that support individual Rotary Club projects, and for The Global Grants that Rotary Clubs and Districts use to fund larger domestic and international projects.
District Grants
District Grants are awarded to support community projects, local or international, in which individual clubs are directly involved. They are intended to support clubs in the delivery of projects that are aligned with the general mission of Rotary Foundation.
District grants can fund a variety of district and club projects and activities. For example, in 2017/18, grants have been awarded to:
· RC Limavady project, with participation from multiple Rotary Clubs and Interact, to bring a clean water supply to Belgrove Primary School, Lemongo, Kenya.
· RC Mullingar project to renovate and equip a mother and child health centre, operated by Maids of the Poor, in Mudula,Tambora – Ethiopia.
· RC Clonmel project to provide a Rotary Park and Sensory Garden in the town of Clonmel, for use by young people with autism.
· RC Newbridge project to provide sleeping bags and other essential facilities, for a homeless centre.
· RC Newbridge project, to provide shunt operations for children with Spina Bifida hydrocephalus, in a Romanian Children's Home.
· RC Limerick Thomond project to equip a PEG (Percutaneous Endoscopic Gastrostomy) Feeding room at a local school.
· RC Antrim project to provide outdoor exercise equipment for younger children attending the local Riverside Special Needs School.
· RC Comber project to provide permanent sanitary water tanks to two schools in the Dodoma area of Tanzania.
· RC Dublin North project to fit out two new Operation Centres for the charity Fighting Words, which provides literacy development support services to children, many of them non English speaking immigrants.
· RC Waterford project to refurbish and renew the facilities at Oasis House, a safe refuge for women and children fleeing from domestic violence.
Clubs planning projects they think may qualify can apply by email to:
Global Grants
Global grants support large international activities with sustainable, measurable outcomes in Rotary's areas of focus. By working together to respond to real community needs, clubs and districts strengthen their global partnerships.
The minimum budget for a global grant project is $30,000. The Foundation's World Fund provides a minimum of $15,000 and maximum of $200,000. Clubs and districts contribute District Designated Funds (DDF) and/or cash contributions that the World Fund matches. DDF is matched 100 percent and cash is matched at 50 percent.
Global Grant projects can be run by a single club or District, but individual clubs can also participate in such large projects by joining in as a donor.
Recent examples of successful Global Grant projects include:
· Project Ciara – District led project to bring clean potable water to the people of 6 villages in southern Kenya
· Sand Dams – District led project to bring water to African communities
· Project 538 – Current District led project to bring clean drinking water to the community of Keringet
· Nansana Clinic – RC Dublin Fingal project to equip and fit out a laboratory and clinic to provide neo natal and paediatric care to communities in Uganda.
To learn more about Grants, go to the Foundation pages at www.rotary.org. Alternatively, make contact with Grant Chair Niamh Mulholland or DRFC Dave Murray.