Getting Tickets
Tickets are just £2.00 per person and any proceeds are going to Lancaster Special Needs School in Southend. You can obtain tickets from your local rotary club or by going to the booking site here. Tickets will also be on sale by the entrance turnstiles if you do not already have tickets. Clubs are asked to bring any unsold tickets with them on the day together with money taken for tickets sold.
Information on the Event
District 1240 is attempting to break the Guinness World Record for the largest number of people participating in a quiz at the same time and venue. We need 2500 attendees to break the record so please tell all your family and friends to come along.
Some of the rounds will be especially designed for children so all are welcome. So, after the quiz, why not enjoy the rest of the afternoon in Southend?
How To Get There and Information for the Day
Please arrive at Roots Hall by 12.00 noon ready to start the quiz itself at 12.30pm. There is no need to register teams in advance. Ideally teams should be of 6 to 10 people but if you arrive with fewer than 6 we will try to put teams together on the day.
The postcode SS2 6ER will take you to Roots Hall on Victoria Road and from here ample free parking is signposted.
The Football club's food outlets will be open form 12.00 noon selling soft drinks, burgers and other snacks. There will also be a bar serving alcoholic drinks. If you prefer not to buy food on-site then you are welcome to bring picnics with you.
All seating is under cover so there is no fear of getting wet if the weather decides not to co-operate! Click here for a plan of the ground.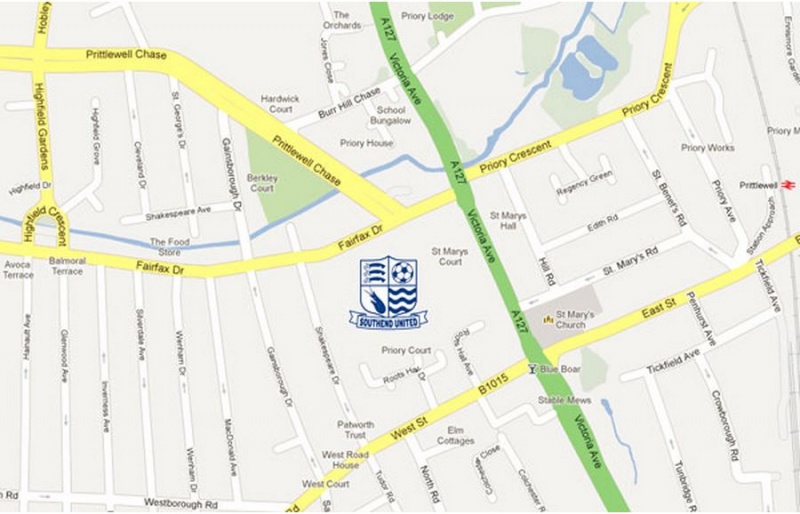 Directions:
By Car
From M25 take Junction 29 and follow the A127 to Southend. Continue towards the town centre, through the lights near to the Bell Pub. At the next roundabout turn right (3rd turning), continuing on the A127. The ground is on the right just past the next traffic lights.
There is free parking at the ground for all those attending the event. This is normally for season ticket holders only so ignore signs to this effect. In the event that the on-site car park becomes full then additional parking is available at the Civic Centre on Victoria Avenue Southend-on-Sea Essex SS2 6ER at the following times;-
Sat – 9 am to 6 pm
Cost is:
Up to an hour - £1.00
Up to 2 hours - £1.60
Up to 3 hours - £2.30
Up to 4 hours - £4.00
Up to 5 hours - £5.00
Up to 6 hours - £6.00
Over 6 hours - £10.00
And you can pay in 10p, 20p, 50p, £1 and £2 coins
After 6 pm parking is free.
By Train
The closest station to the ground is Prittlewell, about a five minute walk away. It is served by trains from London Liverpool Street. As you exit the station turn right, you will then come to a crossroads with traffic lights. On your right is the 'Fish House', fish and chip shop. Pass this and turn right. Walk about 100 yards and the ground is tucked away on your left.
If you happen to end up at Southend Central station (served by trains from London Fenchurch Street), you're about a 25 minute walk from the ground. The main bus station is close to Southend Central, and therefore it may be ideal to get a bus up to the ground, rather than walking.
Press and Media Coverage
Stan Keller was interviewed about the Big Quiz on Phoenix FM and Gateway FM

You can listen to the interview by clicking on the 'play triangle' below. Alternatively you can download it. Right-click (control-click on a Mac) here and choose "Save Link As..." to save the mp3 file to your computer
Stan also featured on a programme broadcast on Gateway FM. You can download the whole programme. Right-click (control-click on a Mac) here and choose "Save Link As..." to save the mp3 file to your computer
There was also coverage in the Southend Evening Echo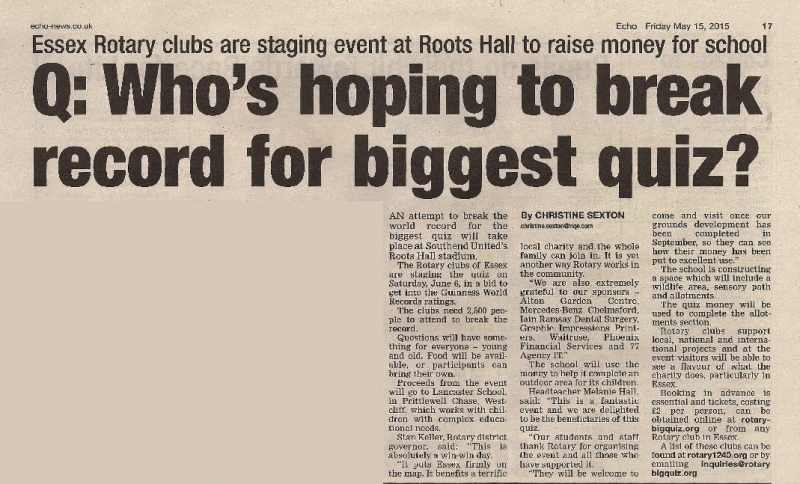 You can download a PDF version of the event poster
here