RIBI Young Musicians' 2020 Lockdown Virtual Concert
Area winners from the popular Youth Competition that is run every year, and information about this year's competition
Rotary Young Musician Virtual Concert
A mere virus is not enough to stop our brilliant young musicians from playing their hearts out. In autumn 2019, all over the UK, young musicians competed in the Rotary Young Musician District and Regional finals. The winners were all looking forward to competing at a national level. This wasn't to happen. The 2020 Young Musician Competition National Final was cancelled due to the Covid-19 lockdown as were four of the seven Regional finals.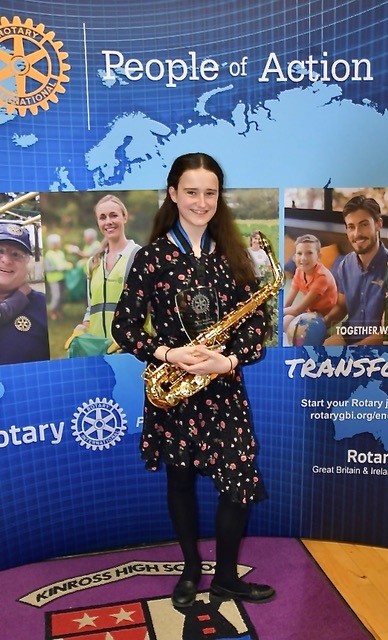 The Scottish Regional instrumental winner was Chloe Burbury (pictured)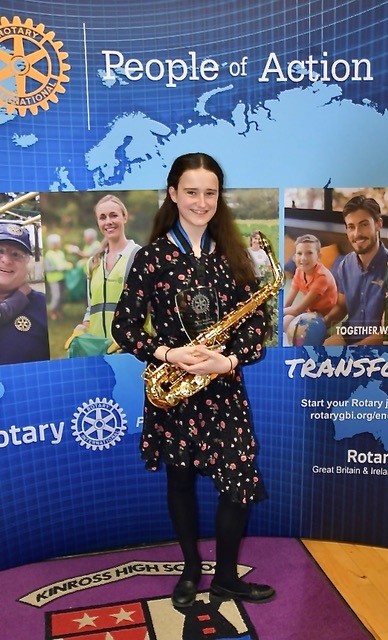 who had won our District 1010 Final for the third time and had come second in the Regional final on the two previous occasions. Choe's father, Simon, suggested that there could be a virtual concert to celebrate young talent, and he got together with Douglas Gilmour (Auchterarder Rotary), the District's Young Musician Co-ordinator, to see if this was possible.
Of course it was possible. Anything is possible when Rotarians decide something will happen! The idea was to give these amazing young musicians another performance opportunity to work for during lockdown and compensate a little for their disappointment at missing out on competing in the National Final. Simon and Douglas got to work and eventually, the winners from the three Regional finals which took place were able to come together in a virtual concert. Naturally, the concert was recorded in its various settings and the organisers carefully pieced the components together.
The programme for the concert is available to view or download at this link: https://drive.google.com/file/d/1MMn9zKRoeBJQXIUlKd0knSn-C1GPGClf/view?usp=sharing,
and the resulting musical masterpiece is accessible on You Tube via this link: https://youtu.be/JVL1YnCKh4Q
This concert is a must see! Not least because the young performers wanted to support two really worthwhile charities:
The Trussell Trust which supports most of the food banks in the UK
https://www.justgiving.com/fundraising/rotary-trusseltrust
and the Amber Trust which supports blind and partially sighted children with musical instru-ments and music tuition
https://uk.virginmoneygiving.com/rotary-ambertrust
Further information on both is available on their websites. Rotarians are noted for their generosity, and any donations to either charity would be very much appreciated.
RIBI Young Musician Competition
Music is the international language and Great Britain and Ireland is home to some of the most talented young instrumentalists and vocalists in the world. We celebrate this talent with a sequence of competitions that offer thousands of young people the chance to demonstrate their musical skills whether classical or modern. The Rotary Young Musician competition provides a stage for musical talent to shine in regional competitions before the grand final itself. Starting with club level competitions, winners progress to district events followed by regional contests with the hope of appearing at the national final.
This four stage national competition aims to encourage development of musical talent and offers young people
experience of performing on a public stage

an opportunity to showcase their musical talent

impartial feedback of performance by experienced adjudicators
The competition is open to amateurs in full time education, up to the age of 17. It is not open to full time students of music or performing arts, studying for a qualification above A level.
July update from Douglas Gilmour, District Young Musician Coordinator
As some of you may already know, RIBI have outlined some changes in the arrangements for the Youth Competitions in the current 2020/2021 session, due to the Covid 19 restrictions. My understanding of the situation is as follows:
For the competitions which involve face to face interaction, namely Young Musician, Young Chef and Youth Speaks, there will be no National Final this session. The competitions may not commence even at Club level until January 2021 at the earliest and then only if government regulations/guidelines allow. Regional and District finals will be arranged at the discretion of the regions/districts and may take place up until the end of June 2021.
I have not yet heard from our Regional people re any plans that have been agreed, but for my part, I intend to make provisional plans for a District 1010 Young Musician Final probably at the end of March/beginning of April, to allow time for Clubs/Areas to arrange their competitions after 1st January.
Obviously this will all depend on the Covid 19 restrictions being lifted sufficiently in time.
I will let you have more details as soon as I have them.
Contact Douglas Gilmour about this page: