Emma takes Rotary Young Chef 2016 Title
Emma Grant, sponsored by the Rotary Club of Cumbernauld, takes the Rotary in Great Britain and Ireland Young Chef title.
Grand Final

Emma was up against seven other talented young chefs in the national final earlier this month, collectively having already seen off over 5,000 entrants to reach that stage. Emma was sponsored by the Rotary Club of Cumbernauld, and was crowned the winner at Lincoln College after she wowed the judges with her three-course menu.

Emma won a host of prizes, donated on behalf of the competition's sponsor Filippo Berio, which included a trip of a lifetime to the Filippo Berio olive groves in Tuscany where she will experience real Italian cooking and a day's tuition at a Michelin Star restaurant.

The budding chef astounded the judges with her outstanding menu, which included a starter of breast of quail with butternut risotto, followed by hake with cannellini and chorizo bean stew, served with a bean puree and panna cotta with vanilla poached plums and granola crumble for dessert.

After taking home the top prize, Emma commented: "I don't think it has sunk in. I'm really chuffed. The competition was very strong. When my name hadn't been called out by the time they announced the second place winner I thought I had lost it – so when they called my name out as winner I was pretty shocked."

Emma's Chef Lecturer, Paul Clark, who accompanied Emma to the final, along with her dad Mark said: "The standard of dishes in the final cook off were of really high quality. Emma managed to keep her nerve and produce some great tasting dishes on the day in demanding circumstances. Winning is a great reward for the hard work and hours of practice Emma has put into the competition. She has won an exceptional prize."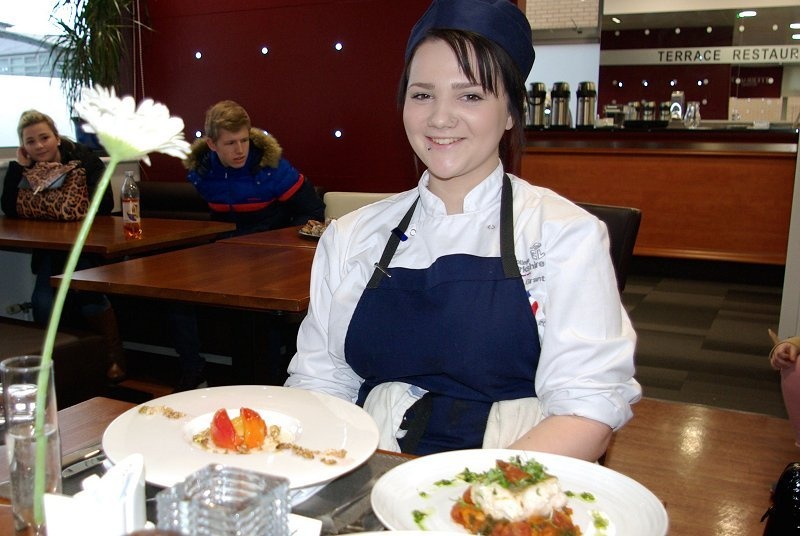 Regional Final
Emma Grant again lifted first prize at the Young Chef Competition -- this time at the Regional Final. The event took place on the 5th March, at West Lothian College, Livingston. As District 1030 did not attend it was an all Scotland cook-off. Each of the three Scottish Districts had two qualifiers through in this 4th round of Young Chef Competition.
The standard was high,making it a difficult task for the three very qualified judges -- Andy MacDougall and Joe MacFarlane, both lecturers/teaching chefs at West Lothian College, were joined by Andy Laycock, a chef with Wilde Thyme UK., event caterers. However the three judges were unanimous in placing Emma in top position. She kept to the same successful menu that she had presented at District, bringing back honour to Cumbernauld Rotary.
Second spot went to Matthew Turnbull representing Dundee Rotary, District 1010.
In third place was Casey Mulholland from Gourock Rotary, District 1230. Note that all three Districts had a place in the top three.
Quality Meat Scotland again sponsored the beautiful glass awards for the top three and aprons for all qualifiers. All contestants also received a New Beef Guide Recipe Book. Of course, we are all encouraged to use our quality home resources -- Scotch Beef, Lamb and Pork.
Very handsome hampers were presented to the three first placed Young Chefs. These were very generously provided by Craigie's Farm Deli (near S. Qeensferry). Whilst they may have looked like a ready Mother's Day gift, they were in fact made up with very interesting items which could challenge the Young Chefs to use in cooking/baking. Craigie's Farm Deli is well worth a visit!
The National Final is sponsored by Filippo Berio and at this stage, all competitors received a "goodie bag" of their products. All prizes were there to encourage these marvellous Young Chefs in their cooking.
District Governor Andy was more restrained this time since we had visitors from other Districts -- he did not get any where near tasting all the dishes!
Best wishes from District 1020 to Emma for the National Final in Lincoln on 16th April.
District Final, 6th February
The District round of Young Chef was held on Saturday 6th February at West Lothian College, Livingston. Eight qualifiers from 4 Area events made the brightly coloured line up for the keenly fought third round cook-off. Each "Young Chef" prepared a three course meal for two in a two hour time limit. As well as taste, choice, planning , range of skills used and neatness of work and hygiene were all taken into consideration. Thankfully we had two very competent judges -- Lockerbie Rotarian, Ian Potts, a retired lecturer/teaching chef and Andy McDougall, lecturer/teaching chef from West Lothian College.

The judges, closely followed on the tasting rounds by D.G. Andy, had no hesitation in awarding first place to Emma Grant, representing Cumbernauld Rotary. Emma's menu could well have graced the table at "Master Chef"! Her starter was Pan Fried Quail with Butternut Squash Rissotto. The main course was Hake Fillet with Bean and Chorizo Stew, White Bean Puree and Spinach Pesto. Then came the crowning glory -- Vanilla Poached Pear, Buttermilk Panna Cotta and Granola. Without doubt, the proof of the pudding was in the eating.

District Governor Andy presented the beautiful glass awards, which were again very generously sponsored by Quality Meat Scotland. Each "Young Chef" sported a Scotch Beef Apron -- the boys just would not accept a pink one! Runner-up to Emma was Robyn McKnight from Larbert Rotary and third place went to Kaitlyn Blair representing Peebles. With an extra place available this year all three go forward to the Regional Competition.

The other qualifiers were Nicole Geddes and Karlie Jamieson, Dalbeattie; Freddie Watts, Peebles; Conor Faherty, South Queensferry and Ellie Galloway, Longniddry. All were very skilled "Young Chefs" who had qualified through a competition which started out in 19 clubs, some of which had close on 20 entrants.

The Regional event is to be held in District 1020 this year. It will take place on Saturday 5th March in West Lothian College. We are very grateful to Quality Meat Scotland again for supporting this event. Craigie's Farm Deli, S.Queensferry will also very kindly support Young Chef.




Contact Jean Lennie about this page: