PhysioNet a Yorkshire Charity responds to Fiji hurricane
Physionet, a registered charity based in North Yorkshire, sends pre-used special needs children"™s equipment, wheelchairs, mobility items and some hospital hardware to developing countries around the world.
Rotarian Peter Thompson, members of knaresborough Rotary Club, and founder of Physionet, was in Fiji with his wife when Tropical Cyclone Winston hit. He wrote the following letter on his return to Yorkshire;-
We returned from Fiji yesterday and no doubt you have heard about the devastation caused by Tropical Cyclone (TC) Winston, which was the worst TC to make landfall in the Southern Hemisphere since records began.
It came into Fiji waters on Saturday 20/2 from the east, directly over Vanuabalavu and Koro and hit Viti Levu near Ellington wharf. Then travelled along the coast to exit at about the Ba Gap and out over the Yasawas. There was plenty of "collateral damage" along the edges eg Taveuni, Savu Savu, and north Tailevu also took a hammering, but fortunately it was fast moving,- things would have been even worse if it had been slow.

We drove down to Ellington on 24/25 Feb and the damage in the villages especially around Raki Raki etc has to be seen to be believed, – not a roadside power pole was left standing straight and all were a tangle of cables! A few days later we drove through to Suva, apart from a little tree damage, Nadi was unharmed and for the rest of the journey there was little sign of TC Winston. Suva was virtually untouched, apart from power cuts and seemed surreal after the other side of Viti Levu.
In Suva I talked to PhysioNet's partner the Spinal Injuries Assn. (SIA). They carried out a needs survey during the week starting 29 Feb and by now will have distributed the last of the items from shipment No 7, which arrived late December. Fortunately shipment No 8 should arrive very soon and in time to make a significant contribution to the relief effort. SIA puts a new value of $F 1.2 million (£ 400 K) on a typical shipment and so compared with the big trading houses/ Fiji Airways etc who are contributing about $F 1.0 million each, PhysioNet and SIA are up there with the big hitters.

As a result of TC Winston SIA would like another PhysioNet shipment a s a p, this time to be made up of normal disability items and also cyclone relief items for schools etc.. The problem is that the request has come at a time when PhysioNet;s funds are already ear marked for shipments to other countries and so money is severely low, to meet the cost of van hire and fuel, not to mention buying some items (small school ruck sacks, kitchen equipment etc). It would be a huge help if you could make a donation, a cheque made out to PhysioNet and sent directly to me would be great. If appropriate please add a note saying "This donation of £ ----- is eligible for Gift Aid" then sign it along with your name, address and post code., We will keep you posted on progress.

Perhaps this letter and appeal seems rather dramatic but having seen some of the damage and hardship (it is even worse on Koro and Vanuabalavu). I feel that we must try and help.
For more information, click on
Physionet.pdf
and
TC_Winston_Press_Release.pdf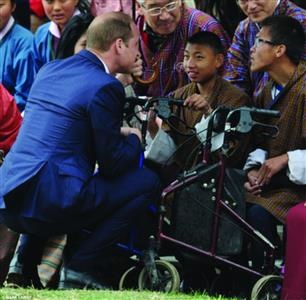 5/12/16
Autumn Newsletter
Photo shows Prince William talking to Bhutanese boys who received rollators from the 2015 shipment