An enjoyable and successful event held at Swinton Park Golf Club on Saturday 4th February 2017
92 members from 47 clubs across the district attended the seminar and the overwhelming opinion in the feedback was that this was a worthwhile and productive way to spend a Saturday morning!
Here are a few of the comments left on the feedback forms,
· Excellent & thought provoking
· Very well presented. Clear and articulate.
· Satellite presentation excellent. Pleasing to see the take-up.
· Satellite clubs are a great idea to replace failing clubs but more focus on helping successful clubs survive long term
· I enjoy and value training sessions. It is important for club members to hear thoughts from District leaders and other club members
· Really enjoyed the event looking forward to working together
· Even sustainable clubs need to take action now
· Time well spent
· Awesome event
· Very good - progressive. Useful event
· Excellent graphics & visual aids
To balance the picture, there were a few negative comments, relating mainly to the room size, acoustics and catering, but these are all things that will be improved for future events.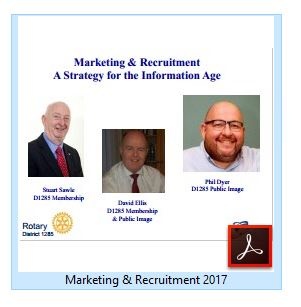 The challenge for the Membership committee is to maintain and develop the evident willingness to respond to the membership challenge and to spread the message to the clubs who were not able to come to this event.
Here's a start, click here to see a summary of the presentations given during the seminar.
Contact Stuart Sawle about this page: