Disabled Access Day
Learn about the emerging new Rotary e-club of UK South Online at an online meeting as part of the Disabled Access Day!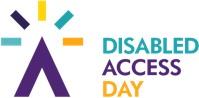 Do you have members in your club who may be about to leave Rotary club because they are re-locating or have overwhelming business and/or family commitments?

Do you know of people in your area who might consider Rotary but suffer from limited mobility, for whatever reason, that prevents them from Joining?

If the answer to either of these questions is 'Yes', then you might like to know that we are setting up a drop-in, online meeting venue as part of Disabled Access Day at 3.00pm on each of the 10th, 11th and 12th March. The meeting room will be open to anybody with limited mobility that would like to spend time socialising and fund raising online without moving away from the comfort of their own home.

Equally, any member considering leaving Rotary for personal reasons is welcome to attend our meetings, where they can ask questions about Rotary e-clubs and, in particular, about the emerging new Rotary e-club of UK South Online.

If this might appeal to anybody that you or any of your club members know, please visit www.UKSouth.Online to read all about us and use the 'Contact us' link to send us their details. Please say if you or the person you are proposing would like to join one of the drop-in meetings online and we will send you a Zoom link.

Check out our events on Facebook at www.facebook.com/UKSouthOnline/ where you will find more detail about our Disabled Access Day online events.