Dumbarton Charity Valuation Day
In aid of 500 Miles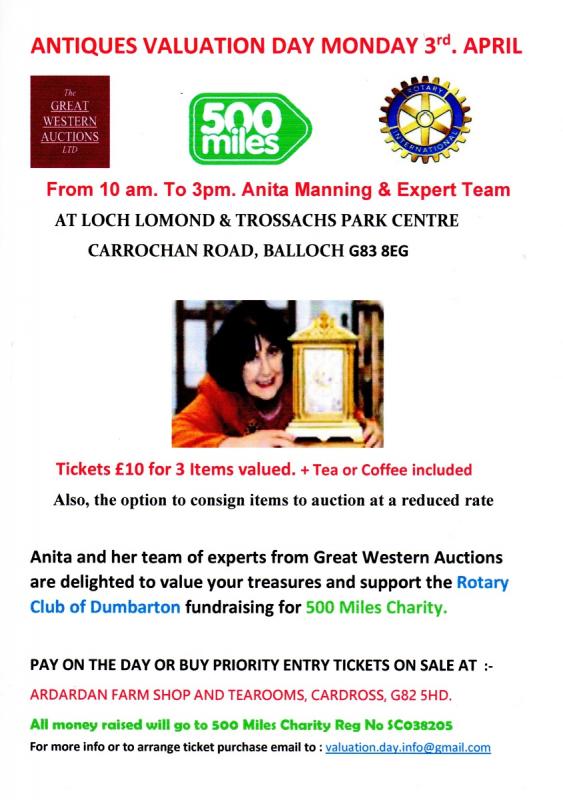 VALUATION DAY
3rd April 2017
At Loch Lomond & Trossachs Park Centre.
The Rotary Club of Dumbarton
For 500 Miles Charity
Anita and her team of experts from Great Western Auctions are delighted to value your treasures and support this Rotary Club fundraising event for the 500 Miles Charity.
We are looking forward to seeing Jewellery; Gold and Coins; Silver and Silver Plate; Toys, Teddies and Train Sets; Whisky; Oil Paintings, Watercolours and Prints; Football, Rugby, Fishing and all other Sporting Memorabilia; Porcelain and Pottery; Glassware; Works of Art; Curios and Collectables; Oriental Ceramics, Textiles and Pictures; Medals and Military items; Metal ware; Clocks and Watches
If you have a piece of furniture or something too big to bring along, send us an image by e-mail or post.
Condition is important in value, but if the item is very rare or very old or is made of gold or silver, it will still have value.
You may have often wondered if that old vase or painting you inherited was worth a bob or two, that piece of Jewellery you've never worn is worth selling, or the War Medals lying at the bottom of a drawer may be of interest to a collector. We would be happy to look at items and value them for you. You could have a treasure and get a lovely surprise.
If you have any paperwork related to the item, eg. Letters and Commendations related to War Medals, old receipts and insurance certificates bring them along too.
We would be happy to give a reduced commission and free transport to any items consigned on that day, to go to sale at Great Western Auctions.
Our experts and valuers visit your area on a regular basis. If you require a valuation or wish to consign items to Great Western Auctions please give a member of the team your details or telephone or email us.
0141 954 1500
info@greatwesternauctions.com