Donate your unwanted tools
The Rotary Club of Thame asked the local public to check their sheds and lofts and bring their old tools in the main car park of Thame near the Market House.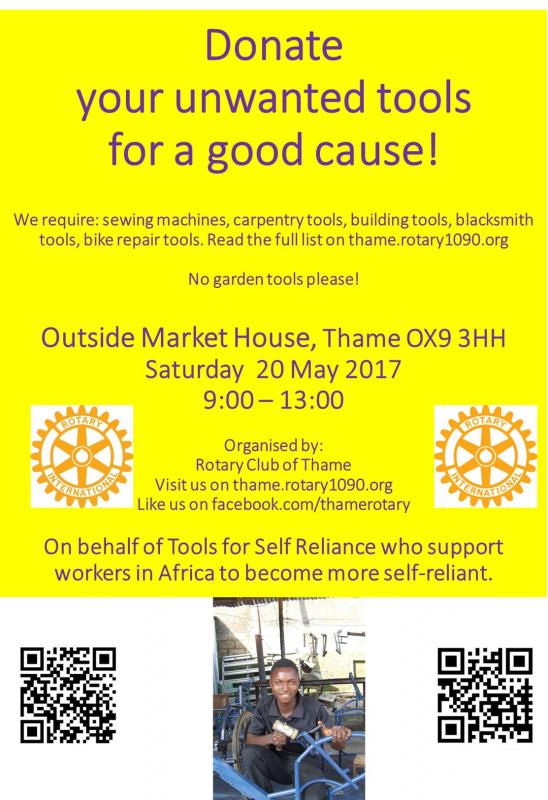 Every year the Rotary Club of Thame runs a collection point for unwanted tools. These are then taken to 'Tools for Self Reliance' collection centre in Southampton. The latter are a charity which refurbishes them and sends them to NGO's in Africa. The NGO's then distributes them FREE to men and women which helps them to obtain work.
All of the tools sent to Africa are used to provide training and equip trainees with their own start up kits to set up their own businesses after completing training not only in their chosen trade, but in business management, financial, and life skills.
One such trainee is Mohammed Kanteh from Sierra Leone. He has hearing difficulties and has never attended school, but wanted the opportunity to learn a trade and earn money to support his mother and five siblings. He took part in a Tools for Self Reliance training programme, in partnership with local organisation Mobility Sierra Leone, and learnt how to repair wheelchairs and bicycles. He is now part of a small business, along with some fellow graduates, and they are already planning how to use their profits to expand.
Items which can be collected include sewing machines, tools used for plumbing, carpentry, metalworking, building, bicycle repair, shoe repair, car repair.
No garden tools are accepted.
Photo: courtsey of Tools for Self Reliance - the charity.
Contact Marius Ciortan about this page: