Conference Pétanque Competition
Join us on the Weighbridge Terrain St Helier for this keenly fought encounter.
We hope to start the competition at 14:00 on Thursday 11th October on the terrain at the Weighbridge in St Helier, see photo below. This is just below the conference centre at Fort Regent and within 50 yards of the Pomme d'Or (HQ) Hotel.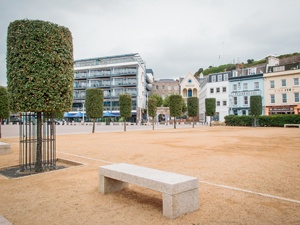 The reason the start time may change is to accommodate, where possible, the arrival of any participants by ferry that day.

The competition will be triples, though we suggest teams of 4 enter to allow a reserve. We are conscious airline weight rules may prevent some delegates bringing their own boules! But boules will be available to loan.

No entry fee is envisaged.
All enquires and registrations should be directed to Rtn. Tony Allchurch by email.