Young Chef Regional Final 2018
A good day was had by all at the Regional final of the Rotary Young chef competition at Leeds City College on the 10th March
Everyone breathed a sigh of relief that finalists from Districts 1040, 1220 and 1070 could get to the venue after the inclement weather the previous week with some finalists travelling quite a distance.
8 finalists made it to the day with 1 having to offer her apologies as she was ill. The finalists were tasked with making a Healthy 3 course meal for 2 people in 2 hours an achievement in any ones book considering the complexity of some of the dishes which included sugar work, pasta making and ensuring the centre of chocolate fondant puddings were still runny in the middle.
The judges were Fabrice Teston Program Manager Craft and Innovation School of Travel, Food and Drinks Leeds City College, Matt Healy Masterchef the Professionals finalist 2016, Asfaneh Kaviani Masterchef finalist 2012. They all commented on the high standard of the planning and preparation that the finalists had put into their menus, the calmness and the execution of the skills displayed and the outstanding flavours and finished results.
The three finalists from our District had previously won the District competition at Betty's cookery school and were sponsored by the Rotary clubs of York, Skipton and Mirfield. Unfortunately our finalists didn't go through to the National final this year the first time in 4 years but I guess we can't win them all. The winner was from District 1070 Lorena Dawes and she will now go onto the National final in Telford in April, her menu was
Starter Caramelised onion and goats cheese tartlet with a watercress side salad and balsamic glaze.
Main Pork fillet stuffed with apple and prune sausagemeat wrapped in prosciutto with a red wine jus. Served with Lyonnais potatoes, French green beans and roasted grapes
Dessert Chocolate soufflés with raspberries
Amy Bettles from District 1040 took second place and her menu was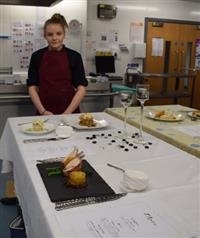 Starter White crab ring with brown crab mayonnaise with celeriac spaghetti with dill
Main Chicken roulade chicken with mozzarella and basil wrapped in bacon with a fondant potato and sundried tomato paste broccoli and parmesan crisp
Dessert Deconstructed apple crumble with salted caramel ice-cream, date sauce and peanut brittle.
Our District Governor Robert Morphet both welcomed guests from other Districts and presented the prizes at the end of the day.
Many thanks to those clubs who have competed in the competition and to those Rotarians who have supported the events throughout the year. Particular thanks to the Rotarians from the Leeds White Rose club and 1 member of the London Westminster club who was visiting relatives that weekend and helped too at the Regional final to shepherd people into Leeds City college, act as meeters and greeters, hospitality hosts, runners and take the photos.
Here's to the future success of the competition and if any clubs wish to participate for the first time please let Gill Poole the District coordinator know.