Regret I do not know the names of prize winners in the photos.

Press report 8/5/2019

£6,000 - Raised for MNDA at Bodmin Golf Event.
The Rotary Club of Bodmin held its 18th annual Charity Golf day, in support of the Cornwall Branch of MNDA, at Lanhydrock Hotel and Golf Course on Friday 3rd May, which raised in excess of £6,000 for Motor Neurone Disease (MND).
The golf day, is hailed as the biggest charity golf day in Cornwall, in which forty teams of four players competed in a 'Texas Scramble'. Many prizes were available to be won, including a car for a 'hole in one' on the 15th hole.
Many businesses throughout Cornwall generously sponsored and donated. The local branch of the MND Association held a bumper raffle. The main sponsors were West End Motors of Bodmin and Barclays Bank.
Bodmin Rotary Past President, Colin Marshall, in his speech before the prize giving, thanked Graham and Claire Bond, the owners of Lanhydrock Golf Club for the use of the facilities and their personal support. Also, gave thanks to everyone who took part or were involved in the event.

Finally special thanks to Cllr. Sara Kinsman, the Mayor of Bodmin, for the professional way she carried out the competition 'Tee-Off' and for carrying out the prize presentations in the evening.

Caption for the photo –See Slide Show above....

L to R – David Jenkins (President Bodmin Rotary), Cllr Sara Kinsman (Mayor of Bodmin), Derek Williamson (MNDA).
Peter Bray
Press Officer Bodmin Rotary Club
08/05/2019
<<< Friday 3rd May 2019 >>>

<>
This Golfing Extravaganza is organised jointly by Bodmin Rotary Club and the Motor Neurons Disease Association (MNDA) to help sufferers in the Cornwall Branch Area. Main sponsors of this event are West End Motors (WEM), Barclays Bank and Mid Cornwall Brokers (MCB) together with many other local businesses and supporters.
Places are available for 180 golfers to take part in teams of four, competing for an extensive list of over £3000 of prizes.
Holes in One prizes include a new Car, Sunshine Holiday, Golfing Weekend and Golf Clubs.
The event started 15 years ago as a modest Rotary Charity Day, but for the past 10 years has supported MNDA. Together with the tremendous enthusiasm and work by Derek Williamson of the MNDA Cornwall Branch the popularity of the event keeps growing.
<
Programme of Players & Sponsors: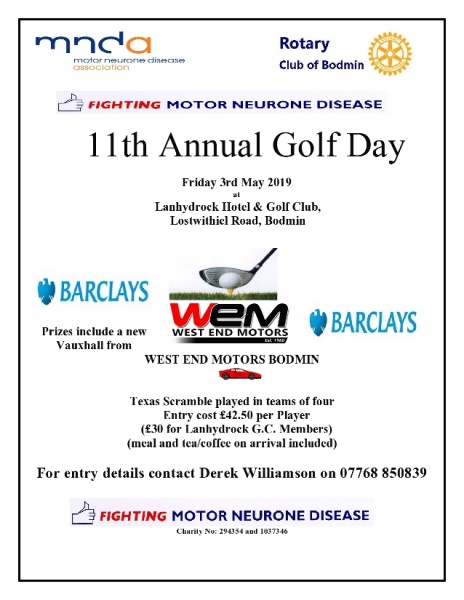 Application Form > Golf_Day_2019_Application_Form_mark3.pdf
Sponsorship Form > Golf_Sponsorship_form_-2019_16-34-12.pdf
<