Gloucester Severn's Dragon Boat Regatta
Held again in Gloucester Docks.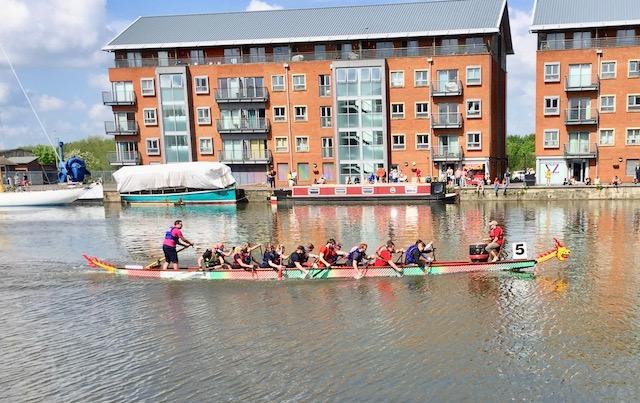 Dragon Boat Regatta.
Sunday May 12th dawned…and, amazingly, for the third year running, the Dragonboat Regatta was blessed with fine, dry weather! Gradually Gloucester Docks was shaken out of its early morning slumber as six brightly coloured boats arrived at their moorings, followed by oriental flags, a loudish P.A. system, funfair rides and lots of bric-a-brac stalls….yes, by 10am all was ready for the off!

Soon spectators appeared to cheer on their favourites, as twenty seven teams, many experiencing dragonboat racing for the first time, nervously gathered in small groups, soon to be shepherded on to the moorings and into their boat. Quickly all the noise and splashings of the competitors filled the air and the Regatta was in full swing!

Suffice it to say that the Winners of the Morning event were "The Nautilus" (EDF Energy), of the Afternoon event "Newland Knights" (Newland Homes) with "best turned out " trophies going to the punks team (Kier) and the Viking clad "Heaven 17"(DWP) team. However, the real Winners will be the various charities, both at home and overseas, who will benefit from the many thousands of pounds raised, headed by our Main Beneficiary Charity this year, the local Pied Piper Appeal.

As always thanks go to everyone from Club who supported the Dragonboat Regatta in any way, but, in particular, to Rog Barrett, John Barnes and Derek Thomas, who put in unfailing efforts in the background, to Roger Hart and Richard Alison for supervising "the yellow boards", to Bob for his help with the railings, and, not forgetting, Viv Barrett and our ladies for their delicious homemade cakes!
Contact Simon Owen about this page: