Zipporah's Blog
Our Sponsored Rotary Global Scholar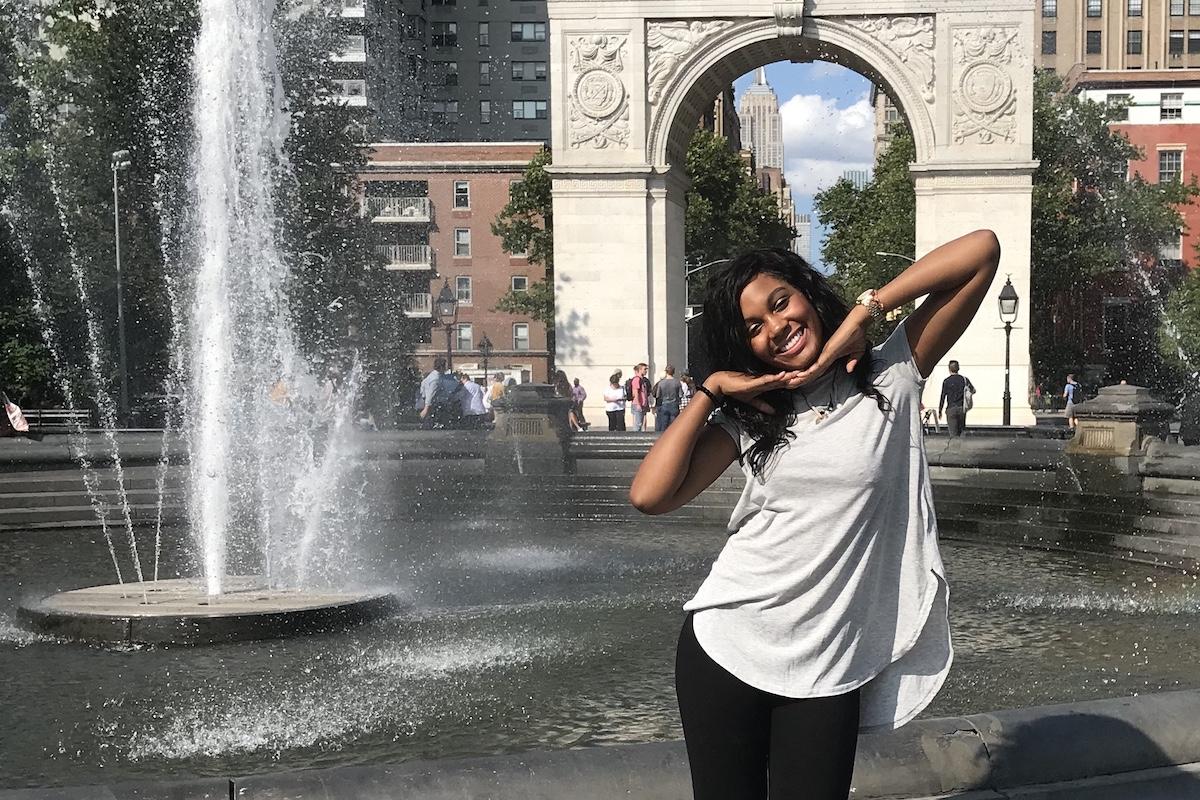 Meet Zipporah
Zipporah Arthur is an honours graduate from the University of Kent at Canterbury, and with the help of a Rotary Global Scholarship is studying for a Masters degree in New York.
Zipporah's Master's degree in Public Administration is very much geared towards Peace and Conflict resolution and will equip her for her ambition to provide education for refugee children in a safe environment.
Here is Zipporah's blog with more to follow as her academic commitments permit.
Zipporah's Blog
December 2019
Hi All, it's been a while and so much to catch up on!
After deliberating what classes to take for the Spring semester I had to complete the required class for my program and specialisation which included; International Economic Development which focuses on reviewing the relationship between poverty, inequality, and economic growth. Further, the class then looks at policy interventions to improve issues such as education. I found the class very interesting and rigorous. It made me look at poverty beyond having a relatively low wage. What's more, it highlighted different desires, fulfilment, and happiness people have in various countries and the lack of access to such regardless of whether they are deemed economic sound, they perceive themselves to be poor.
Another required class I took was called Financial Management for Public, Nonprofit, and health organizations. This class was my first "finance" based class. It focused primarily on managerial accounting and taught us how to perform operating budgets, cash budgets, break-even analysis, amongst other things.
I opted to take the class, Program Analysis, and Evaluation. This class essentially taught us how to analyse and evaluate whether a program is achieving what it says it will/is achieving. The last assignment of the class was to write my own evaluation report. I did this solo (there was an option to do it in a group). I wrote the evaluation report based on my internship program, UNICEF USA, Kid Power Education. This was extremely helpful in me understanding my internship better but also understanding the class.
I chose a more rigorous class for my semester called Multiple Regression and Introduction to Econometrics. This was by far my most difficult and challenging class. I am familiar with the statistical software program SPSS. This class used STATA which is another statistical software program, and I thought it would be super interesting to take. I did learn so much about the class and data in general.
In a nutshell, this semester was by far my most trickiest. I wasn't aware that all of my classes were quant heavy (I change classes many times and just wasn't paying attention to the quantitative vs qualitative load). I ended up achieving straight Bs this semester, definitely lower than my previous semester. I put this to a multitude of things including just more rigorous and demanding classes, not balancing quant and non-quant classes (it's recommended that you take no more than two quant classes, whereas I took four). However, I did gain a lot, especially clarify in areas I see myself working in post-grad school!
Speak soon!
Zipporah
The End of the Semester (January 2019)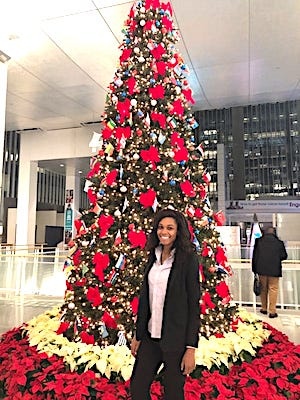 Zipporah Arthur in New York before Christmas
December was a busy and exciting month!
In previous blogs, I mentioned that I applied to attend the World Bank Youth Summit in D.C and was selected to attend. Another part of the Summit was the competition side. Anyone who fell within the age requirement could propose an idea, the proposal just had to be related to the year's theme which was "Unleashing the Power of Human Capital". The idea didn't have to be launched and could be a developed thought.
One of my peers and I submitted a proposal to the competition, which wasn't chosen. However, it was a great learning experience. Through writing the proposal,
I met with professors from NYU Wagner who work in Social Impact. This process made me aware of things to consider when trying to design and be entrepreneurial in the non-profit and humanitarian aid sector.
The Youth Summit spanned over two days at the beginning of December. Fortunately, NYU's Career Service agreed to fund my train ticket to D.C. I have a friend (I met her at a summer camp, which I worked at a few summers ago) who attends George Washington University and thankfully she said I could stay with her. The World Bank is less than a ten-minute walk from her accommodation, so It was super convenient.
I met hundreds of people who flew in from different countries all pursuing amazing things. There were amazing keynote speakers and workshops. I found it extremely difficult to choose one of the two workshops, "Developing Human Capital through Technology Education: An African Context and "An Exponential Education to expand Human Capital". I ultimately chose the former. There were speakers from Microsoft, Malala fund, GirlUp, just to name a few, who spoke about education and technology.
In November and December, the temperature really dropped and I was running out of hot-chocolate! Fortunately, my sister-in-law and her sisters came to New York. We organised to meet after she told me arrived in NYC. She brought many treats such as chocolate and my favourite hot chocolate from the UK. It was nice to have a bit of home in NYC and have a sense of relief from the stress of the final exams that were approaching.
Taylor invited me to Rotary's Toy Drive. It great evening and I saw people that I met previously at the Polio fundraiser a few months prior. I went to a few stores to try and find some toys to donate. I tried to find the specific game "Connect 4". This is a personal favourite of mine and I wanted to share one of my favourite games with an under privileged child. When I was volunteering in Greece, Connect-4 was a game all the refugee children enjoyed (and tried to compete and beat me as I was a champ at the game), so I thought such game would be a great gift!
I decided a tad later than advisable that I would like to intern in my up-and-coming spring semester. A lot of my peers at the time of my realisation, had already secured their internships, so I did feel added pressure. I also knew that any internship I would pursue had to be beneficial to my studies and career. This is because I must be a full-time student under my visa, thus any distraction from school had to be for the betterment of my future. UNICEF advertised an internship, but when I discovered it, it had already been published for a month. I wasn't sure how likely I would be successful in the application and if they are still taking applicants as the internship had been advertised for so long.
However, during the preparation time for my final exams, I received an email inviting me for an interview! It is safe to say that I did well in my interview and was offered a position! The official position is called, "UNICEF Kid Power Education Intern". My duties entail, creating content and writing curriculum for upper elementary school students (focus on global citizenship and social and emotional learning), research and evaluation in education trends and UNICEF Kid Power's efficacy and assist in data analysis. The school children will typically come from refugee and unprivileged backgrounds. I will start in the second week of February, so I'm extremely looking forward to it!
I flew back the day after my Microeconomics exam, the day before the whole Gatwick airport fiasco. My mum and brother came to pick me up at the airport and greeted me with a big hug. It was at this moment I felt the first semester of my long journey had come to an end. A few months ago, I wasn't sure if I would even start NYU Wagner due to lack of funding. Coming off the plane, signaling the end of my first semester, was something I didn't know would be possible a couple of months ago.
I hope you all had a wonderful Christmas!!
As always, speak soon
Zipporah
Chris and Gloria visited me! (December 2018)
Before I left for New York, Chris informed me that he and Gloria will likely go to New York in October. Thankfully, once I settled into grad-school life Chris confirmed his arrival date. Gloria, Chris and I originally met up at my host club (Rotary Chinatown) for lunch. We took pics in the meeting, which from my understanding was posted on Rotary Chinatown's Facebook page. It was so refreshing to be amongst my fellow English people after being around Americans 24/7. Also, it was just nice to have a sense of home after being in NYC for a while.
This month was surprisingly busy. I had a group memo due for my Management and Leadership class. Prior to this memo, the class took a series of tests such as Gallup's strength test. My tests result said my top 5 strengths are: individualization, intellection, futuristic, connectedness and learner. In short, these strengths suggest I am intrigued with the unique quality of each person, I am introspective and appreciate intellectual discussions, I am inspired by the future, and I have a great desire to learn and want to continuously improve. I had to answer a series of questions to get this result. I found it super intriguing to answer the questions as it made me really reflect on my perspective and my choices in life. I believe there were roughly 36 options/strengths. Based on tests like this, we were put into groups (we would eventually remain in these groups for the rest of the semester) that balanced all our strengths and weakness with the aim that we will complete a series of group projects together.
The memo we wrote was based on the Everest Simulation we took in class. This simulation was essentially a virtual summit to Everest. We were all assigned parts and I was assigned the "leader" position. Although I am not sure how we were assigned our positions, I suspect I was placed as the leader because earlier in the semester I expressed that I have a lifetime goal of climbing Mount Everest. The simulation was based on balancing our collective strengths and weaknesses, partially a bit of maths and reiterating our individual and team goals. I am not entirely sure what grades I received for this assignment as they are calculated at the end of the semester and each assignment is weighted differently from other classes and assignments.
In addition to the memo due for my Management and Leadership class, I also had what the Americans call a "mid-term", which is a mid-semester exam. This mid-term was for my Microeconomics class. NYU Wagner were very supportive and provided additional tutoring hours to the ones already scheduled. The exam was based on various microeconomic concepts but predominantly, the elasticity of supply and demand, consumer and producer surplus, policy interventions such as taxes and subsidies. For this mid-term, I received a B (or a B+ need to double this). Considering Microeconomics was my most challenging class for this semester, I was content with this grade. I have a final (the last exam for the semester) later in the year which I hope will bump up my grade!
For my required class, Institutions Governance and International Development, in the International Policy specialization, I also had an assignment due. This assignment was built on class content, poverty and the challenges in international development, how to create a job, the development state. The assignment required students to choose a third world country whose government enacted a heavy interventionist "development" policy between 1945 and 1991. I chose to write about Nigeria and I focused on their investment in infrastructure and other goods. The policy I wrote about was, the Directorate of Food, Roads, and Rural Infrastructure which was enacted in 1981. In the assignment, I discussed the policies objectives, goals, and its results. For this assignment, I received an A- which I happy about, considering it was my first short research essay.
I had my first board meeting for the student group, International Public Service Association (IPSA). The meeting discussed various things that are planned for the year and made us aware of activities to get involved in. One event that I decided to get involved in was IPSA's annual summit. This year's summit is based on service delivery and technology within the international development sector. For the summit, I am reaching out and trying to find speakers from the private and non-profit sector who are willing to discuss such topic and how it relates to their organisation. I am looking for people that work in education and refugee work, as these are interests of mine that others may also find interesting.
The end of October was Rotary's World Polio Fundraiser. Taylor (my host mum) invited me to the event and it was truly spectacular. At the event, there was amazing food and the entertainment was amazing. There were dancers which had a specific name for their type of dance, but I forgot and can only describe the dance to include essentially throwing their dance partners in the air. I also met many Rotarians who were all doing amazing things who I connected with and remain in contact with.
In some ways, this month was calmer in that I felt more settled into New York and grad school, but equally, it was so busy as there were multiple deadlines.
As always, speak to guys soon!
Zipporah
New Beginnings (September 2018)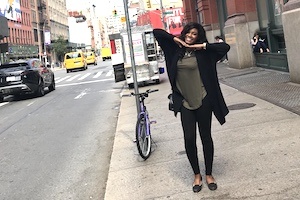 Zipporah Arthur in New York
I did not anticipate the cost of housing in New York City. Taylor Eskew, my Rotary host mum (she and I established this as her title), was a tremendous help in finding a reasonable place to stay. Taylor referred me to the accommodation I currently reside in, it's a women's only residence for people studying or working in NYC, therefore it's heavily subsidised. There was a three-month waiting list, but I managed to worm my way to the priority list.
However, my room was only available from September 17th onwards. This meant I would have to stay in a hostel (Taylor recommended this place) for a few weeks while starting grad-school which class started on September 4th. Living out of a suitcase essentially for a month was very difficult, but I'm happy that I managed to keep up with my work and school life.
NYU Wagner had an abundance of activities for incoming students. The best activity was the boat cruise which went around the Statue of Liberty. It was a completely free event and an open bar, which was a lot of fun! It was super nice to see my peers in a relaxed environment and having fun.
A couple of days before the boat cruise, we had a one day 9am-6pm orientation. I found it extremely valuable. It made me realise a ton of things I did not know and wished to find out more on. For example, the job roles in different organisations potentially differ from each other, and just really homing in on the specifics of where I want my career to go towards. One of the most impactful tasks during the orientation was "writing a letter to our future selves". The idea behind this was nearer to the end of the term, when we have many assignments and exams and are likely to feel overwhelmed, our letters will be mailed to us to remind us why we came to NYU Wagner and what we are seeking to do. Another notable activity was an ice-breaker that involved eight people going into one room. We were then asked a series of question such as "give an example of when your identity has been used against you or created a negative experience" "give an example of when your identity has been used to benefit you or created a positive experience". I found it really interesting the emphasis on identity and perception.
NYU Wagner has a great number of student groups. I was particularly interested in the student group, International Public Service Association (IPSA). I was rather eager and emailed them in the summer asking for details, how they operate and opportunities to get involved. IPSA held a welcome event in the middle of September and said they have board position openings specifically for the role, First Year Representatives. I spoke with a lot of people at the event who said they were interested in the role. Knowing there were numerous people applying for the role, but knowing only a few will get picked did not deter me. I applied for the role as I thought it would be a great opportunity to get involved. Fortunately, I received an email that I got the position! Being a First-Year Representative for IPSA was essentially a way to get a feel for all the specific board roles such as "events, communications, president" to name a few, and see where those selected can help. I also opted to help in IPSA's annual summit. This year the summit is based on technology and service delivery. Right now, we are just looking for people who work in the industry to come and talk on a panel in the summit.
This term, they recommended taking core classes as most of the classes I am interested in has a prerequisite which happens to be at least one core class. My classes are, Microeconomics, Management and Leadership, Institutions Governance and International Development, and Public Policy (four classes in total). NYU Wagner from time to time enjoy giving long names for class titles, so I slightly abbreviated one or two classes' names. I waived out of Statistics as I took a few classes at the University of Kent (Thank you UKC!) which included stats.
I also attended a Rotary event in Harlem. It was their annual BBQ in a nice park. I donated some school equipment at the event as I believe the cause was for school-children in NYC/Harlem. I met some other Rotary Global Grant scholars at the event, one of the scholars I met previously over coffee so it was nice to see her again. On my way to the event, I got really lost and succumbed to taking an Uber pool as clearly my navigating skills were beyond inadequate at the time. At the event, I became aware of "Rota-Act", which I found really fascinating considering I had never heard of it before.
Speak to guys again soon!
Zipporah
---
Before August 20th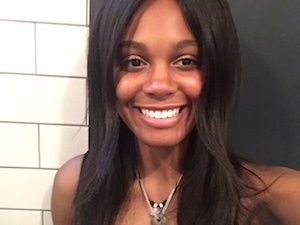 Zipporah Arthur
For the past year I have been super busy volunteering in London and Greece, therefore I always had multiple things on my mind constantly. I've come to realise that this was a blessing.
Finding funding to study at NYU Robert F. Wagner School for Public Service, had been extremely difficult, so being occupied relieved some stress that I was going through. I came back from Greece in June and I still wasn't entirely sure where I would gain funding and if I would be in the position to attend NYU Wagner. However, the day after I returned from Greece in June I received a called from Chris Barnet. This is my eyes was a miracle because if I were in Greece, I most likely wouldn't have seen the call nor been able to answer the call, but most importantly I would not have been able to meet Chris and Brenda that same week – which was imperative in moving things forward.
Chris made me immediately aware of the quick turnover of everything will have to be, from meeting him, assessing whether to support my application, drafting the application, amongst other things. Fortunately, minus a few hick-ups, we were able to submit my application and here I am in NYC studying at NYU Wagner!
I would like to backtrack and comment on what happened between being granted funding and coming to NYC.
I received the documents I needed from NYU Wagner to apply for my visa on 10/08/2018. I had my visa appointment 4 days later (14/08/2018) and received my visa two days later (16/08/2018). In between my visa appointment and receiving my visa, I booked my flights to fly to NYC on the 20/08/2018. Essentially, I booked my flight without having my passport and visa. I will never do this again, as the tension was too much. In addition to the stress of booking my flight without my passport and visa, there was a slight problem finally picking up my visa. The company who had my passport said they didn't have it on their system, in other words, my passport was not ready to be picked up (this was 4 days until I was set to fly). Thankfully, it was an error on their behalf (which took me persistently calling and emailing them to figure out!) and I picked up my passport in time!
The Tension and Stress Was Not Over
I now had the task of essentially packing my life into suitcases and buying last minute necessities in a matter of 3 days. This was accomplished!
Now for the Goodbyes
I was overwhelmed with emotions. Knowing that as of two months prior, I was not sure where I would be getting funding to now my dreams are going to be realised, was such a shock to process.
I didn't expect to say goodbye would be so difficult and emotionally straining. I knew the people I said bye to, I would see them in December (Christmas) yet, a wave of what I can only describe as joy, sadness and accomplishment overcame me and transformed into tears.
I was also very nervous post being awarded the global grant scholarship. I knew I would receive my passport, visa and then eventually fly to NYC, so my nerves were primarily influenced by something else.
During the summer I read The Alchemist, and one thing that stood out to me in the book was when you realise your "destiny" and your potential, it's a very scary journey to now fulfil one's capabilities. Especially, as you know what you want to achieve is very possible. This idea perfectly sums up where my nerves derived from.
I flew from London to New York to begin my journey in trying to further positively impact the world.