Medical Maelstrom notes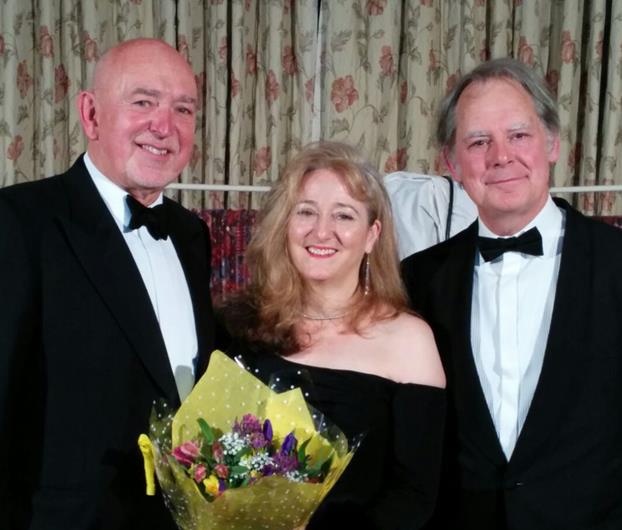 (l-r) Anthony Seddon, Michele Sharkey, and Sam Freegard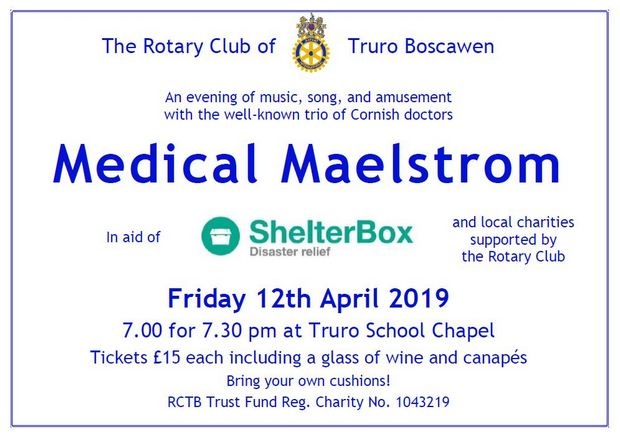 Michele Sharkey
was born in Lanarkshire and began vocal training after completing her medical studies at the University of Glasgow. Her main interest is opera, and major roles range from the consumptive Mimi (La Bohème) to the dagger wielding Queen of the Night (Magic Flute), Angelica (Suor Angelica), Zerlina (Don Giovanni), Frasquita (Carmen), Olympia (Tales of Hoffman), Anna (Merry Widow), Gretel (Hansel and Gretel) and Adele (Die Fledermaus) in between. Oratorio performances include Carmina Burana, Judas Macabeus and Exultante Jubilate. Her favourite gigs, however, are with Maelstrom, despite the massive strain of keeping the rampant egos of the chaps under control.....! Michele is a GP in Cornwall.
Sam Freegard
's enjoyment of being silly on stage developed whilst studying medicine at St Bartholomew's Hospital, London where he performed regularly in revue and at varied venues including Windsor Castle and the Hurlingham Club, Buenos Aires. After moving to Cornwall in 1982, for many years he acted with the West Cornwall Theatre Group at the Minack theatre where his roles included the title role in Macbeth and Randle P McMurphy in One Flew Over the Cuckoo's Nest. He once performed with Duchy Opera playing the drunken jailer, Frosch, in Ben Luxon's production of Die Fledermaus, when he was at last able to make full use of his medical training. Sam joined the Stennack Surgery, St Ives as a partner in 1987. He sincerely hopes that his appearance with Michele and Anthony does not spoil what might otherwise have proved high class entertainment.
Anthony Seddon
was a boy chorister at King's College Cambridge, a music scholar at Clifton College Bristol and then a choral scholar at Magdalen College, Oxford where he studied medicine. In the Swinging Sixties (!) he was a member of a close harmony pop group which made several records and TV appearances. He came to Cornwall in 1973 to work at the then new Treliske Hospital and for several years he sang in Truro Cathedral choir. A founder member of Duchy Opera, he was musical director for its productions of Café Puccini and La Cenerentola. He has performed extensively in recital as an accompanist and has played with a classical trio on Saga cruises – plain sailing compared to a busy Monday on call at the Penryn surgery!
Some reviews:

"This is the highest standard of entertainment…"
"What a privilege to be entertained by the superb talents of the trio of doctors…"
"The beautiful voice of Michele Sharkey combined with the hilarious antics of Sam Freegard, all held together by the perfect accompaniment of Anthony Seddon made it an evening to remember"
"Entertainment at its very best''
"I really don't remember laughing so much before"
"A concert worthy of the West End stage"
"...the supremely talented members of Medical Maelstrom"