Winners of the Youth Speaks 2019 District Final.
The winning team at each age group now competes in the Rotary South-East Regional Final, to be organised by District 1090 and held in Marlow on Sunday April 7th.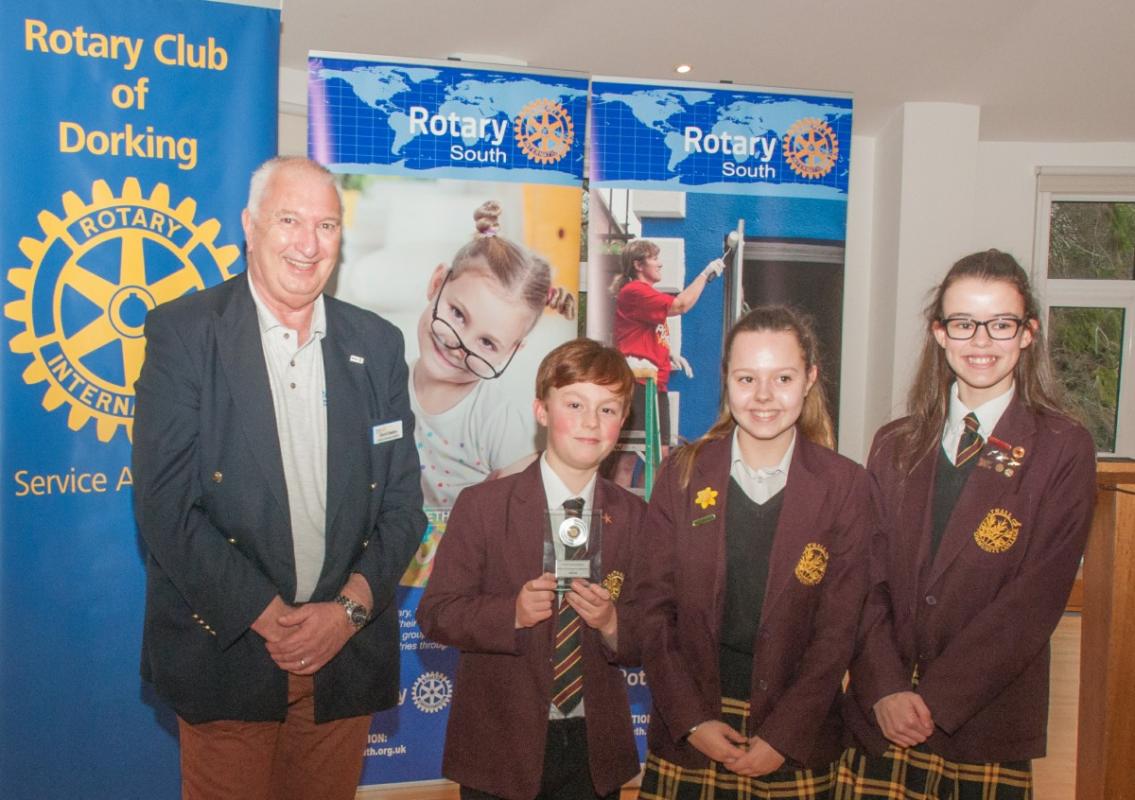 Rotary Youth Speaks 2019




St Philip Howard RC School Barnham


O

thall Community College Haywards Heath
Rotary clubs from 27 different locations around our District of Surrey, Sussex and the southern M25 corridor organised the first round of this national competition in their own areas. Teams from around 90 different school will have taken part, divided between the two age groups of 11-13 (Intermediates) and 14-17 (Seniors).

From there, winning teams went on to compete in one of five round 2 Semi-Finals, and hence these winners progressed into the District Final, staged once again by the Rotary Club of Dorking, hosted at St Teresa's School, Dorking, on Saturday March 2nd.

Each team comprises a Chair, who has two minutes to introduce the team and their chosen topic; a Speaker who talks for six minutes on that subject; and a Vote of Thanks who has two minutes to round the presentation off. There is also a question from the floor, to show that the Speaker can think on his/her feet! The three judges, all well-experienced public speakers themselves, assess the performances on a designated score sheet, and at this stage of the competition award trophies for the three 'Best' individuals as well as choosing the Winning Team.

The intermediate teams took to the stage first, comprising teams from HawleyHurst School, Camberley; Downsend School, Leatherhead; St Philip Howard High School, Barnham near Chichester; Holy Cross School from New Malden; and Oathall Community College, Haywards Heath. Then followed the Seniors, represented by teams from Downlands Community School, Hassocks; Glebelands School, Cranleigh; Bishop Wand School, Sunbury; and again teams from Oathall College and St Philip Howard High School.

The subjects chosen tend to be highly topical and regularly debated in the media, with quite a focus this year on the image of and society's attitude toward teenagers; the need for a better recognition of creative subjects both in the school curriculum and as extra-curricular activity in later life; and the value of You Tube as an educational tool. Feminism and gender equality of course featured strongly, and the need to be positive in one's outlook on life.

Intermediate Winners were Oathall College, picking up also the 'Best Speaker' award. Their topic was 'Welcome to our world', seeking to debunk the myth that teenagers are rude, lazy, and obsessed with social media. The word 'stress' featured prominently in the talk of Speaker Molly Hord, having to choose and learn subjects that would probably be obsolete by the time she came to start work, studying to gain the required exam grades, cope with the pressures of growing up – and all while trying to have a life outside school for her music training!

What is particularly encouraging for the future of the competition in our District is that it was not the same teams winning this year as had last time round! None of these Intermediates had featured in the Final last year … and the other two 'best' awards came from schools other than the winners – the best chair from Holy Cross and the best vote from HawleyHurst. It shows how open the whole round was.

At Senior level the 'Best' awards were also shared amongst three schools – Downlands having the Best Chair, St Philip Howard the Best Speaker, and Woking High the Best Vote of Thanks. Overall, St Philip Howard came out as the top team, but in a close-fought competition from three particularly good speakers.

Choosing a very different subject from everyone else, Speaker Mollie Finniear warned us about the dangers of believing all we read in the press and about the past, claiming that 'History in written by liars'. She got us all on the edge of our seats saying how she had already written up the report on the day's proceedings for the school magazine, and how she and her colleagues had swept aside the competition to win hands down! With President Trump claiming half of what we hear nowadays in 'False News', what can we believe and what sources can we rely on. Certainly not the press, or our politicians! And from the past, as history is usually written by the victors and not the vanquished, how accurate is it all? An engaging talk indeed, calling us all to action to quench this threat for future generations.

Trophies to the winners, along with Certificates of Participation to all taking part, were presented by DG David Easton, who praised all teams for the high standard of their performances and Rotary for giving these youngsters such an opportunity to develop confidence and perform. And of course he wished the winning teams well at the next stage, as worthy representatives of District 1145.

The winning team at each age group now competes in the Rotary South-East Regional Final, to be organised by District 1090 and held in Marlow on Sunday April 7th. And from there the winners will take centre stage on the Sunday morning of the RGBI 'Showcase' in Nottingham, Sunday May 12th.

Finally, a huge Vote of Thanks is due to all District 1145 Rotary clubs and their Rotarians who lead in staging any round of this fantastic competition. You are all helping create the leaders of the future, by giving these young people the experience to stand in front of a significant audience and 'do their stuff'. This truly is a huge reason why we join Rotary.

(John Thom. Youth Speaks Organiser - District 1145 04/03/2019)


Contact John Thom about this page: