National Final Rotary Young Chef held in District 1040
On Saturday 27th April, seven young enthusiastic chefs aged from 13 to 17 fought for first place in the National Final of Rotary Young Chef 2019.
7 finalists came from the length and breadth of the UK and were supported by Rotarians family and teachers, over 50 people in total. The competition was judged by 4 accomplished chefs in the food and beverage industry.
The finalists and the judges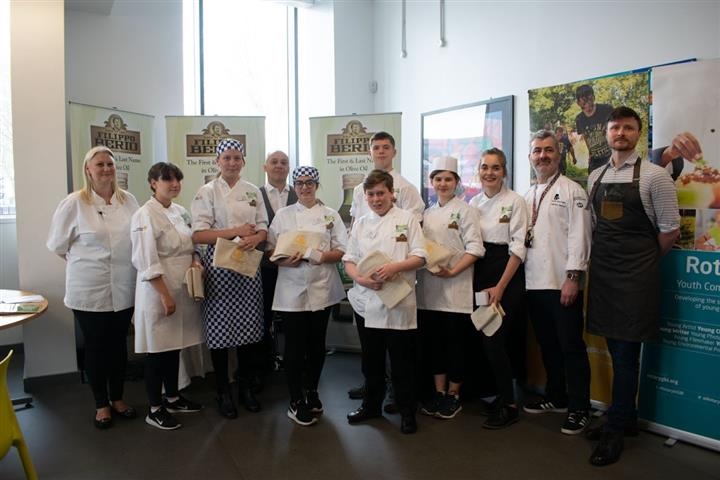 The national final was the culmination of the Young Chef competition where nearly 3,000 budding chefs across Great Britain and Ireland have competed over the last 9 months, all in hope of claiming the winning title and experiencing a two-day trip to a cookery school in Tuscany, with thanks to the competition sponsor. The winner was also awarded a 1 day chocolate course by Leeds City College.
Heats began back in Autumn last year, and will kick-off again this year around September. For more information about next years competition potential entrants need to contact their local Rotary club, who may be hosting the first stage or can direct to where the nearest heats are.
The Lord Mayor of Leeds, Graham Latty, presented the awards to all the finalists and said: "The quality of the entries and the enthusiasm of the entrants was truly outstanding and I complement Rotary on sponsoring such a worthwhile competition."
Rotary GB&I President Debbie Hodge and our District Governor Nigel Arthurs presented the prizes to the first, second and third place and the dish of the day.
Supporters of the finalists made the following comments
"It's always nice to see the talent these children have."
"What amazing dishes presented by all the finalists!" As the judges said – "everyone was a winner."
One of the Judge's commented
"It was great seeing the finalists and fab to see how in touch they are with modern food trends and skills."
Sasha Martin aged just 15 , sponsored by the Rotary club of Grays Thurrock wowed the judges enough for first place and the Dish of the Day award!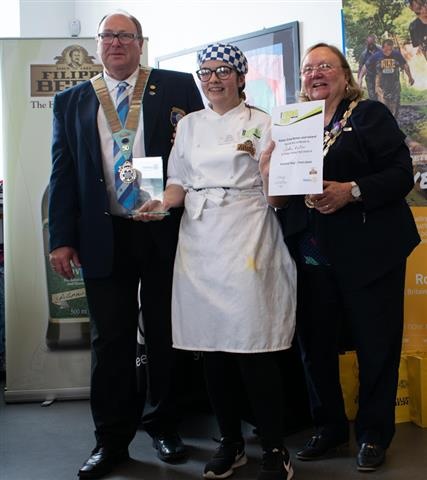 Sasha said about the competition "If you have a passion for cooking like me, please reach out to your local Rotary – who I'm sure will support you and give you the opportunity to show off your talent!"
Her menu was
Starter – Yuzu, wasabi and sesame tuna "sashimi" niçoise – new potatoes, tomato, quail egg, French beans, olives, capers, black olive tapenade, vinaigrette, basil oil, salad leaves
Main – Pan-roasted pork tenderloin, fondant potatoes, carrot purée, apple braised red cabbage, apple crisps, baby courgettes, apple cider jus, chorizo soil, garlic flowers
Dessert – Homemade honeycomb ice-cream baked Alaska, fresh honeycomb, bee pollen, popping candy, white chocolate snap

Now in its 19th year, the competition is operating in full force. Rotary Young Chef gives young individuals across Great Britain and Ireland a chance to showcase their skills in the kitchen and is amongst many different youth opportunities offered.
Sasha made this comment "I am super excited to experience the prize awarded by Filippo Berio! Without the competition I know I wouldn't have been given this chance to do this."
If you are interested in finding out more about the Rotary Young Chef competition then log on the Rotary GB&I website for further information or contact the District 1040 organiser Gill Poole by email gillpooleuk@yahoo.co.uk
Gill Poole District 1040 Rotary Young Chef Organiser