Youth Football Competition
This Competition has been organised by the Rotary Club of Burton upon Trent (D1220) since 2012 and they would like to see it become National.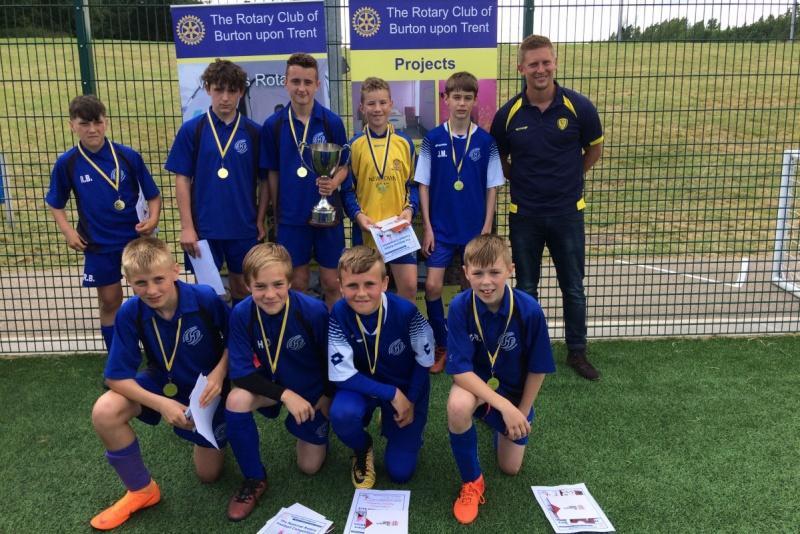 This Youth Football Competition has been organised by the Rotary Club of Burton upon Trent since 2012.

It is the only national young persons sports competition organised within Rotary GBI and is open to ALL Districts. The Rotary GBI Youth Services Committee would like to adopt it as a National Youth Services Competition, for a competition to qualify for national adoption at least 50% of all Rotary GBI Districts need to participate.

For those Districts unfamiliar with the Competition;

It is for young people under 12 on the 31st August of the year before the National Final. The competition is played under 5 a side football rules. The squad consists of up to 10 players of either sex, with a team of 5 on the field at any one time. The only restriction placed on teams entering the competition is that the team cannot be formed of Football Academy players.

The national competition is organised such that each District can enter one team into the Final.
District 1220 arrange a District Knockout competition to determine the Team representing their District in the National Final.
The 2017 District 1220 District Knockout Competition Guidance and Application Forms are on the Rotary GBI Website. These can be adapted for your district's use.

At first sight it may seem a significant task to organise a knockout competition, in fact all you need to do is make contact with your local area Football Organiser, explain what you are trying to do and ask them for help.

If you persevere and get the right person in the local youth football scene you will find they are very keen on new challenges and will likely to offer to do it all for you. They know all the rules etc. plus having contact with the local youth team managers. Football Clubs are familiar with organising their own transport travelling to matches, again another headache gone!

You will of course need to ensure the appropriate H&S Risk Assessment is completed for the District Knockout Event to qualify for Rotary insurance cover.

Also you will need to concentrate on ensuring suitable publicity is provided via the local press and radio.

If you have a professional football team in your area, try and get them on board as support. Arrange to speak to one of the club senior managers and talk to them about the competition but, remember they cannot enter their academy team.

Encourage all the Rotary clubs in your district to try and raise a team from, say a local school, or their local youth community football team. Put their manager/coach in touch with the District Football Knockout Competition Organiser to participate.

This activity opens up huge opportunities to reach parts of your local community that Rotary and Rotary Clubs are virtually unknown, a previously untapped source of potential members and helpers!

The National Final is held in early June at the prestigious St Georges Park, the English Football Associations National Training and Development Centre. Every young footballer dreams of playing there!

The date for entries into the National Final is in April and this application must include the entry fee. It is not essential for the District Knockout Competition to have been completed by this date. Thus there is no need to name the team on your initial entry form! All the information about your team though must be provided by the end of May.

We urge all those Districts who have not participated before in this exciting national competition to do so. You can see the potential within your own District and the prestige of a team from your District attending the National Final in June. It really is a very exciting event and the young people involved are so incredibly enthusiastic it's infectious!

The National Competition Application Forms and information are also on the website.
If you need any further information or advice please make contact with the Rotary Club of Burton upon Trent or Rotarian Peter Moralée.